Good News for Google at the FCC
WASHINGTON -- One of the big battles Google Fiber and others have fought as they try to enter the broadband market is resistance from incumbent providers to new pole attachments. But a vote today by the FCC's Broadband Deployment Advisory Committee (BDAC) could lead to a streamlining of the process, making it both easier and significantly faster for new providers to get up and running with a competitive broadband service.
The BDAC voted today to recommend a One Touch Make Ready (OTMR) policy whereby for any simple pole attachment -- i.e., where there is no expectation of an outage or possible facility damage, and where this is no splicing and no relocation of equipment required -- a new provider can proceed with installing equipment after a 25-day window of review.
That review period includes assessments by the pole owner and by the existing operators with equipment already on the pole. If there is an objection to the installation, it has to be on the grounds that the contractor chosen for the work doesn't meet safety or reliability qualifications. A list of approved contractors is maintained by the pole owner, but a new service provider can recommend additional contractors as long as safety and reliability requirements are met.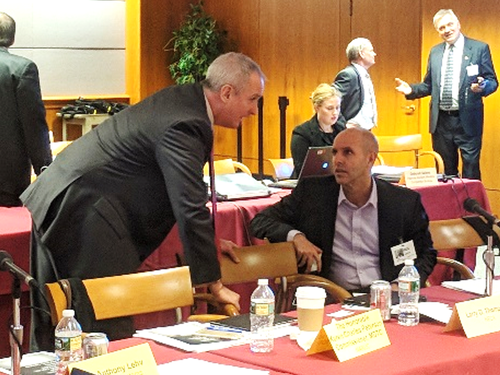 Why is this such a big deal? Because traditionally, new market entrants might have to negotiate with pole owners and multiple incumbent network operators in order to get their equipment installed; a process that can take many, many months.
The scenario goes something like this: a new provider makes a deal with a pole owner, but then has to seek permission from one incumbent to make changes, and then another and another, all in sequential order. In 2016, after four months in Nashville, Tenn., Google Fiber Inc. had only managed to make 33 poles ready for equipment installation. That's 33 poles in four months out of a total of 44,000. (See Broadband Has a Problem on the Pole.)
The OTMR proposal would change the rules of deployment. Any simple attachment -- which providers say make up 80% of total attachments -- could be undertaken not in months, but within weeks. In theory, that should lead to faster broadband deployments and more competition in the service provider space.
"We're very happy the BDAC has endorsed One Touch Make Ready," John Burchett, head of policy at Google Fiber, told Light Reading after the vote. "I think it could make a dramatic improvement to new attachers."
There is a catch, however. While the BDAC is making informed recommendations to the Federal Communications Commission (FCC) , there is no guarantee that the FCC will act on them. In fact, Burchett says there's been no guidance so far on what will happen next after the BDAC makes its report.
And the OTMR proposal has one serious detractor among the BDAC members. AT&T Inc. (NYSE: T)'s representative on the committee, Chris Nurse, assistant vice president of legislative and external affairs, voted against the new recommendation. AT&T has major political influence in Washington and could still shape the course of future policy.
For now, Google Fiber and other young Internet providers will have to take the win where they can get it. But perhaps the fight means that Google is still serious about expanding to new markets as an ISP?
As to that, only time will tell.
— Mari Silbey, Senior Editor, Cable/Video, Light Reading
PARTNER PERSPECTIVES
- content from our sponsors