Why So Many SDN Groups?
Why So Many SDN Groups?
Are the massed ranks of SDN and related groups getting in each other's way? CHICAGO -- Big Telecom Event -- Are there too many standards and open source groups surrounding SDN? Are they getting in each other's way? How can service providers keep up?
My colleague Elizabeth Coyne of The New IP kicked off a discussion during the Q&A near the end of a panel during the ONF/SDN Workshop on Monday preceding Light Reading's Big Telecom Event.
The panel itself was an illustration of the number of open source and standards groups in the industry. There were six panel members, plus a moderator, from six separate organizations. They had to bring up extra chairs from the audience to accommodate them all. They were nearly sitting shoulder to shoulder. To get a photo, I had to use the panorama setting on my iPhone camera.
Figure 1: Big Panel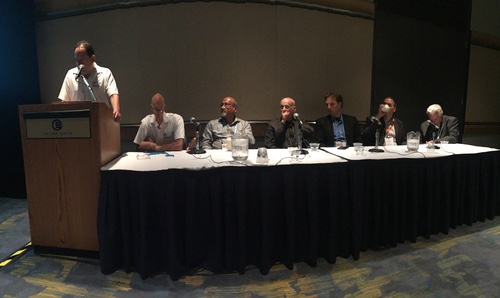 Participants in the "Why So Many Groups" panel pack the speakers' table.
Why are there so many groups? It's because SDN and NFV are so "transformational," said Marc Cohn, member of the executive council for the Open Networking Foundation and senior VP marketing at ClearPath Networks Inc. They're not just new technologies or new markets but a "shift in everything we do," he said.
Are there too many groups? "I don't think there are, because no single group is positioned and has the influences and resources to go out and orchestrate this transformation the way it's going to unfold at such a broad scale," Cohn said.
Industry groups form to fill specific needs, said Prodip Sen, chairman of the board for OPNFV and CTO for NFV at HP Inc. (NYSE: HPQ) "It's too big a space to have one humongous group work on everything," he said. "It's just not possible."
The groups collaborate extensively to avoid collisions, he said.
How can companies and networking professionals keep up? By being selective, and sending people only to groups where they can make a contribution, Sen said.
Michael Brenner, vice chair of ETSI's NFV Industry Specification Group and senior vice president of product strategy at ClearPath, joked that he selfishly believes there are too many groups because he can't follow all of them. "I hit a limit to how much I cannot see my wife in a month," he said.
More seriously, Brenner said, the organizations can improve their ability to work together and become more self-aware of the "not invented here syndrome," knowing when to contribute to other groups' work rather than developing technology in-house.
Overlapping groups can create a "big challenge," agreed Neela Jacques, executive director of the OpenDaylight Project. Where two or more groups are setting the same standard, vendors go "standards shopping," similar to the way that lawyers look to file lawsuits in jurisdictions where the law is most favorable.
Check out all the news and views from the 2015 Big Telecom Event at Light Reading's dedicated BTE show news channel.
However, ONF executive director Dan Pitt questioned the premise of the question. It assumes all the groups are "inefficient" and a "waste of industry resources," he said.
The groups serve an important purpose, Pitt said. They agree on code for capabilities that "don't require differentiation among all the parties, and instead it frees up [developers'] resources to differentiate where it makes a tangible difference to their customers," Pitt said.
And a certain amount of friction is inevitable, Cohn said. "It's not going to be a completely perfect world. It's going to be the real world," he said.
— Mitch Wagner,

, West Coast Bureau Chief, Light Reading. Got a tip about SDN or NFV? Send it to [email protected].
Subscribe and receive the latest news from the industry.
Join 62,000+ members. Yes it's completely free.
You May Also Like
---