 ORLANDO -- MEF 17 -- The edge of the network is definitely where it's happening right now, as operators push out intelligence and compute power closer to the customer. But how that edge is defined is also changing, blurring the lines between the customer premises and the cloud and even redefining what constitutes a "premises," says Josh Goodell, vice president of intelligent edge for AT&T.
In his keynote address here this week and in an interview with Light Reading, Goodell focused primarily on FlexWare, the modular edge devices that extend the AT&T Integrated Cloud (AIC) to the premises and can deliver a growing range of services. But FlexWare is part of an evolving intelligent edge strategy across AT&T Inc. (NYSE: T) that is blurring the lines between network and customer. (See AT&T Getting Business VNFs to Market Faster.)
"FlexWare definitely fits into the bigger [edge compute] strategy," Goodell says. As part of that strategy, AT&T has moved from physical to virtual and now to intelligent edge. By the first quarter of 2018, AT&T will be able to use FlexWare in 200 different countries to bridge the local area network, the wide area network and multiple clouds, "bringing it all together in a converged simplified construct that is smart, converged application-aware and dynamic," he told the MEF keynote crowd.
Figure 1: AT&T's Josh Goodell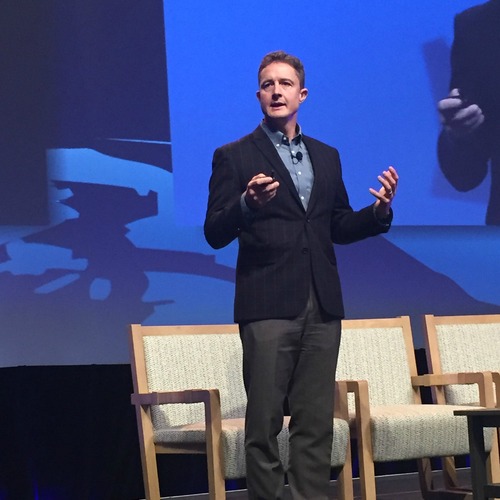 While FlexWare is a premises-based system, it also "is one of the elements of the intelligent edge that is expanding our definition of what a customer premises is and what it can be," Goodell commented to Light Reading.
Using secure connections to AT&T's cloud environment, the network operator can create a broad ecosystem for customers that connects premises to multiple clouds or connects clouds to each other, he added. That continuum of compute and connections can be managed under a single orchestrator, enabling workloads to be housed where it makes the most sense.
"Those lines should become blurry -- not distinct, as they are today," Goodell says.
As outlined in his keynote address, AT&T's intelligent edge will build on key elements including orchestration by the Open Network Automation Platform (ONAP); AIC, which has doubled in capacity in the last 12 months; and the evolving FlexWare. In general, the intelligent edge is "extensible, policy-based and cloud-ready," Goodell said.
Having an orchestrated solution is critical, he commented, "because the shift from physical to virtual is not a clean break; it doesn't just happen overnight. The reality is, these are hybrid environments, so you have to have a solution that can be orchestrated across physical and virtual and builds in such a way that it works in an entire network environment."
Extensibility is what allows AT&T to continually add VNFs. Goodell cited one, in particular, dubbed AWS Greengrass, which is "an IoT gateway functionality that allows us to do closed-loop processing on the premises for latency sensitive applications and then securely sends data to AWS cloud for further deep processing in the cloud." The VNF went from concept to production in a matter of months, and will be commercially available in the first half of 2018, he said.
The single biggest offering, however, will be the VNF version of AT&T's SD-WAN offering.
"We have been in the SD-WAN business for a long time. We actually have about 100,000 deployments under our belt, in more of a static network-based configuration," he said in his keynote. "This was the first time we have done a dynamic network-based architecture. I am excited about this for a few reasons, I think it will be differentiated in the marketplace. From a policy-based perspective, it does give us the opportunity to do dynamic app-aware routing, which is not uncommon."
What is less common is built-in resiliency, he said, which means any gateway failure within the AT&T network triggers failover to another gateway. Customers also can make site-by-site decisions as to where to deploy which services, including MPLS as well as Internet-based traffic.
What is attracting customers to FlexWare overall, Goodell said, is its future-proof nature. Instead of having to replace or add a premises-based box every time a new feature or service is added, AT&T is adding functions to FlexWare, at a pace of three or four per quarter. Customers start with virtual routing, and half immediately add a virtual security option while 30% also add WAN optimization, Goodell said.
AT&T has flexible management options, allowing either customers or third-parties to also manage FlexWare, but to date, 90% of customers are opting for AT&T to manage the device and service together.
There will be a steady stream of things being added to FlexWare, Goodell said. Two weeks ago, for example, AT&T announced FlexWare CloudReady which enables secure connections into the AWS cloud environment, provisioned over any access technology.
"At this point, a lot of this is execution," he said. "The technology is there. Whether it's a customer data center, the private cloud, public clouds, or the AIC infrastructure, intelligence can be in any one of those areas, and we allow the customer to bridge all of them in a way that is efficient and simple."
— Carol Wilson, Editor-at-Large, Light Reading
Subscribe and receive the latest news from the industry.
Join 62,000+ members. Yes it's completely free.
You May Also Like
---