Nokia Reserves Judgment on Trump
Nokia Reserves Judgment on Trump
Nokia is not panicking about the implications of a Trump presidency despite the tongue-lashing he has served out to other tech firms.

Finland's Nokia has indicated it is too early to pass judgment on US President-elect Donald Trump as a force for good or bad on the telecom sector.
Trump last week pulled off one of the biggest upsets in US election history, confounding pollsters who had predicted victory for Democratic rival Hillary Clinton, and has already sent a number of big technology players into a spin with talk of immigration controls and protectionist measures. (See Blond Buffoon a Worry for Telecom Vendors.)
His threats to impose tariffs on Chinese goods, in particular, could hurt global technology companies that source components from Asia and have manufacturing operations there.
"My first answer would be that it's early days," said Kathrin Buvac, Nokia's chief strategy officer, when asked this week by Light Reading if Trump would be bad for business. "Trump's team are putting their policies together and it's only when we see those, when the president takes office, that we'll really understand what kind of impact he will have on our business."
Figure 1: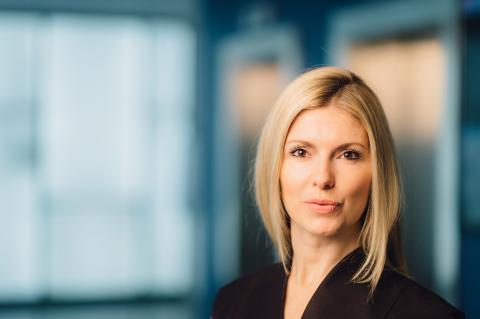 Kathrin Buvac: It's too early to say what Trump will mean for Nokia.
About 30% of Nokia's total sales in the recent July-to-September quarter came from North America, where it sells network equipment and services to the likes of AT&T Inc. (NYSE: T) and Verizon Communications Inc. (NYSE: VZ)
The Finnish vendor also has around 13,000 employees in the US, representing about 13% of its entire workforce.
During campaigning, Trump's verbal attacks on several high-profile technology companies stoked fears about what his presidency could mean for those players and the broader sector.
After AT&T announced plans for an $85 billion dollar takeover of media giant Time Warner Inc. (NYSE: TWX), the now president-elect was reported to have described the proposed merger "as an example of the power structure I'm fighting." (See AT&T's $85B Time Warner Takeover Is a Media Game Changer.)
He has also lambasted Apple for getting components made overseas, instead of in the US, and accused Amazon.com Inc. (Nasdaq: AMZN) of trying to avoid antitrust scrutiny. In February, he was quoted as saying that Amazon would have "problems" if he became president. (See Cloud Suppliers Optimistic Post-Trumpocalypse, Despite Potential Damage.)
Shares in Apple have fallen by nearly 5% since November 8, the date of the election, while those in Amazon are down nearly 9%.
While Nokia Corp. (NYSE: NOK) has dodged a Trumpian tongue-lashing, rival Ericsson AB (Nasdaq: ERIC) has been accused of bribing Clinton by the incoming president. Börje Ekholm, Ericsson's incoming CEO, was subsequently reported to have said he would not be voting for Trump during the run-up to the election. (See Is Ekholm Ericsson's Savior or Seller?.)
For all the latest news from the wireless networking and services sector, check out our dedicated mobile content channel here on Light Reading.
Trump's victory does not appear to have unnerved investors in either company, however, with recent share price movements related to earnings difficulties and gloomy forecasts about the market outlook next year. (See Nokia to Create Standalone Software Biz, Target New Verticals.)
Moreover, Trump's spending plans could even justify some degree of optimism within Nokia. "I think there is a possibility that we see a momentum on infrastructure deployments in the US," said Buvac.
Among other promises, Trump has pledged to commit up to $1 trillion on infrastructure improvements over the next decade, and telecom vendors will naturally hope some of that money goes toward the rollout of higher-speed fixed and mobile networks.
That said, proposed tax cuts will make it hard to fund lavish infrastructure projects, and Trump will be under immediate pressure to satisfy supporters in America's "rust belt" -- more concerned about improvements to roads and bridges than smart city investments. (See this feature from IoT World News, one of our sister publications, for an in-depth examination of what a Trump presidency could mean for smart city progress in the US.)
Buvac also wants to see details of Trump's plans in areas such as spectrum policy and net neutrality before jumping to any conclusions.
In any country, a willingness to free up spectrum, and make this available to the telecom sector, has a major bearing on the speed at which next-generation mobile networks can be rolled out.
On net neutrality, Trump is opposed to rules introduced by the Federal Communications Commission (FCC) that prevent operators from blocking or throttling Internet services. Overturning legislation would be expected to have some kind of impact on the companies that Nokia serves. (See AT&T & Trump Tangle Net Neutrality's Web.)
Within the US technology industry, much of the concern about Trump stems from his evident opposition to immigration.
Many of Silicon Valley's most successful technology businesses are staffed heavily by software engineers from India and other parts of the world.
— Iain Morris,

, News Editor, Light Reading
Subscribe and receive the latest news from the industry.
Join 62,000+ members. Yes it's completely free.
You May Also Like
---