FCC's Sohn: We're Still Fighting for Competition
FCC's Sohn: We're Still Fighting for Competition
Wheeler aide sees no lame-duck status as agency tackles video market and competitive access issues over the next year. SAN FRANCISCO -- The Wheeler FCC is far from done in promoting competition, staffer Gigi Sohn told a group of competitive carrier CEOs assembled here. Its final year will include significant action on video and the cost of content, as well as competitive access to last-mile connections as copper networks are shut down during the transition to all-IP and fiber-based networks.
Speaking at the Incompas CEO breakfast, Sohn, who is counselor to Chairman Tom Wheeler, said the Federal Communications Commission (FCC) 's work will get harder as President Obama's term winds down. That's why the association's members need to work harder to get their stories out and get the customers engaged as well, she said.
Ideally, Sohn said, the same kind of consumer activism that helped drive the Open Internet rule changes earlier this year -- including pickets at Wheeler's home and the White House, and widespread TV coverage -- could be brought to bear on some of the more arcane issues, such as special access and IP transition rules. Both of those issues are under consideration at the FCC and will have significant impact on competitive carriers, who need wholesale access to last-mile connections to business customers that are their lifeblood.
"It is important to make sure competitors have access to wholesale inputs," Sohn said. "You need to make sure consumers are informed about the impact of discontinuance and how it is going to hurt competitors and consumers alike."
Figure 1: Not Done Yet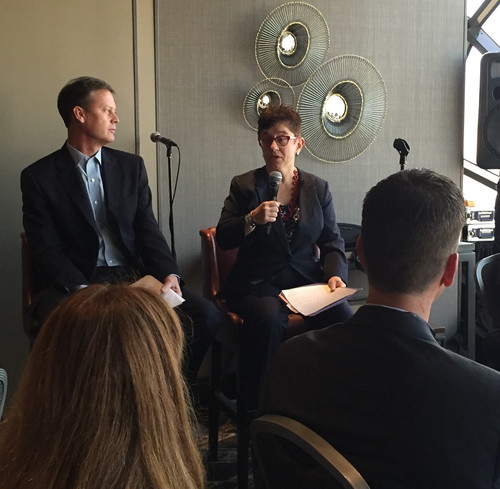 FCC's Gigi Sohn (right) joins Incompas CEO Chip Pickering in promising CEOs that the agency is still fighting for better rules for competition. She referenced what Wheeler calls the "Build-a-Bear strategy" to engage small businesses and consumers in the effort, getting shops at the mall to realize how the loss of competition might affect them. "If these issues are portrayed as a battle of the really large, you are not going to win the debate," Sohn said. The concern is that as incumbents move to fiber access, they want to discontinue their copper networks, which are often used by competitors to reach their customers. The FCC is working to make sure replacement services are made available but one of the issues yet to be resolved is what those services will look like. Sohn encouraged the Incompas CEOs to become actively involved in the current FCC proceedings to define reasonable replacement services. The FCC just last week launched an investigation of so-called lockup contracts, under which competitors can be locked into long-term contracts and forced to pay, even as underlying technologies change and the original terms become uneconomic. Sohn encouraged Incompas members to get actively involved in that process as well. The former consumer advocate and longtime leader of Public Knowledge said 2016 will be a big year for looking at the video market at the FCC, promising action on issues such as retransmission-consent agreements and content costs, to make sure negotiations are being carried out in good faith. Some of the practices the Commission could well target include forced bundling, where operators are forced to take channels they don't want to get the ones they do, and online content blocking by programmers to punish broadband access providers who don't pay for their TV content. Both tactics are being used in current squabbles between pay-TV providers and content owners. — Carol Wilson, Editor-at-Large, Light Reading
Subscribe and receive the latest news from the industry.
Join 62,000+ members. Yes it's completely free.
You May Also Like
---