How to 'Get Rich Slowly' the enet Way
How to 'Get Rich Slowly' the enet Way
Alternative fiber network operator in Ireland has a 'get rich slowly' approach to building out its wholesale fiber network. It's not often that a communications industry CEO will boast of a "get rich slowly" strategy but that's exactly what Conal Henry, CEO of Irish alternative fiber network operator enet , proudly presented at the recent Broadband World Forum event in London.
The business plan of enet is one that looks likely to become more popular in the coming years -- build and run an open access fiber network infrastructure that's freely available to all retail service providers and which delivers a return on investment over the medium or long term.
Henry says that approach is not only working for Limerick-based enet and its customers but it's also working for the company's investors, which include Granahan McCourt Capital, Oak Hill Advisors and the private family fund of Walter Scott Jr. (a Berkshire Hathaway board member), topped up with a €12 million loan from the European Investment Bank. It also has the Irish state as a partner: enet is running the state's 94 metro fiber networks under a public-private partnership model and is building around those foundation networks.
But it requires patience: the payback is down the line but the capex investments are needed now to develop the wholesale fiber network that is being extended to bring what enet calls "fiber-to-the-business" connections to multiple towns and cities across Ireland. In line with other fiber expansion developments around the world, enet is targeting local markets where there is known enterprise user demand: The company is deploying fiber access equipment from Calix Inc. (NYSE: CALX) where more than 50% of businesses have committed in advance to take service from a retail service provider running over enet's network. The latest town in Ireland to go live in this scheme is Ardee in County Louth, while a new network has just been launched in Westpark, Shannon.
"We're spending money like a drunk at a wedding -- that's what I tell my CFO," jokes Henry, adding, on a more serious note, that enet is committed to announcing only real deployments where fiber has been deployed and service is available. "We don't do fiber-to-the-press-release," says the CEO.
The rollout of gigabit broadband access networks is spreading. Find out what's happening where in our dedicated Gigabit Cities content channel here on Light Reading.
The reality is that the sums involved in enet's case are not that large in the grand scheme of things: the operator has about 5,000km of fiber (1,300 km of metro and 3,700 on inter-city routes) and has invested about €30 million (US$31.9 million) in expanding the metro networks (which remain in the ownership of the Irish state) and about €20 million ($21.1 million) in its core networks. It has also spent €3.5 million on the fiber-to-the-business developments in four locations and a further €1 million on a rural FTTH deployment in Ballyseedy (Co. Kerry).
What is more interesting is the model and its suitability in a market where access to efficiently managed third-party fiber capacity is going to become increasingly important as communications service providers (including the web-scale giants) bolster their data center connections and seek to support growing volumes of enterprise and consumer traffic (particularly video).
Figure 1: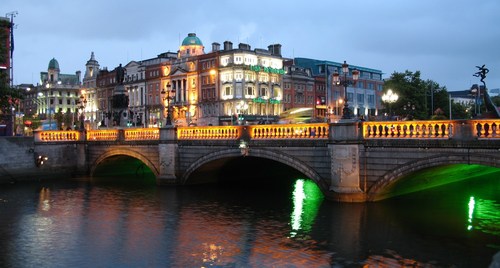 The Irish capital of Dublin, home to one of enet's wholesale metro fiber networks.
But the model looks sound. Ireland is home to a lot of major businesses with international operations, including Apple Inc. (Nasdaq: AAPL) and Amazon.com Inc. (Nasdaq: AMZN), and a growing number of enterprise service providers that want to reach business users as well as the consumer broadband market. The Irish government had invested in metro fiber rollouts some years back but didn't know what to do with the assets, so the enet team is running those metro networks under contract (feeding revenues back to the state) and expanding into markets in Ireland where there is demand.
Henry says enet is working with "the state, industry, utilities … in the way that the incumbent doesn't." The incumbent in question is eir (the new brand name for eir ), which along with Siro (a joint venture between electricity utility ESB and Vodafone Ireland) received plenty of negative references during Henry's presentation. enet, he says, has jumped at the chance to capitalize on the Irish government's decision to be actively involved in the country's digital infrastructure rollout: "We think there is money to be made from government policy," stated the CEO.
Within a few years Henry believes enet can get its annual revenues beyond €100 million ($106 million), which would be a significant leap from the €24.1 million ($25.6 million) generated in the financial year to April 30 2015. But the company tells Light Reading it is planning an acquisition that will soon boost its annual revenues beyond the €40 million ($42.5 million) mark, from which it can ramp up sales through organic growth and, potentially, further acquisitions.
— Ray Le Maistre,

, Editor-in-Chief, Light Reading
Subscribe and receive the latest news from the industry.
Join 62,000+ members. Yes it's completely free.
You May Also Like
---