How Secure-24 Keeps Employees in Michigan
How Secure-24 Keeps Employees in Michigan
Keeping talented tech staff local is a predicament when 60% of college graduates leave Michigan within 60 days. How do you recruit and keep employees in a state where 60% of college grads leave right after graduation?
That's the predicament faced by Secure-24 Inc. , a cloud and hosting provider specializing in Oracle, SAP and QAD apps, in Southfield, Michigan. The company has a rich talent pool to draw from -- the state has seven Division 1 colleges, with 40 additional two- and four-year colleges. But graduates of those colleges don't stick around; 60% put Michigan in their rear-view mirrors within 60 days of graduation.
Professional development is key for Secure–24 recruiting and keeping employees, CEO Michael Jennings told Light Reading at in interview on the floor of the Oracle OpenWorld 2015 conference in San Francisco. Secure–24 uses an "academy model" for its straight-out-of-college engineering recruits, providing them with 18–24 months of on-the-job education focused on customer support.
Figure 1: Fast Rider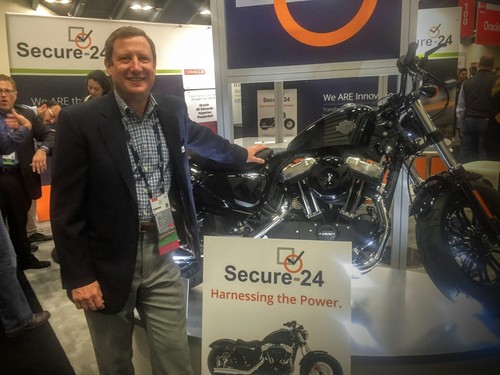 Secure-24 CEO Michael Jennings. The company gave away this motorcycle at its booth at Oracle OpenWorld recently. Jennings says he likes dirt bikes.
"We ingrain customer service into engineers from Day 1," Jennings said.
Jennings is a Silicon Valley native who previously worked at several companies in that region. Secure–24 brings Silicon Valley culture to the Great Lakes region; a local newspaper writes breathlessly that the company "treats employees like royalty," allowing them to show up in shorts and flip flops in the summer, and provides a foosball table, pinball machines, and complimentary drinks and snacks in break rooms -- all unremarkable perks for Silicon Valley companies.
And it's not just foosball and munchies. Secure–24 pays 100% healthcare, including medical, dental, life insurance, long- and short-term disability, with nothing coming from the employee's paycheck. Secure–24 also offers 100% 401(k) matching. Only 6% of US companies pay 100% employee healthcare, and only 3% offer 100% healthcare and matching 401(k), Jennings said.
Additionally, Secure–24 supports flexible work schedules. "If your child is sick and you need to work from home, we're very flexible. You can work from everywhere we have an Internet connection," Jennings said. "We track productivity not by looking at you in the office, but by looking at the work you perform."
Also, like Netflix and LinkedIn, Secure–24 has no vacation policy. "Our vacation policy is you take time off as you need it, when you need it," Jennings said.
New engineers start doing customer service, doing Level 1 support, answering calls from customers. If the Level 1 engineers can't fix a problem, they send an instant message to a Level 2 engineer, who joins the call, which provides a high rate of first-call resolution and trains the Level 1.
"As they graduate from Level 1 to Level 2 to Level 3 it's our way of building our talent," Jennings said. "We rarely hire senior engineers from the outside world; we like to build our engineers from the ground up." (Editor's note: Like this?)
The company has 520 employees, with 115 in the academy program in different stages.
Jennings compares the program to an accounting firm, which provides the same kind of career growth path.
Secure–24 has doubled in size, from 260 employees, when Jennings joined in 2012. As part of the transition -- and to retain employees -- Secure–24 reduced the requirements on US staff to work three shifts for tech support. The company accomplished that change by hiring employees in India. Unlike other companies that outsource to India to reduce cost, Secure–24 hired the Indian workers to reduce the time-shifting burden on its US employees. However, the company still has employees working around the clock in Michigan, hiring college students who want to work a swing shift to fill those seats.
Find out more about strategies for business transformation on Light Reading's business transformation channel.
Another strategy for getting and keeping talent is to hire from people with local roots. Of those 60% of college students who leave Michigan after graduation, most came to Michigan from out-of-state to begin with. Michigan colleges also have a lot of students who grew up in the state and would just as soon stay if they can get the same professional benefits they'd get in Silicon Valley or elsewhere. For example, CTO Scott McIsaac is a Michigan native whose father was a VP at Ford; like McIsaac, many employees have parents and grandparents who worked at the Big Three auto firms. "Their families are where they grew up, in Michigan," Jennings said. "They want the entrepreneurial Silicon Valley experience, but they want it in Michigan."
Good working conditions and professional development opportunities contribute to a high retention rate. Last year's US attrition was 7%, and this year on track to 5.88% annualized -- very low for IT services, which typically sees greater than 20% annual attrition, Jennings said. In India, attrition was 3% last year and 6% this year, compared with a typical 30% rate.
"A lot of people look at us as a technology company. We're really a customer service company that leverages technology to deliver solutions to our clients," Jennings said. "What's in our employees' heads is our IP, so retaining those people is a key focus of my life as CEO."
— Mitch Wagner,

, West Coast Bureau Chief, Light Reading. Got a tip about SDN or NFV? Send it to [email protected].
Subscribe and receive the latest news from the industry.
Join 62,000+ members. Yes it's completely free.
You May Also Like
---