Cisco's Centoni Shares Guiding Career Themes
Cisco's Centoni Shares Guiding Career Themes
Being purposeful and choosing wisely, leveraging mentors, accepting feedback and sticking to her north star helped get Cisco GM Liz Centoni to where she is today. AUSTIN, Texas -- WiC at Big Communications Event -- The fact that Liz Centoni has carved out a nearly 20-year career at only one employer, Cisco, says a lot about her and about Cisco.
Centoni is the senior vice president and general manager of the Computing System Product Group at Cisco Systems Inc. (Nasdaq: CSCO), where she sets the business and engineering direction and strategy for Cisco's Data Center Compute business and the Unified Computing Services (UCS) and HyperFlex product families. She's been with the company since 2000 and worked her way up the engineering chain over the course of six promotions. (See Mentor Monday: Cisco's Liz Centoni.)
Centoni says she has gotten to where she is today through a combination of strong female role models, starting with her mom, a willingness to tackle new challenges and accept sometimes painful criticism along the way.
In the series of decisions she's made over the course of her career, perhaps the most important one she made was to work at Cisco in the first place. Finding an employer that fit her values and a company culture that supported her was as important as the job title and pay, she said. (See Cisco's Kanouff Kick-Starts the Multiplier Effect.)
In her keynote address at Monday's Women in Comms conference, Centoni shared the four themes that have shaped her career in comms, advising women to be purposeful and choose wisely, make use of mentors, accept feedback and stick to her north star. (See Intel GM: 5G Opens Up New Era for Women.)
Figure 1: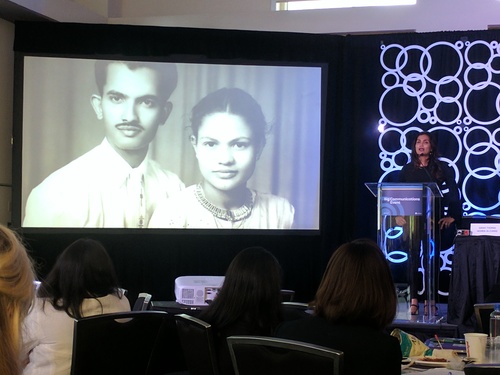 Centoni shares a picture of her mom who encouraged her to take the non-traditional path. She was her first mentor and the woman she thanks for her strong, ambitious and fierce personality.
Be purposeful and choose wisely
As important -- if not more so -- than picking your job is picking your company, Centoni said. When it comes to deciding where to work, consider a company's culture to ensure you're choosing a place where you'll thrive and be passionate about your work and that values what is important to you. There's a reason Centoni has been at Cisco for 20 years even as she's changed positions six times.
"Especially being a woman in tech, a place that accepts my leadership and communication style and sees it as an asset was so important -- the strong part, aggressive part, driving, hard-charging ways, caring about the team," Centoni said, adding, "It's not about conforming to the company, but does the company conform to you?"
Mentors are a must
No single person got to where they are today without someone helping them, according to Centoni. If they tell you otherwise? "I call bullshit," she said. Mentoring, something she does for both in and outside of Cisco, is so important, not just for women but for men too. Centoni called on the men in attendance to be advocates for women, which she said is absolutely critical to retain women in the industry.
For more advice and perspectives on women in comms, check out our past Mentor Monday profiles here on Light Reading. Feedback is a gift
But not all feedback, of course. Some, like being told to smile more -- which Centoni has heard -- can be thrown right away. Other feedback, even if critical, should be taken to heart. Reframe it, to think of it as a gift, Centoni said. Doing so lets you stop personalizing it and look at it more clinically. "We do take it personally, but take it as a gift and separate out the ones that matter from the ones you can throw away," she said. Find your north star
Finding your north star and always staying focused on it was advice that resonated with the other executives on the "Future of Tech" panel at this session. For Centoni, that north star is growth, customers and the team. If she keeps them in mind, it makes big business decisions easier to make by drowning out the noise and distractions. Engineers, for example, can often get caught up in doing technology for technology's sake, but always refocusing on key priorities helps you lead with purpose and clarity. — Sarah Thomas,

, Director, Women in Comms
Subscribe and receive the latest news from the industry.
Join 62,000+ members. Yes it's completely free.
You May Also Like
---