The cable industry is turning to OpenStack for the development of virtualized network functions, and it's hoping to learn a lesson or two from earlier telco forays.
CableLabs , the heart of cable research and development, has created its own OpenStack platform called the SDN/NFV Application Development Platform and Stack project, or SNAPS for short. That in itself isn't news -- SNAPS has been around since 2016 -- but the organization also introduced two related projects as part of its open source effort just three weeks ago. And CableLabs' lead architect for wired technologies, Randy Levensalor, opened up even more recently about how his team's approach differs from some of the NFV strategies undertaken by telecom operators when the virtualization craze first took hold.
First, the new projects are SNAPS-Boot, which sets up the physical servers to run OpenStack (a "basic Linux install," according to Levensalor) and SNAPS-OpenStack, which provisions servers with a containerized version of OpenStack. Essentially, CableLabs has created a wrapper around OpenStack to make it easier for operators to use the platform without turning to a vendor-specific implementation. (See CableLabs Launches SNAPS-Boot, SNAPS-OpenStack Installers.)
Levensalor says CableLabs is intent on driving greater interoperability as the industry virtualizes many of its network functions. SNAPS OpenStack provides a common platform for VNFs and can accommodate work being done by operators and vendors alike.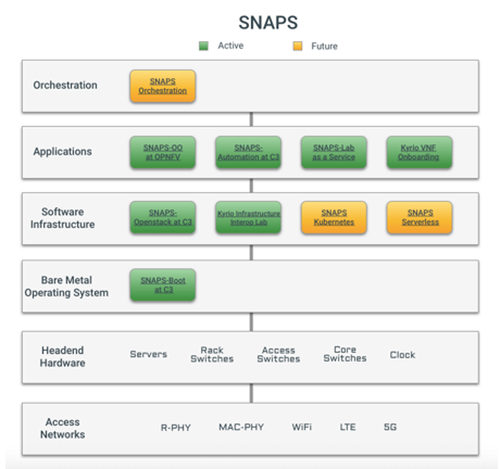 CableLabs is aware, however, that OpenStack isn't a panacea. Even developers with the best open source intentions can go astray when tackling the complex needs of telecom infrastructure.
"Some of the more prevalent NFV solutions from the telcos," Levensalor points out, "they actually end up being stuck on a very old version of OpenStack because they did a lot of customization," and that customization doesn't translate to newer OpenStack releases.
Levensalor says that heavy customization ends up being expensive for operators, "so we're really trying to avoid those challenges in the future."
CableLabs also isn't working at the bleeding edge of OpenStack development. Instead, it's based SNAPS-OpenStack on OpenStack Pike, the most recent stable release of the software architecture. Why? Because a stable release makes it a lot easier to determine the source of a problem when one occurs.
If you fail with a non-stable release, Levensalor explains, you don't know if the problem was a change to OpenStack or the specific application code.
---
Get your strategic roadmap to the technology trends and business cases shaping the cable industry! Join us for the Cable Next-Gen Technologies & Strategies event in Denver on March 20-22. Don't miss this exclusive opportunity to network with and learn from industry experts -- communications service providers get in free!
---
For now, the number of companies working with SNAPS-OpenStack is still limited, but Levensalor expects that to change, and he notes that CableLabs has a vendor-sponsored NFV event coming up in February, where it will both promote existing work and ask for more feedback from members.
Currently, some of the virtualized functions under development using SNAPS-OpenStack include a virtualized CCAP core, firewall and security functions, SD-WAN controllers and a virtualized mobile core. (See related: The Big Cable DAA Update.)
Levensalor says that the SNAPS roadmap extends even beyond OpenStack. CableLabs plans to do an implementation of the open source Kubernetes system and a serverless computing version of SNAPS as well.
The point, says Levensalor, is not for CableLabs to flesh out its entire SNAPS platform before releasing it, but to get the community engaged and contributing to SNAPS development.
"It's not what you call a mature product... but we really wanted to open this up as soon as possible," he comments.
That's a major paradigm shift for CableLabs, and for the cable industry as a whole.
— Mari Silbey, Senior Editor, Cable/Video, Light Reading