A closer look at the Dish 5G/satellite effort for the US military
A closer look at the Dish 5G/satellite effort for the US military
Hughes is the prime contractor for an $18 million open RAN 5G network for the US military. Charlie Ergen, the billionaire owner of Dish Network and Hughes' parent EchoStar, celebrated the network's launch. Several top wireless executives – including Dish and EchoStar Chairman Charlie Ergen – recently celebrated the launch of a new private wireless 5G network for the Naval Air Station on Whidbey Island, a major naval operation in the Pacific Northwest.
EchoStar released a picture of the ribbon-cutting event, which also featured John Mezzalingua of JMA Wireless, Angela Eberhardt of Cisco and David Tokunaga of Boingo.
Figure 1: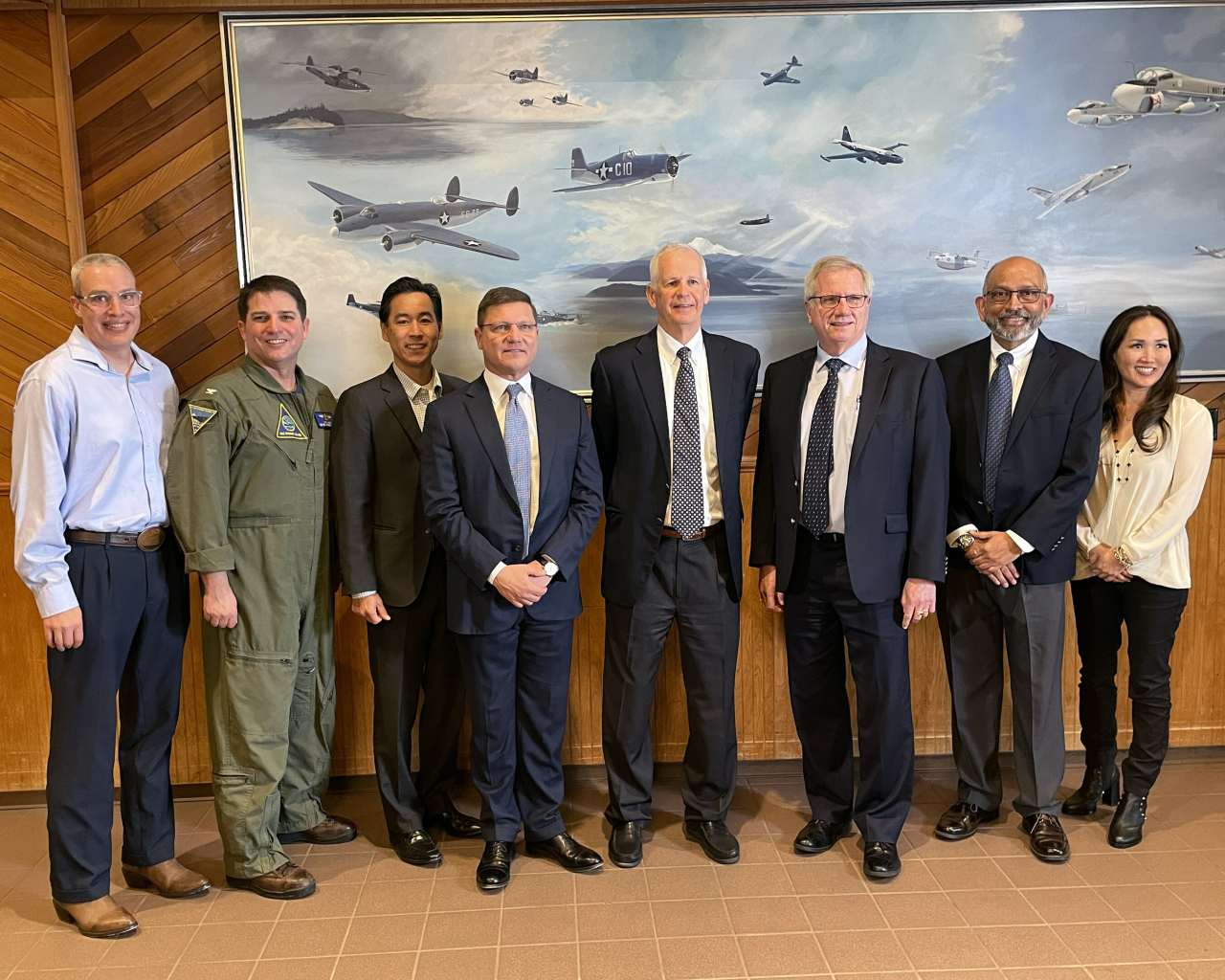 Charlie Ergen, fifth from left, celebrates the launch of a new private wireless 5G network for the Naval Air Station on Whidbey Island.
Others on hand (left to right): Matthew LaTurner, Intel; Captain Eric M. Hanks, Commanding Officer, Naval Air Station Whidbey Island; David Tokunaga, Boingo; John Mezzalingua, JMA Wireless; Rick Lober, Hughes; Dr. Rajeev Gopal, Hughes; and Angela Eberhardt, Cisco.
Click here for a larger version of this image.
(Source: Hughes)
Hughes Network Systems first announced the network roughly a year ago. Hughes is the prime contractor for the network, which stems from an $18 million contract from the Department of Defense (DoD), alongside the Information Warfare Research Project (IWRP) consortium. IWRP is a "collaboration to engage industry and academia to develop and mature technologies in the field of information warfare that enhance Navy and Marine Corps mission effectiveness," according to Hughes.
Other vendors supporting the new network include Boingo (which installs and operates networks at various US military bases), JMA Wireless (which supplied radios for the Whidbey Island network), and Cisco, Dell and Intel (three top equipment vendors for Dish's growing 5G network).
In response to questions from Light Reading, Hughes' Rick Lober explained that the base's new network uses Dish's 3.5GHz CBRS and 600MHz spectrum holdings, and that it covers "a few acres," including the base's flight line and hangars.
The network is intended to support "flight line operations and equipment maintenance," according to Lober, Hughes' vice president and general manager for defense and government systems.
The satellite angle
One reason the network is noteworthy is because it combines terrestrial and satellite connections that are both under the purview of Ergen. The network leverages Dish's terrestrial spectrum holdings and 5G open RAN network architecture, but it also supports a satellite component through Hughes, an EchoStar company.
Ergen, a billionaire, owns a majority of the voting shares of both EchoStar and Dish Network.
"Yes, the deployment includes Hughes Jupiter GEO satellite backhaul with OneWeb LEO to be added for resiliency," wrote Hughes' Lober in response to questions from Light Reading. Hughes is an investor in and a partner of OneWeb.
A Hughes official – Rajeev Gopal – offered more details in the company's press release last year: "Today's walkie-talkies, paper-trails and telephone conversations will be replaced with a private, secure 5G network over which air station processes and systems will be automated and continuously optimized. What's more, the standalone, standards-based configuration – including O-RAN standards for flexibility – will connect seamlessly anywhere on the planet using Low Earth Orbit (LEO) and Geostationary Orbit (GEO) satellite connectivity," he said.
Dish officials have hinted that the company could add satellite capabilities to its 5G strategy thanks to Ergen's holdings in EchoStar. But the network on Whidbey Island may be the first public, concrete example of how that might work.
The notion of a hybrid 5G/satellite network has gained a significant amount of attention recently thanks to new "direct to device" (D2D) offerings from the likes of Qualcomm, Apple, Globalstar and others. Indeed, due to new technology standards, satellites are expected to play a major role in 5G networks of the future as customers increasingly demand Internet connections everywhere on Earth.
Ergen, with his position in both Dish and EchoStar, would seem well placed to capitalize on that trend. Already EchoStar officials have suggested the company's desire to build "a global non-terrestrial 5G network."
The private network angle
For Dish, the company's involvement in the Whidbey Island network is critical considering the company has pinned much of its corporate hopes on success in selling private wireless 5G networks.
"I think the momentum is picking up" around private wireless, said Dish President and COO John Swieringa in February.
However, Dish has struggled recently against Wall Street concerns that its overall 5G efforts won't pay off anytime soon. Indeed, Stephen Bye, the Dish executive spearheading the company's enterprise gambit, left the company in January.
But Dish has been very clear about its desire to win business among military and government customers. For example, in 2020 the company said it would help construct a 5G network using spectrum currently owned by the US military, and also offered the military a slice of its planned 5G network. And in 2021, the company offered a detailed look at its approach to network security in a bid to attract customers concerned about such topics.
Meanwhile, the US military has made clear its interest in 5G in general and open RAN specifically. Broadly, the US Department of Defense (DoD) has suggested it would use 5G for its JADC2 (Joint All-Domain Command and Control) program, which aims to connect virtually every soldier and machine to a Pentagon network in real time.
And with open RAN, the military hopes to develop that 5G network in a way that will allow it to mix and match equipment from a variety of vendors, rather than being locked into one vendor. That remains one of the promises of open RAN.
Dish hopes to supply virtually all of those puzzle pieces and to make private wireless networks a key part of its overall wireless business. And it's investing heavily into building a wireless network that operates on open RAN principles.
Whether Dish will be successful in its efforts remains to be seen. But given Ergen's presence at the launch of Whidbey Island's network, it's clearly a priority for the company.
Related posts:

— Mike Dano, Editorial Director, 5G & Mobile Strategies, Light Reading | @mikeddano
Subscribe and receive the latest news from the industry.
Join 62,000+ members. Yes it's completely free.
You May Also Like
---