MANO Marriage: ECOMP, OPEN-O Converge as ONAP
OPEN-O and ECOMP, two significant open source MANO efforts, are merging into a single entity under the Linux Foundation banner.
The new group, Open Network Automation Platform (ONAP), will include the major service providers from each group plus a significant vendor population, taking the best of what each has to offer into a combined architecture. (See OPEN-O, ECOMP Combine to Create ONAP.)
The announcement comes three weeks after AT&T formally released its ECOMP (Enhanced Control Orchestration, Management and Policy) code into the open source community under the Linux Foundation's auspices and, in a way, foreshadowed this new combination by not announcing Open ECOMP as a formal organization. (See Will ECOMP Be the Alpha MANO? .)
Both Chris Rice, senior vice president of Domain 2.0 Architecture and Design at AT&T, and Linux Foundation Executive Director Jim Zemlin hinted at the time that "harmonization" of efforts was pending.
The question now becomes whether this larger group has the gravitational force to pull in many more service providers and possibly even the other major effort -- Open Source MANO (OSM), which is under the ETSI NFV ISG wing.
At its outset, ONAP includes AT&T, Bell Canada and Orange -- all from the ECOMP team -- as well as the Open Orchestrator backers, including China Mobile, China Telecom and China Unicom.
The vendor list is much longer: It includes Amdocs, Cisco, Ericsson, Gigaspaces, Huawei, IBM, Intel, Nokia, Tech Mahindra , VMware Inc., ZTE , as well as BOCO Inter-Telecom, Canonical , Cloudbase Solutions, Metaswitch and Raisecom.
ONAP will have strong ties to the OPNFV Project as well, as AT&T was a founding member of that organization and OPEN-O recently achieved integration of its earliest release with the OPNFV Colorado release at its plugfest. (See OPNFV Nearing Commercial Deployment.)
---
Want to know more about the companies, people and organizations driving developments in the virtualization sector? Check out Virtuapedia, the most comprehensive online resource covering the virtualization industry.
---
Rice has stated publicly that he expects many more service providers to join the ECOMP (now ONAP) effort and Arpit Joshipura, head of networking for Linux, reiterates that thinking in an interview with Light Reading.
He also doesn't rule out further "harmonization" among open source groups, saying that much of the early stage work of any open source group is very focused on specific use cases in its early releases, so it would still potentially be complementary.
"Later, in release three and four of any open source project, they start looking at adjacent areas, and that's where you might get more of an overlap scenario," he says. "I believe one of the most urgent and important things is to harmonize the network ecosystem. This is a great start and we will continue to look at ways to simplify the consumption model for the end users. That is what the goal is."
For now, the work ahead for ONAP is for its technical steering committee to determine how to best integrate the code developed for ECOMP -- a much-celebrated 8 million lines of software code already in production at AT&T's network -- with that developed for OPEN-O in its first year, Joshipura says. The latter includes "open Tosca and Heat models and VNF software development kits, and the virtual function controllers," he says.
"And the smart people from both sides that are now one team, they figure out the best way to integrate the two," he adds. "Some of it could be plug-ins, some of it could be extensions, some of it could be re-writes -- there are different ways to do that."
The initial architecture for ONAP is still pretty general, as seen below: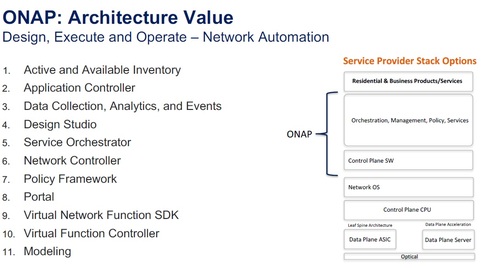 The Linux Foundation will facilitate creation of a governing board and the technical steering committee (TSC), Joshipura notes. More details will be communicated in March and also shared at the Open Networking Summit in early April.
This new union is also likely to be a hot topic of discussion at next week's Mobile World Congress in Barcelona. It was only a year ago at MWC 2016 that both OPEN-O and OSM were announced as separate groups.
— Carol Wilson, Editor-at-Large, Light Reading
---
CALLING ALL CLOUD, NFV AND SDN COMPANIES: Make sure your company and services are listed free of charge at Virtuapedia, the comprehensive set of searchable databases covering the companies, products, industry organizations and people that are directly involved in defining and shaping the virtualization industry.
---
UPCOMING LIVE EVENTS
June 6-8, 2023, Digital Symposium
June 21, 2023, Digital Symposium
December 6-7, 2023, New York City
All Upcoming Live Events
PARTNER PERSPECTIVES
- content from our sponsors