Europe's Stagnant, Says Analysys
Europe's Stagnant, Says Analysys
Woof! Something's getting mighty whiffy on the old continent; no, it's not Ray's socks -- it's Euro sub predictions Western Europe's mobile operators are relying on the success of consumer data services such as picture messaging and games for their financial health, as nearly everyone in the region that wants a mobile phone has now got one, according to a new study by Analysys Research Ltd. (see Analysys: Europe's Maxed Out).

In a new report, "Western European Mobile Forecasts and Analysis 2002-2007," Analysys says it believes total subscriber numbers will increase only slightly in the coming five years, from 287 million in 2002 to 306 million in 2007. Year-on-year growth in 2002 will be just 6 percent, compared with 17 percent in 2001 and a whopping 53 percent in 2000, says report author Katrina Bond (see chart below).


Although those high growth levels were always known to be unsustainable, has the industry hit the wall sooner than the carriers expected? "In some ways, yes. The past six months has seen a dramatic decrease in the number of unique new subscribers," Bond tells Unstrung (Analysys counts those individuals with more than one phone as one subscriber). "There have even been some declines recently, most notably D2 Vodafone in Germany, which had a fall in number of subscribers in the period December 2001 to March 2002." Across all operators, Germany recorded miniscule growth in the first half of 2002, according to Analysys (see chart below).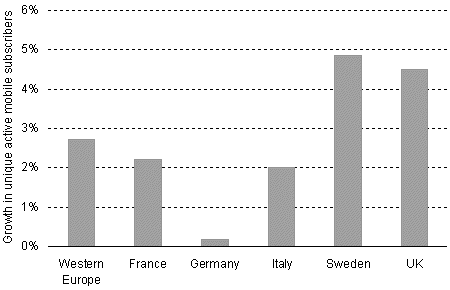 "Although it's not about winning market share at any cost these days -- the focus is much more on average revenue per user (ARPU) -- subscriber numbers are still very important. The carriers will be wanting to maintain their customer levels at the very least."

ARPU is still at the heart of mobile carrier reporting, though, and is seen as a benchmark of progress. Analysys sees ARPU figures starting to level out now after some dramatic decreases in the past few years, but sees slow growth in years to come. "We won't see ARPU levels to match those of 2000 until about 2007," says Bond. "Levels will be flat or slightly decline in 2002 but should start to pick up in 2003, though these increases will only be regaining lost ground."

To achieve this, the uptake of newly launched services such as MMS is vital: Rejection by customers will result in declines in revenue and consolidation among the operators, says Bond. She is optimistic that data use will grow and offset declines in voice revenue, resulting in overall revenue growth from €104 billion in 2002 to €134 billion in 2007. Analysys reckons Western European operators will earn 13 percent of revenues from non-voice services this year, compared with 8.8 percent in 2001 and 5.3 percent in 2000.

"Growth in non-voice services is encouraging, though these are largely still from SMS and ringtones and logos just now. What is vital to fuel demand for other data services, such as picture messaging and Java games is the combination of affordable and easy-to-use handsets and services. Having Java-enabled devices with color screens is going to make the marketing of these services much easier, too," says Bond. "People will be able to physically see that these phones can do more than just voice."

Bond also believes more attention should be paid to prepaid customers. "There has been a greater push to turn prepaid into postpaid, and there has been some success there. But it is equally as important to increase monthly ARPU among prepaid users, and carriers can do this by extending more services to those users. Many don't offer GPRS connections to their prepaid customers, which means they won't be able to use the picture messaging services. But prepaid customers account for about 63 percent of all mobile subscribers in western Europe -- they're very important for carrier revenues. And there are some signs that carriers are seeing these customers as more than just voice and SMS users. For example, T-Mobile Austria has enabled GPRS connectivity for its prepaid customers." (See T-Mobile Offers Prepaid GPRS.)

Bond says she will be paying close attention to ARPU figures and the percentage of revenue from data services in the coming quarters to see whether new services and the availability of new handsets are having an impact. As for 3G, she doesn't expect to see any impact until 2005 -- an all too familiar prediction at present that spells bad news for greenfield 3G operators and equipment suppliers alike.

Oh, and let's not forget good old wireless LANs. Analysys reckons mobile operators could wave goodbye to up to 10 percent of data revenues if they give WiFi the cold shoulder.

Just to clear one thing up, what is Western Europe exactly? Well, Analysys regards Western Europe as the 15 member states of the EU plus Norway, Switzerland, Iceland, Cyprus, and Liechtenstein. Well, where else is Iceland gonna go?

— Ray Le Maistre, European Editor, Unstrung
www.unstrung.com
Subscribe and receive the latest news from the industry.
Join 62,000+ members. Yes it's completely free.
You May Also Like
---