Kaitki Agarwal has a very simple message for anyone doubting their abilities or chances of making it in the comms world: "If a girl that learned math under a tree in rural India can co-found a successful wireless startup, so can you!"
Agarwal is the co-founder and vice president of development for cloud radio access network (RAN) provider Parallel Wireless Inc. She co-founded the company in 2012 after more than 20 years of leading and managing worldwide teams that reimagined the packet core, but her interest in product development actually began when she was a little girl growing up in Northern India. Her family didn't have a lot of resources, but that didn't stop her from exploring and dreaming of the things she could one day build with the financial means and tools to do so. At the time, the top of her list was a "house shaped like a teddy bear with windows in his eyes and two slides in his arms to slide out of the house."
She may have settled for living in a normal house in Boston today, but she's since had her hand in developing a number of crucial wireless technologies, including voice-over-LTE (VoLTE), WiFi access gateways, LTE CS fallback, data-path localization, femto security gateways, SS7 and SIP signaling, basestation controllers and more. (See Parallel Wireless Innovates With vRAN for Small Cells.)
Agarwal, who will be speaking at today's Women in Comms luncheon in Austin, Texas, caught up with WiC ahead of time to share more about her personal journey and offer sage advice for women, including a surefire plan to becoming fearless.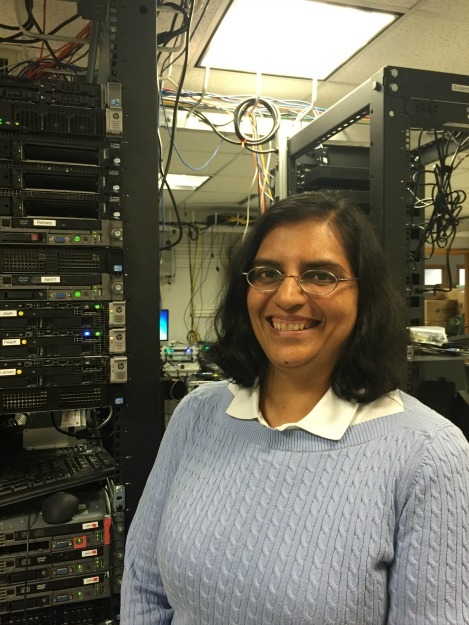 ---
Interested in joining Women in Comms on our mission to champion change, empower women and redress the gender imbalance in the comms industry? Visit WiC online and get in touch to learn more about how you can become a member!
---
Women in Comms: Who was your inspiration?
Kaitki Agarwal: My mother. She was an extremely smart and talented woman, but she couldn't realize herself as women back then were encouraged to find security in getting married instead of trying to get to their dreams. She inspired me to follow my dreams and to find opportunities for myself since early on. She always believed in me. Knowing that learning was a key to get to my dreams, not having a classroom, and learning school curriculum under a tree, never even stopped me from absorbing knowledge that I was so hungry for. My mother saw a sparkle in me and she not only cultivated that sparkle, she ensured that I had the means to choose any school I wanted to go to. She had a small business running out of our home renting video cassettes (remember those ones?), so when the time came to apply to college, the question was not about can we pay for it, but how well I needed to do on my entrance exams to fulfill my passion to go to IIT.
WiC: What is your leadership style?
KA: I have a few leadership styles that I use depending on the situation, from nurturing to inspiring. My combined leadership style is built on three principles: respect of each other's individual working style, allowing people to figure things out, even through making mistakes, and helping people build their confidence and independence. My end goal is always to help my team to be the best they could be by guiding them through their journeys and by removing any mental barriers in their mind of "cannot-do-it-ness" -- we all can do it. If a girl that learned math under a tree in rural India can co-found a successful wireless startup, so can they and so can you! I also do not know everything, so I figure things out. That is how I have been all my life. So, there is nothing wrong with giving yourself or your team time to innovate, be creative and figure things out. There is nothing wrong with even failing sometimes -- as long as we brush the dirt off our knees when we fall and keep going -- it is all good!
WiC: What do you see as the biggest issue facing women in comms today?
KA: The biggest issue in my mind is that we all are products of our society, not just women, but men as well. (We tell our boys when they cry to stop crying and to "be a man" and it teaches them to hide their emotions). Our girls are used to hearing "you are bossy" when they try to express their opinion or stand up for themselves. This kills confidence. The most important thing that women in comms (or any woman for that matter) need to do is to believe in themselves. It is hard, but surrounding themselves with a support circle of friends and family that can help women to "fake it until you make it," is what will help to build the inner confidence and remove any mental barriers. I have been lucky all my life as I always had someone who believed and encouraged me: from my parents who always told me to follow my dreams and supported me in every possible way, to my husband, a very successful CTO, who took care of our infant son when I had to travel to customer meetings.
WiC: What can we, as an industry, do to recruit, retain and/or promote more women?
KA: As a community, we need to help women to remove any mental barriers to help them join and grow in the industry. That is why we joined WiC -- together we all can be that supportive, kind and encouraging circle to each other. There is a perception that "technology is a man's world," the same perception that was around medicine in the 50s. But removing those perceptions, and realizing that technology is "everyone's world" will help to attract more young girls to get involved in communications and technology. I see more and more toys in the market that help girls to stop being afraid of technology and start loving it. It will take time, but those young girls playing with robots or computers will encourage more and more women to look at the technology differently. After all, technology itself is a collective brainpower from all of us, men and women.
To help retain any employee, male or female, companies need to provide them with the resources to do their best as different people might have different needs. So, for women that are mothers, it might be having a daycare closer to the office. Or allowing young mothers to come back to work after having children on a reduced-hour work week to help them ease back into the workplace.
WiC: Are there any programs you or your organization is involved with that you'd like to highlight?
KA: Though we do not have any official programs in place at Parallel Wireless, we encourage all of our employees to have balance between work and personal lives (though it is hard when you work for a thriving young company!). We want to cultivate a culture of ownership and leadership, so that every employee feels accountable and responsible for the success of the company. We hire based on qualifications, but we also do not frown upon talented women that want to join our team having a break in their careers due to taking time off to raise their children. After all, happy people are happy employees.
WiC: What is your biggest piece of personal advice to a woman pursuing a career in the next-gen comms space?
KA: Though personally, my road as a woman in communications has been and might be very different: if opportunities weren't given to me at first, I worked even harder to prove to everyone that I deserved those opportunities, I know that it is difficult for many women to speak up to get those opportunities. So, my biggest personal advice to any woman that wants to pursue a career in the next-gen comms space or already is a part of the space is not to be afraid, as fear will hold you back. You need to know and believe in your own strength. You have the creativity and smarts to change the world for better like anyone else. Do one thing every day that scares you, even it is a tiniest little thing. One tiny act of courage every day will help you to remove those mental blocks and by the end of the month, you will be fearless! And by the end of next month, you will become super-fearless! And by the third month, you will be helping other women to find their inner fearlessness.
— Sarah Thomas,

, Director, Women in Comms