Ericsson Corruption Scandal Sullies Strong Q3
Ericsson said a US investigation into corrupt practices dating back several years could land it with a "material" fine in a statement that partly overshadowed a strong set of third-quarter results for the Swedish equipment vendor.
CEO Börje Ekholm said Ericsson AB (Nasdaq: ERIC) had already sacked about 50 people linked with those activities after revealing that an internal investigation had found evidence of corruption. "We've reported that to authorities and that is part of the investigation," he told analysts during an earnings presentation today. "We don't know how the discussions will go but we think it is likely that some measures will be taken."
The US investigations -- led by the Department of Justice (DoJ) and Securities and Exchange Commission (SEC) -- concern activities dating back to before 2007, when Ekholm was not at the company, and cover a "fairly wide scope," he said.
Ekholm declined to shed further details on the nature of the investigation at this stage, but the update follows reports last year that several "top executives" at Ericsson were involved in a bribery scandal across markets in Africa, Asia, Europe and the Middle East. At the time, the Business Insider said about 20 people had been answering questions posed by the DoJ and SEC.
"Today we can't assess the magnitude of this which is why we don't take a provision against it," said a visibly disappointed Ekholm. "It is an ongoing matter and that is unfortunate, but that is where we are."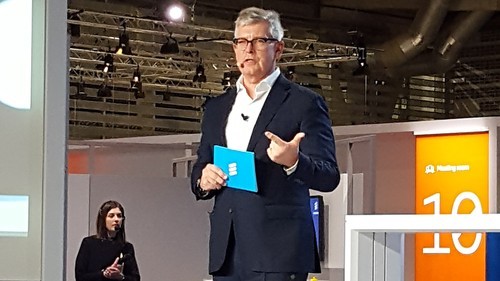 Swedish operator Telia Company was fined about $1 billion last year after a similar investigation into corruption at its Asian business. That penalty equaled about 11% of the company's revenues last year. (See Eurobites: Telia Coughs Up $965M to Exit Uzbek Nightmare and Pinpricks & Big Sticks: An Anatomy of Telco & Tech Fines.)
But investors seemed unpanicked by news of the investigation after Ericsson reported its first quarterly net profit since June 2016. The company's share price rose after Ekholm had taken questions from analysts and was trading up 3.5% in Stockholm at the time of publication.
After turning the corner on operating profits in the second quarter, Ericsson took another big step toward earnings targets thanks to cost reductions and healthy sales of network products -- despite some lingering concern about its digital services unit. (See Ericsson Back in Profit After Fierce Cuts & 5G Action.)
The company's operating margin soared to 6%, from just 0.3% in the previous quarter, following the completion of a major cost-cutting program earlier this year. Ericsson has now laid off 22,000 employees since June 2016, including 761 in the recent quarter, and finished September with just 95,000 workers. It is aiming for an operating margin of 10% by 2020.
Table 1: Ericsson's Q3 Headline Figures (SEK Billions)

Q3 2018
Q3 2017
YoY change
Net sales
53.8
49.4
9%
Gross margin
36.5%
26.9%
9.6 percentage points
Operating income
3.2
-3.7
N/A
Operating margin
6.0%
-7.4%
13.4 percentage points
Net income
2.7
-3.5
N/A
Cash flow from operating activities
2.0
0.0
N/A
Free cash flow excluding M&A
0.7
-0.8
N/A
Net cash at end of period
32.0
24.1
33%
Source: Ericsson.
Ericsson swung to a net profit of 2.7 billion Swedish kronor ($300 million) from a net loss of SEK3.5 billion ($390 million) a year earlier.
Thanks to foreign exchange effects, sales were up 9%, to SEK53.8 billion ($6 billion), over that period, but rose just 1% in constant currency terms. There was much better news at the networks business, however, with sales up 13%, to SEK35.9 billion ($4 billion), and registering a 5% increase on a constant currency basis. Market research firm Dell'Oro expects overall industry revenues from the sale of radio access networks to fall 2% this year.
End of the networks drought?
After a long drought in the market for mobile network infrastructure, Ericsson is at last benefiting from the first wave of spending on next-generation 5G equipment, as operators in North America launch or prepare to introduce the first commercial 5G services. (See Ericsson Lands $3.5B 5G Deal With T-Mobile Weeks After Nokia Did Same.)
"What we see is that demand for our products comes from growth in data," said Ekholm in response to questions from Light Reading. "Ultimately you will need 5G to increase spectral efficiency and get the lowest possible cost." A 5G network will be about ten times more cost-efficient than a 4G one, according to Ekholm.
Both Ericsson and Finnish rival Nokia Corp. (NYSE: NOK) have undoubtedly been helped by a US government crackdown on Chinese competitors Huawei Technologies Co. Ltd. and ZTE Corp. (Shenzhen: 000063; Hong Kong: 0763), which are forbidden from selling network products to the main US operators. In other parts of the world, Chinese competition has long been held partly responsible for the declines at Ericsson and Nokia. (See US Senators Urge Canada to Ban Huawei – Report.)
Nevertheless, investors have recently been encouraged by the progress that Ericsson has made under CEO Börje Ekholm, who took charge of the Swedish firm in early 2017, when its future looked uncertain. (See Is Ekholm Ericsson's Savior or Seller?.)
Ekholm's strategy has been to sharpen the focus on the networks side of the business, pumping R&D investments into the development of 5G technology even as cuts have been made elsewhere. "We've increased the commitment to R&D by recruiting 3,000 engineers," said Ekholm. "We've reduced costs by over SEK10 billion [$1.1 billion] on a run rate basis [annually] and we're exiting non-strategic contracts and reworking unprofitable ones."
Ekholm also took a decision to sell media and cloud hardware assets deemed "non-core" parts of the business. It expects to close the sale of a 51% stake in MediaKind, the rebranded media solutions business, to One Equity Partners by the end of this year. (See IBC2018: What MediaKind Did Next and Ericsson Rebadges Media Unit, Eyes Smart Cities, M&A.)
---
Want to know more about 5G? Check out our dedicated 5G content channel here on
Light Reading.
---
Even so, while the networks unit appears in far healthier shape than it did two years ago, there is still a cloud over the digital services division, which sells software and IT systems to service provider customers.
Sales were up 1%, to SEK9 billion ($1 billion), but fell 6% in constant currency terms, and the business continues to rack up operating losses. While these narrowed to SEK1.8 billion ($200 million) in the quarter, from SEK3.8 billion ($420 million) a year earlier, Ericsson remains a long way off its target of a low single-digit operating margin by 2020.
Answering questions from analysts, Ekholm blamed a profitability squeeze since the second quarter on costs related to a large transformation project. "There are large parts or the business, like packet core and OSS [operational support systems], that are developing strongly and doing well, but there are some areas where we need to improve profitability," he said.
Ericsson has put 45 digital services contracts up for review and says it has now "addressed" 19 of these, meaning they have been renegotiated or even scrapped.
A similar overhaul is nearly finished at the managed services business, which swung to an operating profit of SEK400 million ($45 million) from a loss of SEK700 million ($78 million) a year earlier, despite a 2% dip in sales, to SEK6.5 billion ($730 million). The organic sales decline was as much as 8%.
— Iain Morris, International Editor, Light Reading
Like what we have to say? Click here to sign up to our daily newsletter
One of America's most loved telecoms get-togethers, The BIG 5G Event, will be returning to Austin in 2023 to host 1,500+ telecom, cloud and technology professionals — and we want you to be a part of it!
For three days, you can meet and network with leaders from every part of the North American 5G ecosystem and hear from over 150 speakers on the hottest industry topics. To apply for your complimentary pass to the event, visit this link.
EDUCATIONAL RESOURCES



PARTNER PERSPECTIVES
- content from our sponsors