BT's McRae: Huawei Is 'the Only True 5G Supplier Right Now'
LONDON -- Global Mobile Broadband Forum -- Ericsson, Nokia, Samsung and ZTE got a kick in the pants Wednesday morning from BT's Chief Architect Neil McRae when he proclaimed "there is only one true 5G supplier right now and that is Huawei -- the others need to catch up."
McRae might have been in a supportive environment, at Huawei's own Global Mobile Broadband Forum event in London, but the outspoken BT executive's message was clear -- Huawei's 5G rivals are stuck in a telco mindset rut and need to up their game.
"I've been to Shenzhen recently [Huawei's headquarters] and there's nowhere else in the world where you can see" the kind of 5G technology developments that Huawei has achieved, he noted during a panel discussion, though without highlighting any specific advances.
"The other suppliers need to learn from Huawei -- the others are held back by old telco issues," he added, before going on to praise Huawei's support for BT's next-generation network development activities. (See BT to Put 5G at 1,500 Sites in 2019, Beating Vodafone.)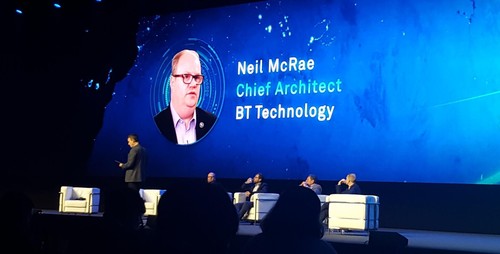 Of course, this is just one executive's viewpoint, but McRae is a straight talker and knows the impact of sharing his views in public. This is clearly his way of warning the other 5G radio access equipment developers that (in his view) they have lagged behind Huawei, which is aggressively targeting any and all 5G engagements in the markets where it is welcome.
Having one supplier way ahead in terms of R&D and support services is not a good situation for the likes of BT (which owns the UK's largest mobile network operator EE) and other major operators, which will want a number of suppliers to be able to provide cutting-edge, innovative technology solutions for 5G deployments.
And as McRae was talking at a Huawei-hosted event, it wasn't too long before senior executives from the Chinese vendor were highlighting multiple advances that the company has made in integrating multiple technologies into small, power-efficient form factors, as well as in using artificial intelligence tools to improve operations and maintenance (O&M) processes and so lower operating costs for network operators.
It's those kinds of capabilities that, even in the early days of 5G, are enabling Huawei to boast of significant overseas shipments of 5G-enabled radio access products. (See Huawei Has Shipped 10K 5G Basestations Outside China.)
It was also obvious from the event that, despite some ongoing concerns about the security implications of deploying technology from Chinese suppliers, the support for Huawei from major operators across Europe, the Middle East, Africa and Asia is strong.
And for McRae, it's hard to imagine he won't be getting a call from the Nordics in the very near future.
— Ray Le Maistre, Editor-in-Chief, Light Reading
Like what we have to say? Click here to sign up to our daily newsletter
One of America's most loved telecoms get-togethers, The BIG 5G Event, will be returning to Austin in 2023 to host 1,500+ telecom, cloud and technology professionals — and we want you to be a part of it!
For three days, you can meet and network with leaders from every part of the North American 5G ecosystem and hear from over 150 speakers on the hottest industry topics. To apply for your complimentary pass to the event, visit this link.
UPCOMING LIVE EVENTS
June 6-8, 2023, Digital Symposium
June 21, 2023, Digital Symposium
December 6-7, 2023, New York City
All Upcoming Live Events
PARTNER PERSPECTIVES
- content from our sponsors