SBC, DPI on Genband's Hit List
SBC, DPI on Genband's Hit List
Genband CEO Charlie Vogt highlights some markets the vendor's chasing down to help it lock down earnings growth of 15% to 20% NEW YORK -- Genband Inc. has made its mark by biting off Nortel Networks Ltd. 's Carrier VoIP and Application Solutions (CVAS) business about 18 months ago and, generally, by helping carriers make the jump to VoIP, but the company continues to pursue other growth paths that tie into the ongoing "network transformation." (See Genband Wins Nortel's Carrier VoIP Biz.)

Speaking here at the company's analyst's day, Genband CEO Charlie Vogt paid some special attention to the company's interest in penetrating the session border control (SBC) and deep packet inspection (DPI) markets. It's got its own SBC product, and is working with Procera Networks to tack on DPI. (See Genband OEM's Procera's DPI.)

While everyone is chasing Acme Packet Inc. (Nasdaq: APKT), the runaway SBC market leader, the DPI sector is made up of small standalone players, though there's some question about whether DPI offers Genband much of a moneymaking opportunity.

Acme Packet commands more than half of the SBC market and Genband is fourth, with just 5 percent, according to Infonetics Research Inc. data. But Vogt is now gunning for much more now that Genband has SBC customers such as Virgin Media Inc. (Nasdaq: VMED) and Verizon Communications Inc. (NYSE: VZ) (for FiOS).

"We have to get to that 10 to 12 percent range to make it interesting for us," Vogt said.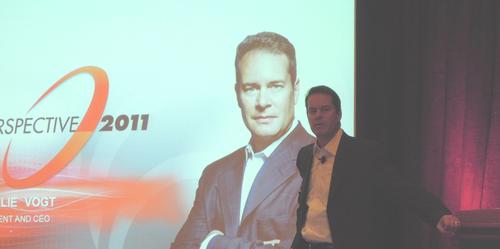 And others probably have the same idea. "A lot of companies want to be the clear No. 2 player to Acme Packet," but there isn't one, Morgan Keegan & Company Inc. analyst Simon Leopold tells Light Reading Cable. In addition to Genband, other contenders that are jostling for that position include Alcatel-Lucent (NYSE: ALU), Sonus Networks Inc. (Nasdaq: SONS) and relative newcomer Metaswitch Networks . (See Metaswitch Picks a Fight With Acme Packet.)

Leopold says it's well established that Acme Packet is far ahead of the pack not just from market share, but from general product richness and functionality too. But the opportunity is still ripe for another vendor to jump in and establish itself. "It's a market place that wants alternatives. Who wants to be beholden to a single source vendor?"

On the DPI front, Genband is doing about $10 million in annual sales, Vogt says, stressing a belief that it's a market that's going to grow as fast as SBC is. "There's no one dominant player," he says of Genband's DPI opportunity.

But Leopold questions whether there's much money to be made in DPI, which is largely comprised of relatively small revenue pure-plays like Sandvine Inc. , Procera and Allot Ltd. (Nasdaq: ALLT), while giants like Juniper Networks Inc. (NYSE: JNPR), Cisco Systems Inc. (Nasdaq: CSCO) and Alcatel-Lucent (NYSE: ALU) integrate that functionality into their routers.

"The DPI space is absolutely logical in terms of market need," Leopold says. But revenues in the neighborhood of tens of millions of dollars aren't exactly the kind of scratch that "gets the investment community excited," he adds.

But DPI and SBC are only part of Genband's developing business growth story. It's also looking to expand internationally (60 percent of its business is in North America), win more business for its third-generation, AdvancedTCA (ATCA)-based GENiUS platform, and to seek out potential business partnerships with companies outside the traditional carrier sector, such as Facebook . (See Genband Plays Name Game With Nortel Set.)

"Facebook looks to use like a service provider. Skype is a service provider," Vogt says.

With everything factored in, Vogt estimated that Genband has an opportunity to produce earnings growth of 15 percent to 20 percent, alongside 5 percent to 8 percent top-line revenue growth.

— Jeff Baumgartner, Site Editor, Light Reading Cable


Subscribe and receive the latest news from the industry.
Join 62,000+ members. Yes it's completely free.
You May Also Like
---