GSMA Opens a Mobile Marketplace
GSMA Opens a Mobile Marketplace
Industry association has 1,300 companies signed up at launch. The GSMA is looking to extend its role of mobile industry meeting place beyond Mobile World Congress with the launch of Marketplace, which it's calling the world's first online commercial platform dedicated to the global mobile industry.
The GSM Association (GSMA) counts nearly 800 operators and 250 companies including handset makers, software companies and enterprises in its membership. These organizations will purchase $1.3 trillion worth of products and service by 2017, and 78% of that purchasing will be done by the mobile network operators, the GSMA says. As such, the GSMA wants to be the neutral, online Marketplace where companies can come together to buy and sell their wares.
"We're looking to deliver value to buyers and sellers," says Julian Bishop, VP of new product development for the GSMA. "On the buyer side, we want to improve procurement efficiency for buyers. On the seller side, want to give them an efficient way to connect with new customers."
At launch, the GSMA says 1,300 organizations are signed up, including 135 buyers, 95% of which are mobile operators such as NTT DoCoMo Inc. (NYSE: DCM), SK Telecom (Nasdaq: SKM) and Vodafone España S.A. . The sellers include vendors like Amdocs Ltd. (NYSE: DOX), Ciena Corp. (NYSE: CIEN) and Ruckus Wireless Inc. .
A lot of the big operators and vendors are missing from the list, which Bishop says is because it takes longer for them to change their typical procurement processes and because they might already have well established vendor relationships. The GSMA man says the Marketplace is initially targeting small-to-midsized buyers with up to $5 billion to $6 billion in revenue and that it's gaining the most traction in Africa, Asia and parts of Europe.
Marketplace is free for buyers to join and $1,500 annually for sellers, who can then set up their own, personalized storefronts with their product or service catalogs for buyers' perusal. These companies do have other options, such as Alibaba Group in China, but Bishop says no other company operates a global, mobile marketplace like the one the GSMA is creating.
For more on mobile topics, peruse the mobile content channel here on Light Reading.
The GSMA makes sense as the storefront owner for this type of service, because it's already serving that function at its industry events such as MWC in Barcelona and Shanghai. For most players in the mobile industry, MWC is the biggest event of the year. It's where they meet clients face-to-face, forge new partnerships, seal deals and discuss new relationships.
In the past several years, however, there's been some debate on how essential the massive show is in a quickly changing industry. It's gotten bigger every year, but booths are expensive and some vendors are finding better luck at more focused events. Light Reading polled our readership, asking if MWC is essential for those that work in the mobile industry, and responses were split 55%/45% with those in favor of attending the show winning out. The largest group of respondents, 33%, answered "not really," while 25% said probably. Only 30% said "definitely yes." (See MWC: What Is It Good For?)
Figure 1: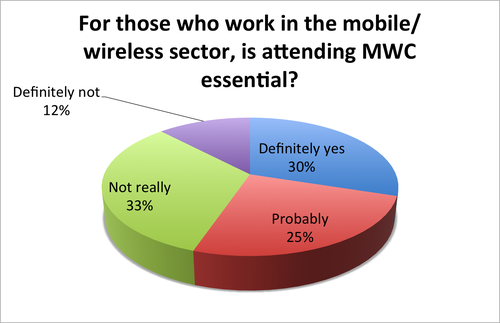 That said, whether companies want to pay the prices and make the trip, it appears they're going anyway. This year nearly 93,000 attended compared to the 85,000 that traveled to Barcelona last year. The GSMA is hoping that Marketplace keeps these users connected the other 361 days of the year and perhaps also gives them a reason to keep coming back. (See MWC 2015: Virtual Reality Bites!)
"[At MWC], we connect buyers and sellers, but it is four days a year and tends to be larger players and European buyers and sellers, so this is really about expanding the role we already play to 365 days per year and expanding it so that all the companies in the ecosystem can participate," Bishop says. There are lots of links between the two, and we hope those links continue."
— Sarah Thomas,

, Editorial Operations Director, Light Reading
Subscribe and receive the latest news from the industry.
Join 62,000+ members. Yes it's completely free.
You May Also Like
---