Dell EMC Brings Its Hybrid Cloud to Azure Stack
Dell EMC Brings Its Hybrid Cloud to Azure Stack
Dell EMC is looking to bring its hybrid cloud offerings to Microsoft's new Azure Stack as the two companies eye the enterprise data center. Dell EMC is bringing its hybrid cloud infrastructure to Microsoft's new Azure Stack as the two companies look to make a play for the enterprise data center and companies that are using a combination of private and public clouds.
The Dell EMC Cloud for Microsoft Azure Stack is being unveiled on May 4, a few days before the company's annual user show in Las Vegas kicks off. The product has been in limited beta testing for the past several months and will become generally available in the second half of this year.
While public cloud platforms are garnering most of the attention, thanks in part to the popularity of Amazon Web Services, as well as Azure, Dell is betting on a market where many enterprises move some applications to the cloud and keep other workloads on-premises but use cloud technologies within these data centers. (See Cisco Ponders the Meaning of the Multicloud Market.)
Dell has been developing hybrid cloud platforms for the last three years and the Dell EMC Cloud for Azure Stack is the next step in that process, said Kevin Gray, the director of product marketing for the company's Hybrid Cloud Platforms.
"Some of our best customers for hybrid cloud platforms are those who have tried to build it on their own at first and they find that just building it and getting it up and running is hard, but then trying to sustain it, keeping the expertise in-house, making sure they keep up with the latest upgrades and the try to build a roadmap of those enhancements in the future is the really hard part," Gray said.
Figure 1: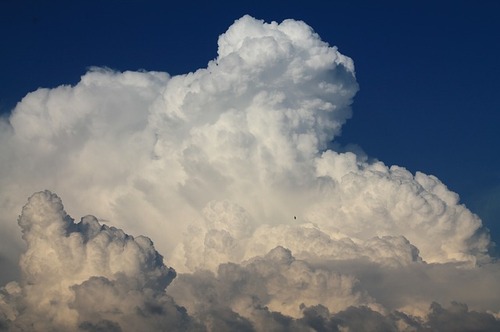 (Source: Zsoravecz via Pixabay)
"That's why we think a turnkey, hybrid platform is the right step because it allows our customers to focus on delivering value-added services rather than building our infrastructures," Gray added.
Microsoft seems to understand this as well, which is one reason why the company has begun rolling out its Azure Stack, which looks to bring many of the same features found in the Azure public cloud platform to the private data center. The Azure Stack has a number of enterprise and developer features, as well as platform-as-a-service (PaaS) tools, and looks to rival already established offerings from OpenStack and Cloud Foundry.
The Azure Stack is focused more on enterprises that are already heavily invested in Microsoft's ecosystems, and use applications built on the company's development platforms.
In addition to the company's servers, networking gear and other hyperconverged infrastructure, the Dell EMC Cloud for Azure offers back-up, app development tools, data protection and encryption, which can work in private, as well as public clouds.
M&A activity is turning the cloud upside down. Find out what you need to know in our special report: Mergers, Acquisitions & IPOs Are Rocking the Cloud.
The Dell EMC hybrid platform can start at four nodes to support up to 100 Azure virtual machines and can scale to 12 nodes supporting 600s VMs.
In addition to the new hybrid platform, Dell EMC also released a report conducted and written by IDC, which is based on responses from 1,000 midsized to large businesses. The report found that nearly 80% of large enterprises -- a 1,000 or more employees -- have already incorporated a hybrid cloud strategy.
The report also found that 51.4% of respondents are already using public and private cloud infrastructure resources with an additional 29.2% of those surveyed expecting to do the same in the next 12 months.
"Customers are already moving to this model and the need is to simplify it so that they can focus on getting the value out of it and letting Dell EMC to deliver the platform," said Gray.
Related posts:
— Scott Ferguson, Editor, Enterprise Cloud News. Follow him on Twitter @sferguson_LR.
Subscribe and receive the latest news from the industry.
Join 62,000+ members. Yes it's completely free.
You May Also Like
---