Amazon's Jassy Throws Punches at Oracle
Amazon's Jassy Throws Punches at Oracle
Hits the enterprise software vendor on lock-in and portability. Amazon Web Services CEO Andy Jassy tossed a couple of blows against rival Oracle during a presentation at a company conference on Wednesday.
Oracle is a small player in the cloud but it's investing considerable resources in becoming a leader. And it's already a leader in enterprise computing. Jassy took on Oracle Corp. (Nasdaq: ORCL) Wednesday for a few minutes of a broad-ranging, hour-long talk billed as a "fireside chat" at AWS Summit in San Francisco on Wednesday. (See Oracle CEO Mark Hurd: Eventually, We'll Get Them All.)
The Amazon Web Services Inc. (AWS) boss challenged Oracle on openness and lock-in.
"When you look at the cloud, it is really nothing like being locked in to something like Oracle," Jassy said. Cloud providers offer similar APIs, Amazon Web Services Inc. products are built on open source and migration tools let you migrate into and out of AWS. "It is much easier to move away from something like the cloud than it is from the software services that created this phobia [about lock-in]," Jassy said. (See AWS CEO: Enterprise Data Center Is Doomed and Why Amazon Web Services?)
Figure 1: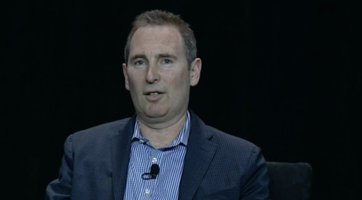 Jassy delivers a fireside chat. What's missing? The fire.
Jassy also took aim at competitors, including Google Cloud Platform, and infrastructure providers such as Cisco, VMware Inc. and Hewlett Packard Enterprise. These companies offer a multi-cloud strategy -- enabling enterprises to connect with multiple cloud providers.
Jassy said enterprises flirt with multi-cloud, but eventually end up with a single cloud provider. Going multi-cloud requires enterprises to "standardize on the lowest common denominator," Jassy said. It requires developers to learn multiple platforms, and it increases costs by reducing or eliminating volume discounts offered by cloud providers.
"When most CIOs and enterprises look at it carefully they don't split their workloads," Jassy said. Most pick just one, and some will also add a small investment in a second cloud platform provider, for assurance they can switch.
Then it was back to Oracle for discussion of databases and avoiding lock-in. "Customers have been locked into companies that are expensive, and proprietary, and customers frankly don't like it," Jassy said. He didn't name Oracle this time but the comparison was obvious.
Can Google make the grade as an enterprise cloud provider? Find out on our special report: Google's Big Enterprise Cloud Bet. Enterprises want the performance of commercial databases combined with customer friendliness and pricing of open source software like MySQL and PostgreSQL. Amazon's Aurora provides that and – because it is fully compatible with MySQL and PostgreSQL, enterprises can migrate to the community versions of those applications. For the bulk of Jassy's talk, he discussed the importance of hybrid cloud, machine learning, AI, storage, edge computing and other developments previously reported over the past year or more. He also took a moment to tout Amazon Marketplace, which he said is transforming "basic procurement of software." Previously, enterprises looking for software had to find vendors, and have protracted conversations with salespeople, while vendors had to maintain big sales and marketing budgets. Now, the market is simplified for both, by offering online self-service application licensing, with 3,500 products from 1,200 technology providers, running 700 million hours on the Amazon EC2 cloud. "It's completely changing how software is being bought and procured," Jassy said. "If you're a seller of software it's very appealing," he added. Jassy's discussion followed a presentation by AWS CTO Werner Vogels where he rolled out several new developer tools. AWS is allowing Marketplace sales of software-as-a-service applications and APIs in one-, two or three-year subscriptions; CodeStar, an integrated environment for writing and delivering AWS apps; and Redshift Spectrum, a service for running queries on Amazon Simple Storage Server. Amazon had other announcements Wednesday as well. (See AWS CTO Unleashes Torrent of Developer Features.) Related posts: AWS Tops in Public Cloud, but Azure Is Catching Up Oracle's Cloud Transition Pays Off Amazon Web Services Outage Caused by Typo AWS S3 Goes Down, Internet Snow Day Declared Oracle Beefs Up IoT Cloud Snap Commits $1B to AWS AWS Growth Slows, But Amazon's Still Killing It in Cloud Oracle Acquires Apiary to Bolster Cloud APIs Amazon Takes Cloud on the Road — Mitch Wagner
Editor, Enterprise Cloud News CALLING ALL CLOUD, NFV AND SDN COMPANIES: Make sure your company and services are listed free of charge at Virtuapedia, the comprehensive set of searchable databases covering the companies, products, industry organizations and people that are directly involved in defining and shaping the virtualization industry.
Subscribe and receive the latest news from the industry.
Join 62,000+ members. Yes it's completely free.
You May Also Like
---