CES Redux: State of the Smart Home Wars

Comment (15)
The smart home market is more hyped and chaotic than ever. Service providers are slowly beginning to gain traction with consumers, and that means technology vendors are scrambling to outdo each other before inevitable consolidation occurs.
Among platform providers, the competition is fierce. And nowhere was that more evident than in the product demos, panel discussions, and unfettered gossip making the rounds at CES 2015. (See CES Pics: Cars, Drones & Lines, Oh My!)
It's difficult to sort fact from fiction, but after talking to many, many people in the industry, here are some of the important things I heard, along with some handicapping to suggest how true-to-reality the information is.
Platform provider Zonoff has an important new investor
If you haven't heard of Zonoff, the company provides the underlying platform for Staples' Staples Connect smart home system. (See Home Automation Wars Heat Up.)
Zonoff announced a significant new funding round in December, but didn't disclose some of the primary participants. However, multiple sources tell Light Reading that ADT Corp. was one of the critical investors.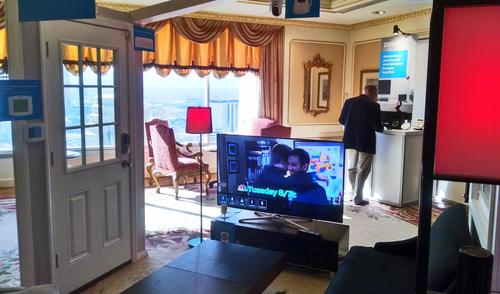 ---
Want to know more about smart home strategies? Check out our dedicated Internet of Things content channel here on Light Reading.
---
Zonoff CEO Mike Harris would not confirm ADT's funding role, but he did acknowledge at CES that the company brought on a strategic investor in its last round that would lead soon to new customer announcements. Assuming the ADT rumor is correct (and I believe it is), there are two major implications to consider. First, Zonoff is making inroads into the service provider space. And second, ADT is hedging its bets after relying on Icontrol Networks Inc. to power its ADT Pulse solution.
Opinions differ on iControl
iControl is the unlikely vendor incumbent among US cable providers (and ADT). Despite its relatively recent ascension in the market, iControl is now the smart home platform provider for Comcast Corp. (Nasdaq: CMCSA, CMCSK), Time Warner Cable Inc. (NYSE: TWC), Rogers Communications Inc. (Toronto: RCI) and a host of tier-two and tier-three operators. It's a major success story. (See Betting on Smart Homes.)
There have been rumors for some time that Comcast has been trying to replace iControl as a platform, but no one I've talked to can confidently say that's the case today. I would assume that Comcast is assessing whether it can diversify suppliers, or take its smart home technology in house, but that assumption is only because that's traditionally how Comcast operates.
Meanwhile, at least one Time Warner Cable executive happily sang iControl's praises in my presence, and TWC Senior Director of Product Strategy and Development Christopher Williams noted on a panel how the company has had "record sales month over month" with its IntelligentHome offering.
For its part, iControl is taking several steps to shore up its position. The company is opening up its platform and actively working to integrate a plethora of new smart devices into its smart home system. iControl is also pursuing the retail channel. It bought the company behind the Piper home monitoring hub in 2014, has successfully moved into Best Buy as the platform provider for that retailer's PEQ home automation service and announced integration with Lowes' Iris platform at CES. (See Icontrol Powers Smart Homes for Best Buy.)
Rumors aside, it's hard to argue with the company's traction.
Don't forget the telcos… and their partners
Outside of ADT, AT&T Inc. (NYSE: T) is the most recognized smart home service provider, according to analyst firm Parks Associates. President of AT&T Digital Life Kevin Petersen described on a CES panel discussion how the company has expanded its Digital Life offering into 82 markets and plans to continue extending its reach across AT&T's entire wireless footprint. The operator also introduced several new product integrations last week through partnerships with Lutron, Samsung Corp. , Qualcomm Inc. (Nasdaq: QCOM) Life, and LG Electronics Inc. (London: LGLD; Korea: 6657.KS) . (See AT&T Adds New Partners to Its Digital Life.)
Petersen explained how AT&T built its platform "from the ground up," but the telco has also teamed up with Cisco Systems Inc. (Nasdaq: CSCO) from the beginning for the home controller that operates its smart home system. Cisco can't be ignored in the smart home space because of its continuing focus on all things Internet of Things, or as CEO John Chambers likes to call it, the Internet of Everything.
AT&T appears keen to stay close to Cisco as well. One of the featured guests on an IoT panel at the service provider's recent developer conference (also in Las Vegas) was none other than Cisco CTO Padmasree Warrior.
Then there's Verizon Communications Inc. (NYSE: VZ). Verizon has come and gone from the smart home market, but shows every sign of returning once again with a little help from Greenwave Systems' Axon platform. Greenwave is still relatively unknown, but the company had a presence at CES this year as one of the sponsors for the Parks Associates Connections Summit on Monetizing Smart Home Solutions & Connected Devices. In addition to Verizon, Greenwave includes the large European utility company E.ON as a customer. (See Verizon Drops Its Quantum Router, Hints at IoT.)
And that's not all...
For every company I visited and spokesperson I heard from at CES, there were probably a dozen more key players that I didn't talk to. EchoStar Corp. LLC (Nasdaq: SATS), for example, had a huge unveiling of its new Sage home automation system. I missed the demo, but long-time reporter Julie Jacobson at CEPro has glowing things to say about the new solution. (See also Echostar Preps 'Sage' Smart Home.)
DirecTV Group Inc. (NYSE: DTV) has been relatively quiet about smart home services of late, but the satellite provider continues to market LifeShield, the home security platform it purchased in 2013. Given the pending acquisition deal with AT&T, it seems likely that DirecTV is in a holding pattern until regulators decide whether that mega-merger is approved.
Samsung Corp. was also on site at CES with its SmartThings platform. In addition to highlighting the smart home in its booth, Samsung also announced a new home monitoring subscription service, integration with new third-party devices and an updated smart home hub with sensors. (See IoT Alert: Samsung Snaps Up SmartThings .)
CES is always overwhelming, but the state of the smart home market made it even more so this year. The platforms are abundant. The question is, how many will survive until CES 2016, and in what form?
— Mari Silbey, special to Light Reading