Not just a stopgap
NB-IoT cheerleaders such as Vodafone and Deutsche Telekom AG (NYSE: DT), on the other hand, seem to have dodged LoRa entirely. Nor can there be any serious doubt that NB-IoT and LoRa are chasing much of the same business. In Spain, Vodafone has positioned NB-IoT as a way of connecting smart meters, smoke and fire alarms and parking monitors, none of which need much bandwidth. Moore says the main opportunities for LoRa are in agriculture, industrial IoT, smart buildings and cities, asset tracking and the utilities and energy sector. The overlaps with Vodafone's targets are obvious. (See DT, Chinese Operators Take NB-IoT to Market.)

In justifying the decision to invest in LoRa, some telco executives had pointed out that NB-IoT -- which did not get ratified until mid-2017 -- was not a viable option at the time. Spain's Telefónica similarly told Light Reading that Sigfox was the "only option" when it struck a deal with the French company in February 2017 (although the status of the partnership is unclear). Did this mean those operators viewed LoRa and Sigfox as stopgaps, and would swing behind NB-IoT when it eventually materialized? (See Sigfox 'Only Option' Today, Says Telefónica.)

So far, there is little sign that operators are unplugging LoRa and switching to NB-IoT. Orange has previously played down suggestions it might do this. Then, in December, Orange Business Services, the French telco's enterprise division, struck a major deal with Birdz, a smart metering specialist, to connect more than 3 million smart water meters to a LoRa network.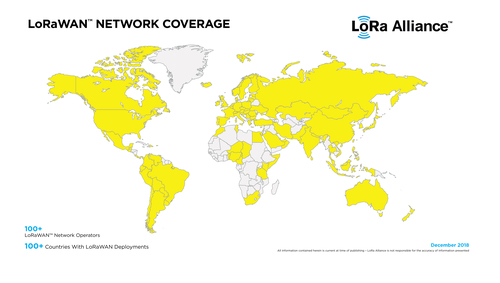 The nationwide extension of LoRa networks could also help guard against obsolescence, opening doors in fleet management and other sectors that require mobility. Previously, says Hosseini, the charge that LoRa was a "campus" technology, ill-suited to providing support for moving objects, had some validity. "There were not many operators with national coverage and tracking a vehicle across country was difficult to address back then," he says. Thanks to the efforts of major investors like Orange, SKT and Tata, coverage has now become less of an obstacle.
LoRa's fiercest opponents, nevertheless, have continued to rail against the proprietary nature of the technology. The intellectual property, they say, is all in the hands of Semtech Corp. (Nasdaq: SMTC). In the communications sector, companies have ultimately gravitated toward open standards, others point out. But Moore rejects the criticism and insists LoRa is open where it counts.
"The chip is absolutely best of breed and does not need to be watered down by everyone's interests," she says. "You put the LoRaWAN standard on top of that, which is the application layer, and open it so that members [of the LoRa Alliance] can drive their own needs."
---
Want to know more about the Internet of Things? Check out our dedicated IoT content channel here on Light Reading.
---
Efforts to make LoRa a more open technology might explain its apparent lead over the non-cellular competition. Although Sigfox does not appear to collect royalties for use of its intellectual property, any company that wants to build a Sigfox network must go through Sigfox, sharing about 40% of its service revenues with the French company. That may have hampered take-up. While the Sigfox technology is rated highly, there were only about 2.5 million "active" Sigfox connections this time last year, with Sigfox aiming for 6 million by the end of 2018. Sigfox did not respond to a question about the current number of connections. (See Sigfox US Boss Is Out as Offices Close in Boston, San Francisco.)
The establishment of the LoRa Alliance was probably critical in ensuring the technology survived and could flourish. Its 500-plus members today include sponsors like Alibaba, Cisco Systems Inc. (Nasdaq: CSCO), Google (Nasdaq: GOOG) and IBM Corp. (NYSE: IBM), promising access to some of the world's largest technology players for the LoRa community. Such heft may prove vital if LoRa is to grow from tens of millions of device connections to many billions, becoming a fundamental pillar of future IoT connectivity. The NB-IoT stampede might only just have started, but right now there seems more chance that LoRa will coexist with cellular than be crushed by it.
— Iain Morris, International Editor, Light Reading