China's Telcos at Heart of IIoT Plans

Comment (1)
As China's economy flounders, Beijing econocrats are battling to replace the old low-tech, investment-heavy growth model with a smart new high value-add, consumption-led engine.
One part of this is renovating its massive manufacturing sector, burdened by rising labor costs, over-capacity and outdated technology. The government has come up with two partly related plans -- "Made in China 2025" and "Internet Plus" (or Internet+) -- aimed at rebooting manufacturing and putting digital technologies at the center of the economy.
The 2025 program is focused on manufacturing. Washington think-tank, the Center for Strategic and International Studies (CSIS), said in a report that it draws on Germany's "Industrie 4.0" concept, which is about applying IT to improve industrial efficiency and integrating German SMEs more tightly into global production chains. The plan identifies ten sectors, including advanced IT, automated machine tools and robotics, aerospace and new energy vehicles. (See Industrie 4.0: Rebooting Germany.)
Releasing the Internet Plus Action Plan last July, Premier Li Keqiang described it as the integration of "mobile Internet, cloud computing, big data and the Internet of Things with modern manufacturing to encourage the healthy development of e-commerce, industrial networks and Internet banking, and to help Internet companies increase their international presence."
In other words, it's about using the country's sophisticated Internet sector and underlying networks to drag industry into the 21st century.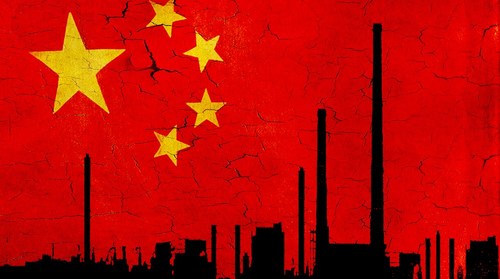 What does it all mean?
However, like a lot of Chinese government plans, it is indicative rather than prescriptive. It is a signal to officials and businesses that this is something the government wants to achieve, rather than an explicit series of measures. The manufacturing sector is especially awkward because it is dominated by the private companies that are unlikely to invest in technologies just because of official urging.
That's because state planners don't necessarily know what's required. As one textile CEO told The Economist: "The government loves to fund flashy hardware and robotics, but there's no money for the software and data analytics needed to make proper use of it."
However, these factors make the role of telcos even more important to the Chinese government's economic makeover than in other markets, though it's fair to say that major mobile operators are set to play a role in all and any industrial IoT (IIoT) development around the world. (See US Giants Carve Out Role in the Industrial IoT .)
In China, of course, there are only three telcos -- China Mobile Ltd. (NYSE: CHL), China Telecom Corp. Ltd. (NYSE: CHA) and China Unicom Ltd. (NYSE: CHU) -- and they are all state-owned. China has a track record, too, of telcos shouldering the burden of state policy, most notably China Mobile funding the development of government-backed TD-SCDMA technology.
As the country's biggest fixed-line and enterprise services provider, China Telecom has been far and away the most active of the operators. Its own Internet Plus plan was launched two months ahead of the government's. One executive was quoted as saying it would spend at least 80 billion yuan (US$12.6 billion) a year on the program, mostly on improving broadband access networks and adding intelligent technology. To put that into context, China Telecom's capex in the first half of 2015 was just 30.2 billion yuan.
The plan envisaged the creation of "an agile, secure open network and the supply of customized services" to industry as well as the integration of industrial apps into China Telecom's own services.
Since then China Telecom has announced an agreement on those lines -- a partnership with General Electric Co. (NYSE: GE) (GE) in which both companies have committed to building business solutions based on GE's Predix platform. They also say they will work together in areas such as in cloud-based image storage, telemedicine applications and advanced manufacturing.
China Unicom appears to be riding alongside China Telecom: The two companies announced a broad strategic cooperation agreement in January that included "a better information service environment to support the swift advancement of the government's 'Internet+' and 'Made in China 2025' strategies." China Mobile, meanwhile, has been focused on its 4G network rollout and it seems it might be a while before IoT strategies are of prime concern for the telcos. (See The Fire Monkey & the Telco Winter.)
Jacky Wang, CTO at Huawei Technologies Co. Ltd. 's carrier business group, said Huawei was working with all three operators on Internet Plus projects, citing a global cloud services project for China Telecom International as an early success.
But he sees it as part of a "transformation" that telcos have to undergo to make themselves more agile and competitive. He argues that they need to build up their own use of the Internet and take advantage of their strengths in network connectivity and operating platforms.
Charlie Dai, principal analyst for Forrester Research Inc. in Beijing, offers similar thoughts. China's telecom sector "requires a customer-obsessed shift in culture, organization, processes and technologies," he said.
— Robert Clark, contributing editor, special to Light Reading