Vodafone Pounces on Liberty Cable Assets in €18.4B Deal

Comment (0)
Mobile giant Vodafone has struck an €18.4 billion ($21.8 billion) deal to acquire Liberty Global's cable operations in Germany, the Czech Republic, Hungary and Romania and instantly create one of Europe's biggest operators of both fixed and mobile networks.
The deal comes after weeks of speculation and would produce a huge rival to German incumbent Deutsche Telekom besides bolstering Vodafone's fixed-line capabilities in several eastern European markets. (See Will Liberty & Vodafone Strike a Deal? What Will It Mean for Headcount?)
The agreement with Liberty Global Inc. (Nasdaq: LBTY), one of Europe's biggest operators of cable networks, marks a continuation of Vodafone's M&A-fueled convergence strategy, which has already involved the acquisition of cable assets in Spain and Germany.
It will leave Vodafone Group plc (NYSE: VOD) with around 54 million cable or fiber customers and a next-generation network reach of about 110 million homes and businesses, said the operator in a presentation.
The transaction is largely about improving Vodafone's position in Germany, where the incumbent national operator Deutsche Telekom AG (NYSE: DT) currently markets broadband services to around 30 million homes.
Unitymedia, Liberty's German subsidiary, would be added to the Kabel Deutschland business that Vodafone acquired in a €7.7 billion ($9.1 billion) deal in 2013, allowing Vodafone to market next-generation broadband services to nearly 24 million homes.
Under previously announced plans to extend "gigabit" network offerings to around 1 million German homes, Vodafone is pushing for a gigabit coverage target of 25 million homes by 2022. "This represents more than two thirds of the German government's 2020 fiber vision for gigabit connectivity across the country," said Vittorio Colao, Vodafone's CEO, in a call with analysts this morning.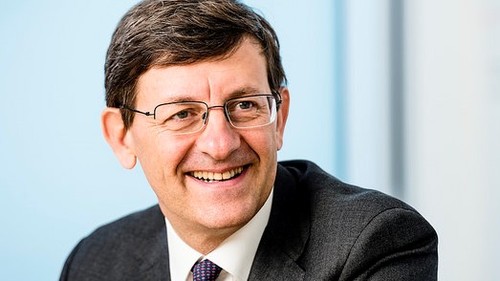 The move would obviously add to the pressure on Deutsche Telekom, which has continued to lose broadband market share to cable operators touting higher-speed offerings, its financial results showed today.
Timotheus Höttges, Deutsche Telekom's CEO, has previously lashed out at suggestions Vodafone might buy Unitymedia, urging regulators to block any takeover move. (See Vodafone's Colao, DT's Höttges Lock Horns in Barca.)
"History makes this deal unacceptable," he told reporters during a press conference at the Mobile World Congress in February. "If Liberty and Vodafone come together, they will create a monopoly in the cable market."
As Höttges points out, German authorities previously broke up a national cable network owned by Deutsche Telekom. A merger between Vodafone-owned Kabel Deutschland and Unitymedia GmbH would be a form of German reunification, canceling out the earlier regulatory move. (See Vodafone-Liberty Merger Doubtful in Germany, Says Analyst.)
Vodafone and Liberty, however, believe the lack of overlap between the two cable footprints gives regulators little reason to oppose a deal.
"Deutsche Telekom's position that this is creating a cable monopoly does not make sense because there is no overlapping cable footprint, but I can understand why they don't like it," said Colao on today's call.
He also told analysts that any regulatory decision would be taken at the European Union level. "The EU has been in favor of traditional multi-country pan-European tech players and this is the creation of one," he said. "Deutsche Telekom controls between 65% and 70% of revenues between retail and wholesale and this creates a powerful competitor, which is in the interests of the regulator and consumers."
Despite the optimism, analysts on the call expressed concern that regulators might compel Vodafone to provide wholesale offerings on its enlarged cable network as a condition of the merger. Market-research firm CCS Insight, meanwhile, reckons any tie-up in Germany may struggle to secure regulatory approval.
"We strongly believe that regulators will block or restrict the deal," said Paolo Pescatore, an analyst with CCS Insight, in a research note. "Vodafone and Liberty Global have a relatively solid presence in the fixed-line and TV markets, so any move would cut the number of companies in both segments."
Addressing anxiety around wholesale regulation, Colao said that any such measures would not be a red light for the deal. "If it has to come, there is the upside of wholesale revenues that would come with it, and so more competition to the incumbent at the wholesale level," he said.
Next page: Merger metrics
PARTNER PERSPECTIVES
- content from our sponsors
GUEST PERSPECTIVES
- curated contributions