A Guide to G.fast
The road to true fiber broadband ubiquity is going to take a lot longer than many of its supporters imagined, for many reasons (the main ones being financial and operational).
So the race is on to work the millions of copper lines that reach into homes and business premises even harder in an effort to deliver truly high-speed broadband connectivity. One emerging technology that help boost copper broadband speeds beyond current limits is G.fast, which could eventually enable aggregate broadband capacity (downlink plus uplink) of 1 Gbit/s over copper.
Take a look at this slide show for a quick snapshot of the technology and its potential. If you want to know more, check out the recent Light Reading webinar, G.fast: Turning Copper Into Gold, which featured speakers from BT Group plc (NYSE: BT; London: BTA), Swisscom AG (NYSE: SCM) and Huawei Technologies Co. Ltd. .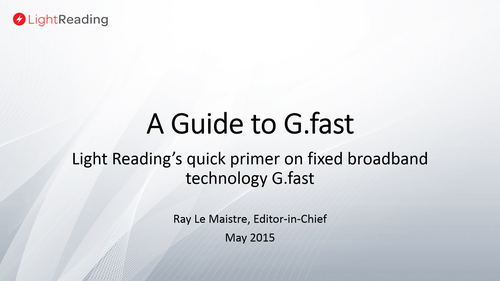 — Ray Le Maistre,

, Editor-in-Chief, Light Reading
PARTNER PERSPECTIVES
- content from our sponsors