Drahi becomes biggest BT shareholder and bothers Boris
Drahi becomes biggest BT shareholder and bothers Boris
The man behind the Altice telecom group has upped his stake in the UK phone incumbent, sparking concern about his future intentions.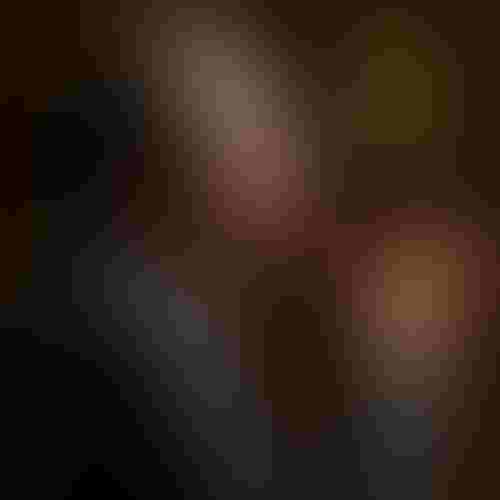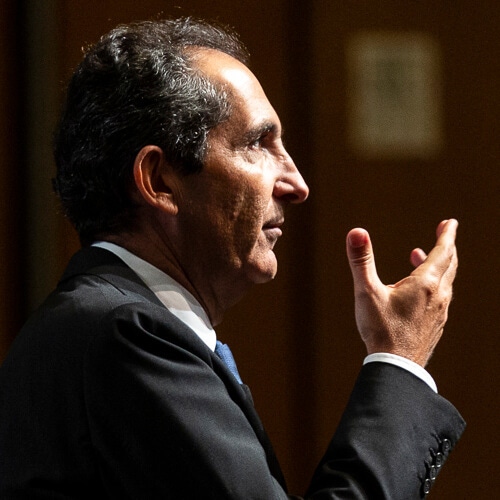 For much of the last three years, the Boris Johnson-led British government has looked as ruffled as the prime minister's hair about the presence of Chinese equipment vendors in the telecom sector.
Now it must consider if the growing involvement of a French-Israeli billionaire is also cause for alarm.
After months of speculation, Patrick Drahi, the activist investor behind the Altice telecom group, has upped his stake in BT, the UK's national incumbent. With 18% of shares, compared with 12.1% previously, he is now the operator's largest single shareholder by some measure.
Drahi's move is no great surprise following his acquisition of a 12.1% stake back in June and the expiration of a lock-up clause – preventing Drahi from acquiring more shares – at the start of this week. An opportunist well versed in telecom matters, he would have monitored the collapse in BT's share price in recent years.
In early 2016, the company traded at 486.50 British pence sterling on the London Stock Exchange. On June 9, when Drahi made his initial move, it was worth just 183.15. BT may have seemed like a bargain.
Figure 1: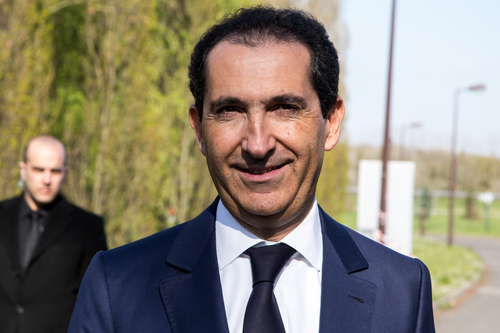 Altice's Patrick Drahi is now the largest single shareholder in BT
(Source: Jérémy Barande, École polytechnique)
What does Drahi see in the decades-old utility? For a start, BT is not just the UK's biggest landline operator but also its mobile supremo, following the £12.5 billion ($16.5 billion, at today's exchange rate) takeover of EE back in early 2016.
It is the owner of Openreach, the nationwide network that supports most of the country's broadband retailers. Partway through the deployment of full-fiber and 5G networks, BT is at the heart of perhaps the most critical infrastructure there is.
And that is what probably makes the government uneasy about foreign ownership.
"The government is committed to levelling up the country through digital infrastructure, and will not hesitate to act if required to protect our critical national infrastructure," said the government in a statement widely reported by the UK national press.
Officials have a couple of reasons to worry about Drahi in particular, even though he insists no takeover is planned.
For one thing, there have been suggestions that he could buy the 12% stake in BT held by Germany's Deutsche Telekom – a move that would now give him 30% of the operator and set him up for a takeover bid. Those suggestions have emanated from none other than Timotheus Höttges, Deutsche Telekom's CEO.
"There will be discussions definitely," he said in response to analyst questions in the summer.
"We are a little bit kingmaker here. We have an asset where we have a lot to say and a lot of influence. We are prepared. We are ready to talk."
Drahi's reputation as an especially meddlesome investor would be the other reason for government jitters.
He has previously hired and fired executives, intervened in strategy and placed a heavy emphasis on cuts. Businesses previously acquired have been dismantled and sold off in parts like used cars – a fate authorities might want BT to avoid.
Openreach separation

One possibility under Drahi would be the long-mooted carve-out of Openreach, a divestment that could go badly or even backfire if it were poorly executed.
Infrastructure assets, however, are currently attracting much higher valuations than integrated telecom businesses, as Drahi will know.
Expected to generate about €2.4 billion ($3.2 billion) in revenues this year, Cellnex, a towerco, is currently valued at roughly €36.8 billion ($48.7 billion), more than 15 times what it makes in annual sales. BT, down 7.5% this morning and worth about £16.6 billion ($22 billion), has an equivalent sales multiplier of just 0.8.
Regardless of ownership, whether Openreach can grow as an independent unit is in doubt. A divestment would certainly end the long-running arguments about conflicts of interest and the fairness of allowing BT's other units to benefit from Openreach profits.
But infrastructure-based competition is currently rampant in the UK. For Openreach, the only way is likely to be down.
Figure 2: BT's share price (pence sterling)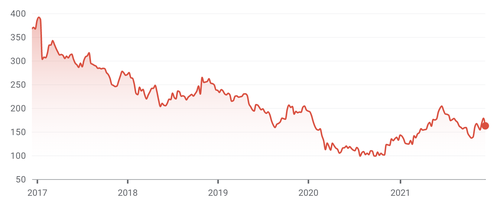 Source: Google Finance
Supporting evidence can be found in BT's latest financial statements and the delta between Openreach's broadband connection figures and its number of full-fiber lines.
The former, at the end of September, was about 21.6 million, accounting for the bulk of the UK's broadband subscriptions. The latter was fewer than 1.3 million.
If the entire market is moving toward fiber, Openreach will only avoid decline by upgrading nearly all its broadband lines to the higher-speed technology. The likelihood is that other companies building full-fiber networks will capture some business, leaving Openreach with a smaller market share than it previously held.
There is the not-small matter of BT's pension deficit, too – worth £4.3 billion ($5.7 billion) net of tax at the end of September. Disentangling this from Openreach would not be straightforward and the difficulty of executing that move is a barrier to any Openreach separation from the rest of BT.
Want to know more about 5G? Check out our dedicated 5G content channel here on Light Reading. Shorn of Openreach, BT might flail. It would suddenly lack a business responsible for more than a quarter of its sales and about 42% of its earnings (before interest, tax, depreciation and amortization) for the first half of this year. Like other service providers, it would have to deal with third parties for access to fixed-line infrastructure, including the "backhaul" connections it will need to run 5G traffic from basestations to its core network. That would matter less if BT had a thriving service business and had pushed successfully into adjacent markets. But CEO Philip Jansen, under pressure from government authorities and rivals, has refocused the operator's attention on networks rather than content and services. He is reportedly in talks about a sale of BT Sport, the sexiest part of a TV unit that looks increasingly obsolete in the age of Netflix. Revenues at the business-facing enterprise and global units dropped 9% year-on-year for the first half. Bar connectivity, any service today seems to mean taking on the Internet giants. The outlook for this ageing British company would make any government nervous. Related posts: BT CEO predicts UK fiber victory but still unsure of final score BT eyes profit rebound in mix of the good, the bad and the ugly BT shares slide on Q1 dip, heated broadband rivalry BT aims to keep Huawei for fiber until early 2030s BT's Howard Watson: Eyeing the 'prize' of a 5G converged core — Iain Morris, International Editor, Light Reading
Subscribe and receive the latest news from the industry.
Join 62,000+ members. Yes it's completely free.
You May Also Like
---