What Are Telecom's Best Investment Bets?
What Are Telecom's Best Investment Bets?
Not the publicly traded incumbents, say two of the industry's veteran financial analysts. If picking investment winners and losers in telecom is part of your Black Friday shopping agenda, then you might want to take heed of what two veteran financial industry analysts were saying at the Gen15 event last week. A word to the wise: Their thoughts might prompt Thanksgiving indigestion.
Michael Genovese, managing director and communications equipment analyst at MKM Partners , admitted he sees most incumbent publicly traded companies at risk, due to the disruption that lies ahead in the move to the New IP. The real investment opportunities now are for venture capitalists looking for private companies to fund and for corporate development teams, looking for acquisitions, he said.
That said, there is a "real opportunity to become the next-gen OSS or BSS" in virtualized telecom, but it's not clear yet who that company is, Genovese said.
Figure 1: Free Advice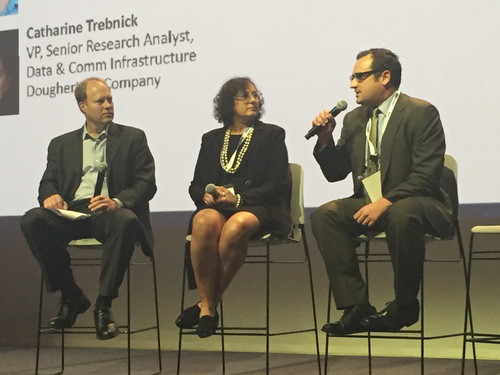 Mike Genovese of MKM Partners shares his thoughts on investing winners and losers, as Stan Hubbard and Catherine Trebnick look on. Both Genovese and Catherine Trebnick, VP-senior research analyst for data and communications infrastructure at Dougherty and Co., agree that security is hot for investment. Trebnick specifically called out security for the virtualized telecom infrastructure. Optical transport companies are actually in relatively good shape, Genovese noted, because physical transport can't be virtualized. He said recent consolidation has narrowed down the number of players, at least for backbone networks, to the benefit of all. That hasn't yet happened in metro/data center interconnect, where the analyst is expecting more shakeout to come. In network management/orchestration -- what the MEF now calls Lifecycle Service Orchestration or LSO -- there is a lot of opportunity but not a ton of agreement, Genovese noted. In fact, there is a shifting landscape of network topologies. He and Stan Hubbard, the MEF program chair for Gen15 and moderator of the analyst panel, batted about the notion of new emerging topologies to replace the traditional OSI seven-layer stack, starting with the two-layer topology mentioned a day earlier by Infinera Corp. (Nasdaq: INFN)'s Stu Elby. Elby laid out a basic network configuration that included Layer C, for cloud services, and Layer T for intelligent transport at the bottom. In between is the software-defined network layer that ties the two together. In his view, routing control moves up into the services layer and the data plane becomes transport. Figure 2: The World According to Stu
Genovese called that approach "a simplified abstraction," but added that it's clear the existing seven-layer model is changing. Just walking around Gen15's exhibit hall revealed multiple different vendor approaches to the new taxonomy, he said. And that brings the discussion back to the operations and network management side of the house, where Genovese and Trebnick clearly expect major action. Trebnick speculated about how existing players such as Amdocs Ltd. (NYSE: DOX) and Ericsson AB (Nasdaq: ERIC) will play and whether efforts such as Ciena Corp. (NYSE: CIEN) and its acquired Blue Planet orchestration system will gain traction. Her conclusion is that there is a lot of uncertainty still. Learn more about how to keep networks and customer data secure at our upcoming Carrier Network Security Strategies event in New York on
December 2, featuring keynote speakers from AT&T, Facebook and more. The likely winners among the newer players emerging may never become investment targets, Genovese noted, because it's likely the carriers will tip off their established vendors to what's hot and encourage a friendly acquisition. That would be one way that public companies will benefit from the current mass telecom transition. Gen15's addition of a day devoted to enterprise technology revealed how little difference there is now between the technologies the two groups are discussing and buying, Genovese noted. Like telecom, enterprises are trying to figure out how little they can get by with doing themselves, in terms of buying and operating equipment, and how much they can push into the cloud to reap the benefits of hyperscale. — Carol Wilson, Editor-at-Large, Light Reading
Subscribe and receive the latest news from the industry.
Join 62,000+ members. Yes it's completely free.
You May Also Like
---