Steinbach Credit Union, a credit firm based in the frozen flatlands of Manitoba, Canada, figured out the best way to satisfy its disaster-recovery requirements was to build a wireless SAN.

With more than 47,000 customers and assets in excess of a billion dollars, Steinbach found its backup and recovery operations were getting out of control.

"The growth of the organization has been explosive, and it was too expensive to keep expanding servers, so we turned to a SAN solution from XIOtech Corp.," says Denis Van Dale, LAN administrator at Steinbach. In conjunction with this, the company built a second site in Winnipeg, 40 miles away from its headquarters in Steinbach, for disaster-recovery purposes.

The next question was how to link the two sites together. After considering several options, Steinbach came up with the unusual idea of building its own wireless SAN, instead of forking out ongoing carrier costs.

Although communications carriers often have fiber-optic cabling and network switches between major cities, they may not provide network cabling directly to the customer premises. A company that wants to connect to a wide-area network (WAN) service must find the means to connect from their local facility to the carrier's point of presence. This "last-mile" problem is often a source of delay and added expense for companies that plan to implement disaster recovery, remote tape vaulting, or IP messaging over distance.

For Steinbach's disaster-recovery plan, gaining access over fiber from the credit union's local buildings to carrier services was too expensive. Quotes for a link from Steinbach to its DR site in Winnipeg, including last-mile access, ran between $50,000 and $70,000 per month, the company says. This was prohibitively expensive and threatened to derail the credit union's DR strategy.

By building its own radio transmission towers and installing Proxim Corp. (Nasdaq: PROX) wireless Ethernet bridge products, Steinbach worked out that it could run IP network traffic directly between its facilities in Steinbach and Winnipeg without third-party carriers or expensive last-mile services.

"It was a eureka! moment," says Van Dale.

XIOtech's Magnitude storage arrays and REDI SAN Links replication software provide synchronized copies of data at both sites, while Nishan Systems Inc.'s IP storage switches provide the Fibre Channel-to-iFCP protocol conversion required to send the SAN traffic over the wireless Ethernet/IP network.

As shown in the diagram below, the SAN/WAN link provides 100-Mbit/s (200-Mbit/s full-duplex) wireless Ethernet transmission between Steinbach and Winnipeg. Of the 100 Mbit/s available bandwidth, 65 Mbit/s (approximately 8 Mbyte/s) is reserved for data replication enabled by XIOtech's replicator software. For DR purposes, 500 Gbytes of Microsoft Corp. (Nasdaq: MSFT) SQL Server data, including loans and other banking data as well as email, are replicated between Steinbach and Winnipeg.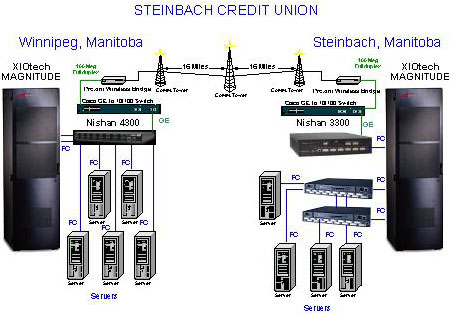 Steinbach uses Nishan's rate-limiting feature to manage the storage data transmission between the two sites. Rate limiting provides tunable parameters to pace Fibre Channel flow control, and thus prevents the slower WAN link from being overwhelmed with storage data.

"Proxim's boxes are not able to provide full-bore bandwidth between the radio towers," says Tom Clark, director of technical marketing at Nishan. "We had to scale down from the Gigabit [Ethernet] pipe to Fast Ethernet because of the bandwidth limitations of radio transmission."

Security was another factor Steinbach took into account when deciding to build its wireless SAN. Proxim's boxes provide what's known as "rifle-shot beams," or very focused bands of transmission. "It would be almost impossible to intercept, and the data is encrypted," Van Dale says. He adds that the wireless gear isn't affected by weather, either.

Geography also played a part in the firm's decision to rig up this wireless SAN. "Manitoba is as flat as a pancake," notes Van Dale. "There are no mountain ranges to deal with, and we are a considerable distance from the center where the major carrier networks are located."

With costs of the installation expected to be recovered within two years, this creative DR network appears to be an affordable alternative to traditional approaches.

— Jo Maitland, Senior Editor, Byte and Switch