Juniper Weathers Hypercloud Storm, Says CTO Koley

Comment (5)
BARCELONA -- MWC 2018 -- Changing infrastructure demands from hypercloud providers are clobbering Juniper's bottom line, but that storm will peak this year and Juniper will emerge from it strong, chief technology officer Bikash Koley tells Enterprise Cloud News.
"It's an architecture change that is going to go on for another few quarters," Koley said in a one-on-one interview at Mobile World Congress on Monday. "We knew this, we expected this. In the process we are growing our footprint and once we are on the other side it's going to be a great space for us to be in."
In quarterly earnings reported this month, Juniper Networks Inc. (NYSE: JNPR) saw revenue declining a painful 10.5% to $1.24 billion, and the company reduced expectations for the coming quarter drastically. The company blamed the decline on hypercloud providers changing network architecture, from "scale up," where the providers buy big, expensive networking equipment, to "scale out," using large quantities of smaller, less expensive switches.
The problem from Juniper's perspective is that the price-per-port of the "scale out" architecture is lower than "scale up" switches.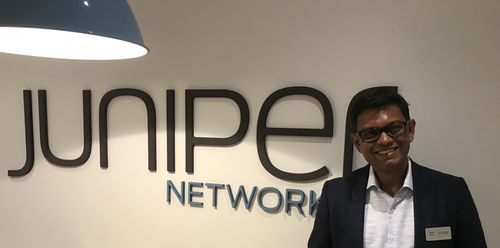 ---
Want to read the hot news and views from Mobile World Congress 2018? Check out our dedicated MWC 2018 news section to keep up to date with the key developments from Barcelona.
---
Hypercloud providers began reconfiguring their networks to scale out architecture about three years ago, and the trend accelerated over the past 12-18 months, Koley said.
The good news for Juniper is that it's strong in scale out, Koley said. Hypercloud providers are heavily invested in Juniper architecture, and the company's PTX series core routers pioneered scale out architecture, he said.
Koley is no stranger to the hypercloud. He joined Juniper as CTO in the summer, from Google (Nasdaq: GOOG), where he worked for nearly a decade, finishing as distinguished engineer and head of network architecture, engineering and planning. He designed, built and operated Google's network infrastructure, including data center, backbone, optical and content edge, with a focus on making the network programmable. (See Juniper Hires Google's Koley as CTO.)
Hypercloud providers are staying with Juniper as they make the transition to new architectures, although the change is hurting Juniper's bottom line, Koley said.
"Our rate of growth for ports is extremely high," Koley said. "But the ASP [average selling price per port] compression has been faster than the growth of ports. Once you are on the other side of this change, the ASP compression remains the same and the port rates continue to grow."
At the time Juniper announced earnings, Jefferies & Co. Inc. analyst George Notter expressed skepticism that the problems were attributable to changing demands by hypercloud providers, and that the difficulties would be temporary. Hypercloud providers have been making the transition for a while, and Arista Networks Inc. remains strong despite the transition, Notter noted. (See Enterprise Leads Blockbuster 4Q for Arista – but Wall Street's Not Impressed.)
Also, Cisco Systems Inc. (Nasdaq: CSCO) recently reported a return to revenue growth after a two-year slump. (See Cisco Returns to Growth, With Help From Network Automation.)
So why is Juniper different?
Koley says Juniper has a footprint in hyperscale cloud backbone networks that Cisco and Arista don't have. Cisco supplies edge routers, and Arista provides data center spines. Arista does that "very well. I give them credit. But that is not the core," Koley says.
Enterprises will make the same transition to scale-out architecture that hypercloud providers are making, which expands Juniper's potential market, Koley said. "It allows us to go after the enterprise in merchant silicon. If it's scale-out, you're not looking at massive boxes. You are looking at small-footprint boxes. The real investment will be in software."
Related posts:
— Mitch Wagner




Editor, Enterprise Cloud News