Arista Takes Aim at Cisco: 'Legacy Routers Are a Thing of the Past'
Arista has fired a broadside at Cisco and other incumbent competitors, proclaiming that routers are dead, but routing functionality remains important and will live on in software running on switches built with merchant silicon.
The flexible, software-based approached used in cloud platforms is coming to dominate service provider networks, and will eventually absorb enterprise networks as well, Jeff Raymond, Arista Networks Inc. vice president of EOS product development, tells Enterprise Cloud News. EOS is Arista's switch operating system that runs across its product line. (See Arista Slashes Cloud Networking Complications.)
"Cloud architecture is evolving to routing use cases," Raymond tells Enterprise Cloud News. "Legacy routers will be a thing of the past, but routing continues to be important."
The cloud has been driving the Internet to centralize on a few content providers delivering most of the bandwidth demand, and Internet of Things, mobile phones and other edge computing will accelerate the trends toward new architecture and new routing requirements, Arista says.
Traditional routers, based on proprietary hardware, scale up, requiring bigger, more expensive boxes to meet demand. Arista uses software running on merchant silicon, which scales out, with a leaf-and-spine architecture that easily meets demand by adding new devices, Arista says. Likewise, leaf-and-spine architecture based on programmable software is more flexible when dealing with network failures, Arista says.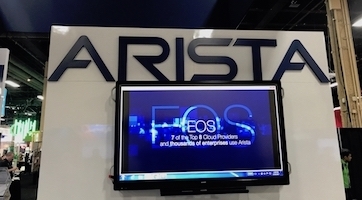 ---
Keep up with the latest enterprise cloud news and insights. Sign up for the weekly Enterprise Cloud News newsletter.
---
Arista distinguishes itself from competitors Cisco Systems Inc. (Nasdaq: CSCO), Juniper Networks Inc. (NYSE: JNPR) and Nokia Corp. (NYSE: NOK) in that Arista runs its EOS operating system across its entire product line, presenting a uniform, programmable interface to network operators. EOS easily integrates third-party tools that are more Linux-based than the competition's, allowing network operators to write their own software that works together with EOS.
"This is not something that a legacy router has -- not something it can do elegantly," Arthi Ayyangar, Arista's director of product management, tells Enterprise Cloud News. "This is something we define as one of the attributes of cloud-based routing."
Cloud-based routing as provided by Arista is simpler than legacy networks, centralizing on Ethernet and the Internet Protocol, with other protocols such as frame relay, SONET/SDH and ATM becoming obsolete, Ayyangar says.
Also, Arista's hardware is based on merchant silicon, rather than proprietary design, to reduce cost, the company says.
Following through on its strategy, Arista on Wednesday introduced EOS 4.20, with new routing and management software capabilities to help customers evolve to modern software-driven routing principles, the company says. The company says it's driving down operational and capital costs with modern routing and cloud automation, for cloud, content delivery, Internet exchange and service provider network functions virtualization (NFV) use cases, including next-generation cable architectures.
EOS 4.20 supports Equal Cost Multipath (ECMP) and network visbility with BGP Monitoring Protocol (BMP) and real-time state streaming, with programmability using the EOS SDK; open APIs such as OpenConfig/YANG and NETCONF; CloudVision for provisioning and telemetry; and cEOS/vEOS for network simulation and certification.
While Arista's software focus is aimed at contrasting its approach with that of its competitors, those competitors are moving to software as well. Cisco announced its "network intuitive" strategy for intent-based networking this year. (See Cisco's 'Network Intuitive': A Risky Transition.)
Juniper introduced its Cloud-Grade Networking strategy in June, to provide telemetry, automation, security and machine learning to help enterprises make the transition to the cloud. (See Juniper Pushes Network Virtualization.)
Nokia launched plans for a standalone software company last year, and said this year the plans are already reaping financial rewards. (See Nokia: Software Plan Already Boosting Profitability and Nokia's New Software Unit to 'Redesign' Company.)
Cisco is suing Arista over intellectual property violations, seeking to block the sale of Arista products in the US. (See Arista Switch Ban Stays in Place for Now.)
Despite the litigation, Arista is gaining market share, though Cisco -- while still the market leader -- is losing share, according to analyst firm International Data Corp. (IDC)
Related posts:
— Mitch Wagner




Editor, Enterprise Cloud News