Hewlett Packard Enterprise (HPE) posted a loss during its fiscal second quarter as the company continues to restructure and spin off different parts of its business, while focusing more on hybrid IT, cloud and software-defined data center offerings.
The company's second quarter closed April 30, and HPE posted numbers May 31.
For the second quarter of 2017, HPE posted a loss of $612 million or $0.37 per share. That compares to the profit of $320 million -- $0.18 cents per share -- the company posted during the second quarter of last year. For the second quarter of this year, the company posted net revenue of $7.45 billion compared to the $8.51 billion the company posted in the second quarter of 2016.
Wall Street analysts were looking for a profit of $0.35 per share with revenue of $9.73 billion, according to Market Watch.
However, with HPE, the company's ongoing restructuring causes some confusion when it comes to reading its financial results.
For the quarter, the company actually posted revenue of $9.9 billion, however, $2.5 billion came from discontinued operations -- Enterprise Services -- which were spun off during the last three months, which then contributed to the loss. (See HPE Spins Services, Cuts Outlook.)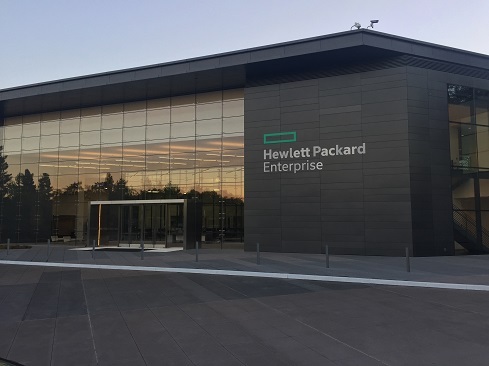 When excluding charges related to the spinoff, the company posted earnings per share of $0.35.
The company is not done yet. Later this summer, HPE plans to spin off its software business to Micro Focus, which will leave the company with a tighter focus on hybrid IT -- a mix of traditional IT and cloud -- as well as multi-cloud, edge computing, and the software defined-data center products. (See HPE Spins Software Business to Micro Focus for $8.8B .)
In prepared remarks, CEO Meg Whitman noted that HPE will continue its transformation and focus on being a smaller, more nimble IT provider.
"During the past year and a half, we've made significant progress in strengthening HPE to compete and win well into the future. We are focused on becoming a smaller, nimbler, and financially stronger company that is more committed to customers and partners than ever before," Whitman wrote.
---
M&A activity is turning the cloud upside down. Find out what you need to know in our special report: Mergers, Acquisitions & IPOs are Rocking the Cloud.
---
These restructuring moves, combines with outside forces such as unfavorable foreign exchange movements, industry-wide commodities constraints and increased competition, hit the company's various businesses. The Enterprise Group saw its revenue drop 13% year-over-year to $6.2 billion, while Software revenue dropped 11% to $685 million in revenue. Financial Services increased revenues 11% to $872 million.
In her remarks, Whitman noted that some of the problems stemmed from less server demand from one Tier 1 customer -- reportedly Microsoft -- although Whitman did not name the customer. She also noted that lower license and professional services sales in software contributed to the quarterly loss.
Whitman did note that the company's Aruba networking division and its services brand, Pointnext, performed well.
For the third quarter of 2017, HPE is looking for earnings per share of between $0.24 to $0.28. For the year, the company is looking for earnings per share of $1.46 to $1.56.
Related posts:
— Scott Ferguson, Editor, Enterprise Cloud News. Follow him on Twitter @sferguson_LR.