Google Polishes Chromebooks for Enterprise

Comment (6)
Google on Tuesday enhanced enterprise manageability for Chromebooks and other devices running Chrome OS, introducing Chrome Enterprise, a cloud service for enterprise IT to manage Chrome devices.
Chrome Enterprise provides access to enterprise app storefronts to allow IT to control which apps users can install on their Chromebooks and other Chrome OS devices. Chrome Enterprise provides integration with cloud and on-premises management tools, security controls and 24/7 support, at a cost of $50 per device annually, according to a blog post bylined David Karam, Google product manager for the Chrome Enterprise, scheduled to go live on Google's blog Tuesday morning. Enterprise Cloud News obtained an early draft of the blog Monday.
Chrome Enterprise supports Microsoft Active Directory to allow employees to use native credentials to authenticate, while centralizing management of user and device policies for IT admins.
Chrome Enterprise integrates with VMware AirWatch, to provide a centralized approach to managing Chromebooks and other mobile devices.
Google announced two enterprise users for Chrome Enterprise: Whirlpool Corporation and Rentokil.
"Chromebooks are ready for the enterprise," Google Product Manager Eve Phillips tells Enterprise Cloud News. "Chromebooks have always been a fast, secure, shareable device. Now these devices can be easily integrated into a relatively complex enterprise environment."
Chromebooks are Google's bid to get users to go all in on cloud applications. While Chromebooks provide some local data storage, they're designed to run cloud apps. "The more you can store in the cloud, the more power you have in the Chromebook," Phillips says. "You get better security because the devices are updated every six weeks." Because users log in to access applications and data in the cloud, devices can be easily shared among employees.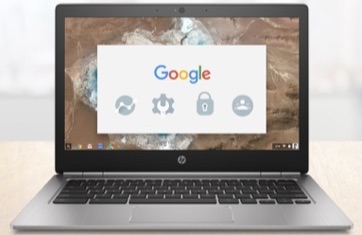 ---
Can Google make the grade as an enterprise cloud provider? Find out on our special report: Google's Big Enterprise Cloud Bet.
---
Google's Chrome enterprise push comes as Chromebooks are taking over the US K-12 education market. Chromebooks accounted for 58% of the 12.6 million mobile devices shipped to US primary and secondary schools last year, up from 50% in 2015, according to a report from Futuresource Consulting in March. iPads and Mac laptops fell to 19% from about 25% over the same period, and Microsoft Windows laptops and tablets were relatively stable at about 22%.
Chromebooks overtook MacBook sales for the first time ever in the US in 2015.
Overall, Chromebook shipments grew by 38% last year, to 9.4 million units. While that's just a fraction of overall PC shipments, PC shipments were down about 6.2% last year, to 270 million units, according to Gartner.
Apple is pushing back, partnering with Cisco in an enterprise push, for enhanced security and optimizing Cisco networks to provide a fast lane for Apple devices, to prioritize business over other traffic. Apple is also partnering with SAP on enterprise applications and cloud services to run on iPad and iPhone. (See Apple Hugs Cisco in Big Enterprise Push and SAP Floats Apple Partnership, New Cloud Services.)
VMware's Chrome integration is part of a push by VMware to integrate its software across multiple public clouds. Google and VMware announced a partnership in May to integrate Chrome OS with VMware Workspace ONE, allowing enterprise IT to control deploying applications on Chrome OS devices.
VMware announced Cross-Cloud Architecture a year ago this month, partnering with IBM Cloud and plans to extend to Google, Microsoft Azure and Amazon Web Services to let IT manage, provide uniform policies for, and secure applications running across public, private and hybrid clouds. (See VMware Seeks Cloud Dominance by Building Bridges.)
VMware partnered with AWS in October to run VMware workloads on the Amazon public cloud. (See Enemies No More: Amazon & VMware Partner on Cloud.)
— Mitch Wagner
Editor, Enterprise Cloud News
---
CALLING ALL CLOUD, NFV AND SDN COMPANIES: Make sure your company and services are listed free of charge at Virtuapedia, the comprehensive set of searchable databases covering the companies, products, industry organizations and people that are directly involved in defining and shaping the virtualization industry.
---