BOSTON -- OpenStack Summit -- GE's use of technology to transform itself from a traditional manufacturer to a digital giant is well known. Still, the innovation continues.
Take healthcare as an example, which grew over the years as GE acquired more companies, which led to issues ranging from server sprawl, to dealing with legacy applications and interoperability between different types of apps that came under the corporate umbrella. (See GE Builds 'Digital Twins' for Industrial IoT.)
There are also issues of compliance and security when it comes to thousands of patient records.
This is where Patrick Weeks came in. As senior director of digital operations for GE Digital, he wanted to move large portions of healthcare applications to the cloud but didn't want to have these records and apps to live within a public cloud platform.
Instead, Weeks decided to go with OpenStack and create a remote managed private cloud infrastructure, which is a dedicated private cloud but one that is delivered as a service. In this case, Rackspace provided the service, and it's a service that was talked about as the OpenStack Summit opened on Monday, May 8. (See OpenStack Foundation Fires Back at Critics.)
"We have tremendous infrastructure and we're not an infrastructure company," Weeks said at the OpenStack Summit here. "We are a digital industrial company."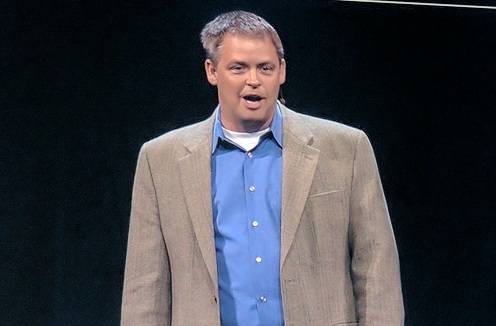 In terms of cloud, Weeks said GE was looking for a flexible platform that his IT departments and engineers could tailor to the needs of the healthcare division. At the same time, the team wanted to avoid a lot of vendor lock-in and wanted an open source model to build on.
"What we needed was to be able to access those internal applications," Weeks said. "You can do that from public [cloud] but it's very complex and why spend the time money and effort trying to solve some of those challenges?"
Those challenges, which started in 2015, included moving about 125 applications over in the first year, with another 500 or so to follow. GE also looked to retire about 600 apps, while cutting its cloud footprint down by about 50%.
For Weeks, it was important to have a single-tenant cloud that could not only provide the security and compliance needed, but also allow those who needed access to that data, a way to safely access it.
---
M&A activity is turning the cloud upside down. Find out what you need to know in our special report: Mergers, Acquisitions & IPOs Are Rocking the Cloud.
---
In his talk, Week spoke about how the project that produced the GE Infrastructure Exchange -- GIX -- was also about a cultural transformation within the company. It was one that brought it different parts of the company and gave all those people, whether they were in IT or not, a say in how the project moved forward.
"It is about a cultural transformation, about behaving differently and thinking differently," Weeks said. "It's about re-inventing the way we deliver IT services today."
The GE story about OpenStack was also noteworthy since it was the first time the company mentioned Rackspace as a partner.
"We are building multiple clouds with them and the needs of the healthcare team, which they talked about, are different than aviation or manufacturing, so it's a very broad use case with them and talking about different workloads," said Bryan Thompson, general manager of OpenStack Private Cloud with Rackspace, in an interview with Enterprise Cloud News after the talk.
Related posts:
— Scott Ferguson, Editor, Enterprise Cloud News. Follow him on Twitter @sferguson_LR.