Encounters at the End of the Sundance Trail
Encounters at the End of the Sundance Trail
The tech company, the genius and the improbable movie... NetScout persuaded legendary film director Werner Herzog to direct a documentary about the power of the Internet. What were they thinking? PARK CITY, UTAH -- Sundance Film Festival -- Lo and Behold, Reveries of the Connected World, a documentary directed by Werner Herzog and financed by NetScout, has all the makings of one of the biggest boondoggles ever perpetrated by a technology company.
Yet it's easy to imagine the movie turning out to be one of the most improbable triumphs in the history of marketing.
Nearly everything about the making of Lo and Behold is at once unlikely, bold and absurd.
The project, as conceived by NetScout chief marketing officer Jim McNiel, was to be a series of short vignettes about the power and perils of the Internet, destined for a short-form forum such as YouTube.
From the get-go, the idea was a mess from a branding perspective. The company specializes in service assurance and network security, but the shorts wouldn't all address those subjects directly. Instead, taken together, they would create some impressionistic image of the technological environment in which NetScout Systems Inc. (Nasdaq: NTCT) and the Internet-using world operate.
The whole thing was supposed to somehow conceptually dovetail with the company's "Guardians of the Connected World" program, itself a squishy notion from a branding standpoint. The idea is to get everyone -- from corporate executives to network security experts to individual users -- to think of themselves as "guardians" of the Connected World, to "guard" the Connected World, to keep it secure, to remain safe while using it, to maintain and expand and use it responsibly and to join forums and keep up a constant conversation about our increasingly Internet-reliant world.
McNiel and his team got it into their heads to offer the project to one of the most legendary directors in film history. No precedent comes to mind of an established feature film director, let alone someone as eminent as Herzog (check out his credits), ever signing on to such a project.
Figure 1: The Odd Couple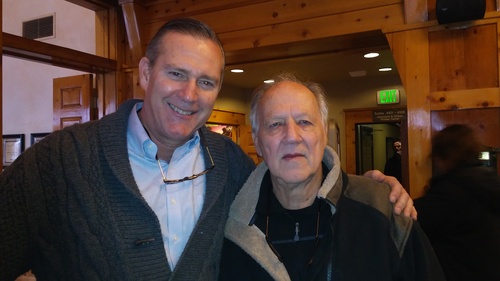 NetScout CMO Jim McNiel (left) and the director of Lo and Behold, Reveries of the Connected World, Werner Herzog, at the Sundance Film Festival. [Editor's note: This is not a caption I ever expected to write for Light Reading...]
So here we have a corporation with no profile in the movie industry deciding to approach a legendarily independent and idiosyncratic filmmaker -- and one, not coincidentally, openly suspicious of technology -- to sign up to a project that nobody has been interested in doing before. Herzog, of course, turned them down.
But NetScout persisted and ultimately managed to pique the director's interest. Herzog agreed to do the project with, literally, a handshake deal. But why? "I found it fascinating, because I do have a lot of questions," the director told Light Reading. "I see there is something of enormous magnitude going on in our civilization, as important as the introduction of writing into civilization, or the introduction of electricity into civilization. It is something almost all-pervading," he said.
That opinion fits in precisely with NetScout's philosophy. Herzog was the right guy for the job.
But he also came with an experienced director's vision. Soon after beginning work on the project, Herzog decided that the short vignette was the wrong format. He persuaded NetScout that, instead, this needed to be a feature documentary.
NetScout has no interest in talking about the cost of the project, but there can be no doubt that, at that point, the budget escalated far beyond what was initially imagined.
"Clausewitz, the Prussian war theoretician of Napoleonic times, famously said sometimes war seems to dream of itself. My question is -- does the Internet dream of itself? Of course you will not get a real coherent answer, but sometimes it is important to ask a very big question, so I do it." -- Werner Herzog
And yet the company decided to forge ahead. So to recap: We have a fuzzy branding exercise, an unprecedented project, a brilliant yet mercurial director and a budget that got busted almost immediately.
And then Herzog, perhaps predictably, got expansive with the concept and started pursuing topics not in the original concept -- the search for extraterrestrial intelligence, colonizing Mars, robotics.
The film that Herzog brought back to NetScout was a mishmash, featuring ruminations on technology and telepathy, love and rockets, and -- almost by the way -- the Internet. It featured interviews with people who have suffered profound psychological harm from using the Internet in the basest of ways, and people who claim to be suffering real, physical harm from the wireless elements of the network itself.
The film is shambolic, seemingly a mess, winging off into improbable tangents and explicitly exploring the very worst of the Internet -- which is to say, the worst of human behavior. How was this supposed to help NetScout?
NetScout simply doesn't want to talk about its initial reaction to the film. But it is clear what the company's final, considered reaction was because it released the movie pretty much as delivered by Herzog.
Then Herzog submitted the film to the Sundance Film Festival. Sundance gets tens of thousands of submissions each year and chooses just a few score independent films to present, almost all by young directors submitting one of their earliest films.
Lo and Behold, an improbable film from a director deep into his career, inspired and financed by a technology company in over its head, improbably was accepted.
At the premiere here Saturday night, the audience responded with laughter -- the film is deliberately and successfully funny -- and, at the end, with enthusiastic applause. At subsequent screenings, the response was similar.
Lo and Behold is a Festival triumph. That's often predictive of future success for a Sundance film. Herzog's eminence will certainly help its prospects.
It remains unclear how the film will complement NetScout's goals. The company insists that even in its original conception it was never meant to be marketing collateral, but something more.
Maybe that's enough. As one wag at the party following the premiere noted, "This will be one of the only marketing projects ever to turn a profit."
From a financial standpoint, as an investment, the project is successful. As a marketing/branding tool? Sometimes you don't have to have a direct connection. Coke wanted to teach the world to sing in perfect harmony. Nothing to do with cola, but inexplicably it worked. How Lo and Behold fares by that measure remains to be seen.
But a feature film also gets to be taken at face value -- as a feature film.
It's not clear whether Jim McNiel and his colleagues at NetScout are brave visionaries or insane dreamers -- not unlike a character in a Herzog film such as Fitzcarraldo -- but in the long run it may not matter. The result is a magnificent film, entertaining, thought provoking and deeply felt.
Other technology companies should be so bold.
— Brian Santo, Senior Editor, Components, T&M, Light Reading
Subscribe and receive the latest news from the industry.
Join 62,000+ members. Yes it's completely free.
You May Also Like
---