Victor Zhou from Huawei: T.U.R.B.O All-Optical Target Network Helps Operators Achieve New Business Growth in the Cloud Era
Victor Zhou from Huawei: T.U.R.B.O All-Optical Target Network Helps Operators Achieve New Business Growth in the Cloud Era
At the 10th Huawei Optical Innovation Forum in 2023, Victor Zhou, President of Huawei's Optical Transmission Domain, shared with global operators the concept of all-optical target network construction as well as Huawei's innovative solutions, and proposed that all-optical connectivity is becoming the foundation of the future digital era. #sponsored

[Cannes, France, May 30, 2023] At the 10th Huawei Optical Innovation Forum in 2023, Victor Zhou, President of Huawei's Optical Transmission Domain, shared with global operators the concept of all-optical target network construction as well as Huawei's innovative solutions, and proposed that all-optical connectivity is becoming the foundation of the future digital era. Building a "T.U.R.B.O" all-optical target network can enable premium connections, help operators reduce TCO, and stimulate new business growth.
As 10G applications proliferate, bandwidth is growing by 30% every year. Meanwhile, the digital transformation of industries dramatically increases users' cloud-based application and inter-cloud interconnection requirements. Networks with millisecond-level latency are required to achieve ultimate user experience.
The future evolution of all-optical networks will center on continuously increasing the single-fiber capacity and the number of premium connections, as well as achieving the optimal TCO through simplified architecture, multi-service bearing over one network, and ultimate automation experience.
From a global perspective, deploying OTN/WDM closer to the network edge to build all-optical networks has become a trend. In Europe, operators have deployed WDM/OTN at 95% of aggregation sites and 65% of access sites. In other regions, WDM/OTN is also deployed closer to the network edge as new services are developed. In the new era of cloud services, we believe that building a "T.U.R.B.O" all-optical network can maximize the value of optical networks and help operators reduce costs, improve efficiency, and quickly increase revenue.
Figure 1: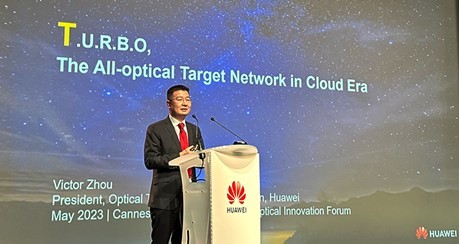 Building a "T.U.R.B.O" All-Optical Target Network to Enable Premium Connectivity, Reduce TCO, and Stimulate New Business Growth
"T.U.R.B.O" All-Optical Target Network includes the "T-shaped" target network architecture, U-Unified access, R-Resilient connection, B-Autonomous network Brain, and O-All Optical switching.
T in "T.U.R.B.O" stands for a "T-shaped" target network architecture, which consists of three types of nodes, two types of connections, and one-hop connection capability. The three types of nodes are the end optical anchor Optical Access (OA) that implements multi-service integrated access, the intermediate optical grooming node Optical Fabric (OF) that implements wavelength, ODUk, and OSU grooming, and the cloud optical gateway Optical POP (OP) that directly connects to DCs to sense cloud services and collaborate with cloud and computing power. The two types of connections are north-south and east-west connections, and the number of supported network connections increases from 1000 to 100,000. The one-hop connection capability achieves 1 ms ultra-low latency through wavelength routing and direct transmission.
U in "T.U.R.B.O" stands for unified access. Oriented to unified access, a fixed mobile convergence (FMC) network with a simplified architecture and optimal TCO is built, and 100G OTN is deployed on OA nodes to implement multi-service access at one site and carry various services including home broadband, mobile, and private line services over one network. In this way, multiple independent networks are replaced with a unified bearer network, the site capacity is increased by 10 times, and single-wavelength 400G evolution in the future is supported. OA nodes must be close to users, OLTs, ASGs/CSGs, and enterprises to ensure that services can be provisioned within days.
R in "T.U.R.B.O" stands for resilient connections. The "T.U.R.B.O" all-optical network provides differentiated and guaranteed experience and enables networks and services. First, it supports on-demand bandwidth adjustment. The connections between data centers provide elastic bandwidth ranging from 100 Gbit/s to higher than 800 Gbit/s to cope with burst traffic. In addition, small-granularity OSU/fgOTN is used to connect enterprises and even homes, and meet the diversified requirements of small and medium-sized enterprises and cloud services. Second, it supports on-demand quality provisioning. Connections meeting specific SLAs — such as 99%–99.999% availability and 1 ms–1s latency — are provided based on user experience requirements, monetizing network capabilities and helping operators increase revenue.
B in "T.U.R.B.O" stands for intelligent brain. The management and control module achieves unified data source and real-time synchronization of live-network data, planning/design data, and commissioning data. In this way, networks can be automatically deployed for planning, construction, maintenance, and optimization, greatly improving efficiency and achieving network self-healing. In addition, northbound integration of IETF ACTN APIs helps to quickly streamline tariffs and network management systems, rapidly provision end-to-end services, and monetize network capabilities related to bandwidth, latency, and availability.
O in "T.U.R.B.O" stands for all-optical switching. Optical switching is the most effective and energy-efficient way to transmit information. Flexible grid ROADM is applied to backbone, metro, and access networks to implement non-blocking switching for any wavelength to any site, building a flexible all-optical base to meet long-term network evolution requirements. In addition, the service recovery capability of optical-layer ASON is further enhanced to shorten the recovery time from seconds to milliseconds, further improving network reliability.
At the end of his speech, Victor Zhou said that, for the "T.U.R.B.O" all-optical target network, Huawei has released the Alps-WDM solution to build metro integrated bearing networks with the optimal TCO, released the E2E OXC solution to implement network-wide ROADM and next-generation 400G to 1.2T per wavelength for meeting the ultra-high-speed interconnection between backbone networks, metro networks, and data centers based on OA, OF, and OP nodes, and released the intelligent brain of NCE to achieve the optimal TCO, ultimate experience, and simplified architecture. Huawei will continue to work with global operators in using the "T.U.R.B.O" all-optical target network to help achieve digital transformation in various industries, thereby continuously improving efficiency and increasing revenue in the digital era.
This content is sponsored by Huawei
Subscribe and receive the latest news from the industry.
Join 62,000+ members. Yes it's completely free.
You May Also Like
---