KVH Looks to OpenStack for Private Cloud
KVH Looks to OpenStack for Private Cloud
The service provider wants to move beyond its current financial-sector customer base and into the general enterprise. KVH Co. Ltd. is pushing to expand its Japanese private cloud business beyond the financial sector into the general enterprise, and is using OpenStack to drive that initiative.
KVH Co. Ltd. is a cloud, Internet and networking service provider founded by Fidelity Investment in 1999. The Fidelity relationship is the reason half of KVH's customers are in the financial industry. But KVH is looking to move beyond the financial industry, says Matsuno Tatsuya, manager of IT Strategy & Architecture for KVH.
KVH is also looking to drive adoption of OpenStack in Japan, a nation which has largely standardized on CloudStack since the cloud market opened there in 2009-10. OpenStack has just started becoming popular in Japan in 2012-13, and it's still in the evaluation phase rather than production deployments, says Tatsuya.
KVH started offering cloud with a 100% homemade public cloud service in 2010 called Cloud Galaxy. But KVH soon learned the Japanese market wasn't ready for public cloud, and then launched a private cloud with homegrown software it called Turbine.
During that time, OpenStack became popular in the US, adopted by vendors including Cisco Systems Inc. (Nasdaq: CSCO), Alcatel-Lucent (NYSE: ALU) and Big Switch Networks .
"In order to catch up to that movement, we realized it's difficult to maintain our homegrown product by ourselves. If we wanted to use the new networking model, new switches, and load balancer, we'd have to improve our software," Tatsuya says. KVH decided to switch to embrace the emerging OpenStack standard in 2013-14.
KVH is using Midokura to provide the SDN overlay and OpenStack support for its cloud service.
Before choosing Midokura, KVH evaluated alternatives including Nicira, Big Switch Networks , and Alcatel-Lucent Nuage Networks . Nicira, since acquired by VMware Inc. (NYSE: VMW), had a strong technology and experience advantage for its NSX SDN platform, but its product was more suited for the public cloud than private cloud. KVH's target customers have 10-20 servers each, and Nicira has too much overhead for an installation that small. Nuage and Big Switch were not production-ready in 2012-2013.
Midokura lets KVH start from a small number of servers and scale up. Midokura also has a development office in Tokyo, in addition to the US and Barcelona.
"Midokura is designed for the data center. That's why the architecture is much simpler. That's why we chose Midokura," Tatsuya says.
But the company hasn't ruled out other technologies. Colt Technology Services Group Ltd acquired KVH in November, and Colt uses NSX. (See Colt-KVH: A Hook-Up Bound to Happen.)
KVH uses Midokura in conjunction with Mirantis Inc. OpenStack, after researching Canonical, Red Hat Inc. (NYSE: RHT) and SUSE Inc. Linux. "Mirantis is easy to deploy with automation tools. On top of that we installed Midokura as the networking component for private cloud," Tatsuya says.
The new private cloud offering, called Private Cloud Type-S, is still in its early days. KVN just started pitching customers in September and October, and has only two PoC environments running now.
KVH continues offering its Turbine private cloud, which is based on VMware, for its financial industry customers who find OpenStack too new. "The architecture and configuration and devices are pretty much fixed, and not significantly changed, so it's easy to maintain," Tatsuya says.
Want to know more about cloud services? This will be just one of the many topics covered at Light Reading's second Big Telecom Event on June 9-10 in Chicago. Get yourself registered today or get left behind!
In Turbine, unlike the new Private Cloud Type-S, no networking functions reside in the cloud; firewall, load balancing, and L3 switch are appliances. "One of the advantages of the Type-S is that all the networking functions are included and can be controlled by the customer.
Figure 1: Private vs. Public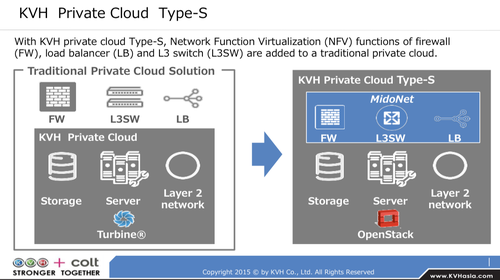 One issue KVH encounters with OpenStack is the frequency of upgrades. OpenStack sees an update every six months. To help KVH keep up, Mirantis has guaranteed to maintain each release for at least two years. Upgrading both OpenStack and MidoNet requires significant testing, which is a challenge.
KVH hopes its OpenStack-enabled private cloud can help drive its business beyond the financial sector and into the general enterprise in Japan.
More on KVH and Midokura
— Mitch Wagner,

, West Coast Bureau Chief, Light Reading. Got a tip about SDN or NFV? Send it to [email protected].
Subscribe and receive the latest news from the industry.
Join 62,000+ members. Yes it's completely free.
You May Also Like
---