Today, Versa Networks announced the expansion of its SD-WAN platform to include new security functions, support of WiFi, Ethernet and LTE and third-party VNF hosting to keep up with the growing number of organizations trying to embed technology into every part of their business while keeping agility and cost-savings in mind.

Indeed, SD-WAN is no longer just about software-defining the WAN -- it's quickly become all about software-defining the entire branch as vendors gear up to reap some of the $1.24 billion that Gartner predicts will be spent on SD-WAN products by 2020, and enterprises look to reduce the "appliance sprawl" and associated costs and complexity of becoming a digital business.
---
Boost your understanding of the business impact of SD-WAN! Join us on June 6 for SD-WAN Strategies for Success, a half-day Light Reading event in Dallas. There's still time to register -- secure your seat today!
---
According to a recent study by Dimensional Research, 44% of enterprises surveyed have more than ten physical network and security devices at a branch -- and many enterprises have multiple branches, multiple stacks and buildings have multiple tenants. "Each one has their own management workstation, support numbers and then each one has an equivalent at the corporate office," said Kelly Ahuja, Versa Networks CEO.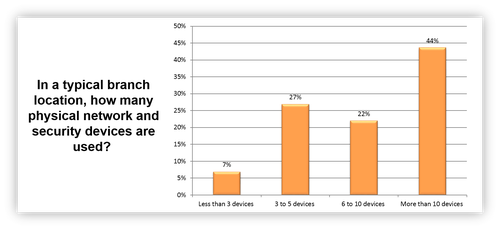 The expansion of the Versa's Cloud IP Platform is part of the company's plan to software-define and thereby simplify the entire branch office in an age where many enterprise applications are hosted in the public and private cloud, and security is top of mind, according Ahuja. "Enterprises want to move fast, and want to keep up with the pace of change and the unpredictability and demand that's going to hit them over the next two years, but the speed at which they can move and make changes is currently a gating factor for them -- especially from the network and security standpoint," he said.

Included in the expansion is the ability to host third-party virtual network functions (VNFs) which Ahuja says is key to reducing complexity. Integrated WiFi and Ethernet switching software support, embedded LTE and multi-vector malware security have also been added. (See Versa Goes Beyond SD-WAN to Software-Define the Branch .)

Simply virtualizing all the branch equipment won't solve the management challenge though, said Ahuja. "It doesn't really simplify the base complexity in the branch," he said. "You've got each VNF with its own management station, you need to add the service chaining and orchestration and a hypervisor underneath to stitch that together. You haven't really simplified the base architecture in the branch, you've actually made it more complex."

Versa's Cloud IP platform has Layer 3 to Layer 7 IP services built in and now also includes the capability to host third-party VNFs. The latter is response to enterprises that wanted to hold onto existing vendor relationships and solutions but also use Versa's platform. "We're heading down this path of not just software-defining the WAN but software-defining the entire branch, including the WAN, the security, all the other appliance that you might have at that branch … and lowering the enterprise cost, minimizing the spend, reducing the appliance sprawl and the management complexity."

Availability of the enhancements varies by solution, according to Ahuja. The malware protection is available this week; the embedded LTE support and WiFi support will be available in the solution's hardware over the next couple of months; and SD-Branch is in trials.

Related posts:

— Elizabeth Miller Coyne, Managing Editor, Light Reading
---
CALLING ALL CLOUD, NFV AND SDN COMPANIES: Make sure your company and services are listed free of charge at Virtuapedia, the comprehensive set of searchable databases covering the companies, products, industry organizations and people that are directly involved in defining and shaping the virtualization industry.
---