Comcast Gig Box Goes Nationwide, No LoRa Yet
Eleven months after Comcast unveiled its digital home platform at CES 2017, the cable operator is now making its marquee device for the Xfinity xFi service available across the country.
Dubbed the xFi Advanced Gateway, the product supports DOCSIS 3.1 for gigabit service, includes an 8x8 WiFi antenna array, makes use of 160MHz of spectrum for bandwidth delivery and leverages multi-user, multi-input, multi-output (Mu-MiMo) technology for higher broadband performance across multiple devices. The gateway also includes multiple IoT radios supporting Bluetooth LE, Zigbee and Thread.
Although it's been hinted that Comcast will ultimately embed a low-power, wide-area network (LPWAN) radio based on the LoRaWAN specification in its customer premises equipment, the xFi Advanced Gateway does not support LoRa today. (See Comcast Aims to Layer LoRa Into XB6 Gateway.)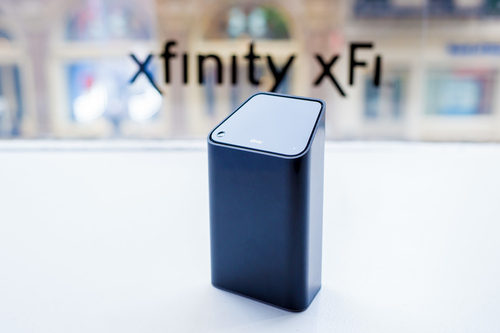 Comcast Corp. (Nasdaq: CMCSA, CMCSK)'s gigabit gateway has taken a long time to arrive. The company started showing off an early prototype in 2015, then hinted at its launch several times in 2016 before beginning the commercial rollout in select locations in the spring of this year. That said, the product is the most powerful cable broadband gateway on the market, combining gigabit connectivity with advanced WiFi technologies in a single box. And it pairs with Comcast's xFi service, which offers features and controls -- such as the ability to monitor bandwidth usage and pause WiFi access -- that most operators don't provide. (See Comcast 'X1 of the Internet' Arrives.)
The xFi Advanced Gateway is also likely to be picked up by other Comcast partners through syndication agreements. Cox Communications Inc. in the US along with the three largest cable operators in Canada already license the Comcast X1 video platform, and Rogers Communications Inc. (Toronto: RCI) has specifically stated its intention to deploy the xFi solution. When asked about syndication possibilities earlier this year, Comcast Chief Product Officer Chris Satchell said, "Yes, I think that this is something we would definitely talk to our MSO partners to see if there's interest."
For Comcast, the advanced gateway gets its mass market launch as the company continues to extend gigabit broadband service to new subscribers with DOCSIS 3.1 upgrades. According to a spokesperson, Comcast now offers D3.1-powered service across more than 70% of its footprint.
Further updates to the xFi system are scheduled to arrive before the end of the year. Comcast plans to introduce WiFi pods later this month that improve connectivity in larger homes with a mesh networking system. The mesh system is built at least in part on technology developed by the company Plume, which has also received significant financial investment from the cable operator.
— Mari Silbey, Senior Editor, Cable/Video, Light Reading
PARTNER PERSPECTIVES
- content from our sponsors