The hype surrounding 5G broadband service has been growing for years and is expected to impact everything from telemedicine to transportation. However, combined with SD-WAN technology, 5G is one of the emerging broadband technologies poised to reshape the networks that connect enterprises to remote branch offices, telecommuters and mobile devices.
According to the US Small Business Administration, there are a little over 30 million businesses in the US. This group is a complicated mix of companies of all sizes, from the smallest home-based sole proprietorships to much larger corporations with dozens of locations. Sitting somewhere in-between these small firms and large enterprises is what we call the "distributed enterprise."
Distributed enterprises are businesses with multiple employee locations that require access to the Internet and the ability to electronically connect to each other. Branch offices and franchise locations make up the bulk of the category. Most distributed enterprises have two or three locations, but some have dozens dotting the country. From an employee-size perspective, distributed enterprise locations are much like the average SMB. However, their technology needs and associated spending are often a reflection of the larger mid-market or enterprise segments.
For service providers, the predominant distributed enterprise market strategy has been a "top down" approach, where the national or regional headquarters of a large business strikes a deal with a service provider for data, IT and/or voice services. Nationally distributed remote office connectivity is often part of the deal; to manage the account, the service provider must often cobble together a nationwide mosaic of broadband access options from different partners and wholesalers to deliver connectivity.
In a departure from the "top down" model, the most serious alternative approach to address the nationwide distributed enterprise challenge began in 2016 when the enterprise units of Comcast and Time Warner Cable (now Charter Spectrum) led an initiative establishing national networking agreements between themselves and a few of the smaller cable providers (reportedly Altice USA, Cox and Mediacom). This partnership created an operationally friendly cable modem network environment that we estimate can reach somewhere in the range of 70% to 80% of US small business locations. The relationship helps alleviate the complexity of having to manage multiple service providers using a variety of access technologies when a larger, multi-office business requires connectivity for its locations scattered across the country.
The latest cable modem standard is DOCSIS 3.1, which can deliver lab speeds of 10 Gbit/s downstream and 1-2 Gbit/s upstream. Major cable companies are mainly offering services in the 500 Mbit/s to 1 Gbit/s range. In addition to offering higher speeds, DOCSIS 3.1 tackles jitter and latency issues common to earlier versions of DOCSIS. This combination of Gigabit speeds and better overall QoS, along with relatively low pricing, makes it an attractive technology for remote office and mid-market customers.
In addition, D3.1 has a "Full Duplex" specification in the works that will solve one of the most often cited disadvantages of cable modems -- the lack of a symmetric cable modem offering. According to CableLabs, Full Duplex DOCSIS will be capable of delivering 10 Gbit/s in both directions and be commercially available sometime in 2020. Click here to follow the discussion in a recent Light Reading webinar.
With no MPLS revenue to cannibalize and a competitive but lucrative national enterprise market to address, the move up-market is a natural fit for cable operators. Leveraging a strong position in distributed enterprise connectivity, cablecos could gain a foothold in a multi-location enterprise by offering a cheaper, higher performance remote-office connection package based on cable modems, thus opening the door to higher-value enterprise-grade voice, data and IT services at the HQ. Comcast refers to this as their "wedge" strategy, which I described in a previous Light Reading column. (See Comcast Business Positions Itself 'Beyond Fast'.)
This cable distributed enterprise partnership strategy sets the stage for a showdown between MSOs and large telcos like AT&T, Verizon and CenturyLink that are heavily geared towards enterprise and mid-market customers. Within their traditional ILEC service areas, AT&T, Verizon, CenturyLink, Windstream and their smaller telco peers operate in a geographically and technologically fragmented footprint. Both AT&T and Verizon are expected to increase their focus on 5G as their most important mass-market broadband strategy -- providing a national reach and giving them the option to go it alone. Without a partnership with these giants, it is unlikely the remaining ILECs could organize a viable telco-led national wireline strategy to counter the reach of the cable consortium.
As for 5G adoption in the US mid-market and distributed enterprise space, the survey results are mixed. On the one hand, the results show there remains a preference for wireline generally, and fiber specifically. However, on the other hand, our mid-market respondents indicate a willingness to replace wireline with 5G. (Please see findings based on Independence Research US SMB Connectivity & WiFi Survey, April 2019, below.)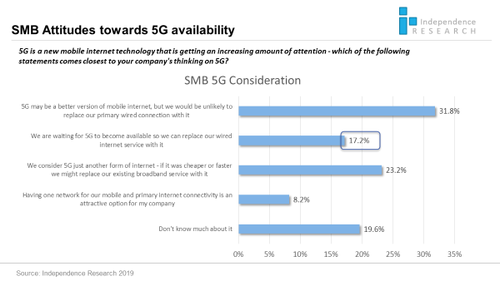 5G deployments are still in the early stages, and performance levels for latency and connectivity speed still need to be proven in real-world, large-scale deployments. The estimated rule of thumb for 5G speed is 20X faster than 4G -- which, according to April 2019 speed test results from the speed measurement portal Ookla, average around 30 Mbit/s to 35 Mbit/s for the top US wireless providers. That puts future potential 5G performance in the 600 Mbit/s to 700 Mbit/s range -- well within the Internet speed requirements for most of today's SMBs.
5G, along with new passive optical networking (PON) fiber deployments and the imminent deployment of 1 Gbit/s symmetric cable, sets the stage for a superior, widely available broadband access network across the US. Reliable, cost-effective broadband offerings in the 500 Mbit/s to 1 Gbit/s range, coupled with the flexibility of SD-WAN, may soon be enough to move enterprise decision-makers to consider the entire enterprise -- from headquarters to smaller remote offices -- when selecting a network service provider.
This article is the first of a two-part series focused on enterprise WAN connectivity. It was adapted from the July 2019 Independence Research article "Broadband Innovation meets SD-WAN: New opportunities for distributed enterprises."
— Matt Davis, Principal Analyst, Independence Research