The telecom market continues to be a mixed bag, according to a report issued this week by Lehman Brothers analyst Steven Levy. Data services are still growing, and North American carrier capital spending is stabilizing and might even increase slightly next year, says Levy. But the big phone companies are still losing precious voice services revenues as the number of access lines decreases.

Levy's analysis of the fourth-quarter subscriber numbers for telephone service, high-speed data services, and all manner of video services found that there is plenty of competition for most every service available and that the number of broadband homes continues to rise. But he's still sticking with a Neutral rating on the sector.

"We believe a period of stability has started to emerge in the North American wireless and wireline services industry, but we are maintaining our more cautious stance on the Cable MSO segment," Levy writes.

The total number of high-speed data subscriptions in the U.S. grew by 45 percent to 18.3 million households during the December quarter, Levy reports. Now some 23 percent of U.S. households are reached by DSL, cable, or satellite broadband services. The overall success of broadband, however, doesn't make it any easier to value the telephone equipment sector as a whole. Some companies, such as Advanced Fibre Communications Inc. (AFC) (Nasdaq: AFCI), are wed to the success of DSL, while others, Scientific-Atlanta Inc. (NYSE: SFA) most notably, would prefer that cable reigned.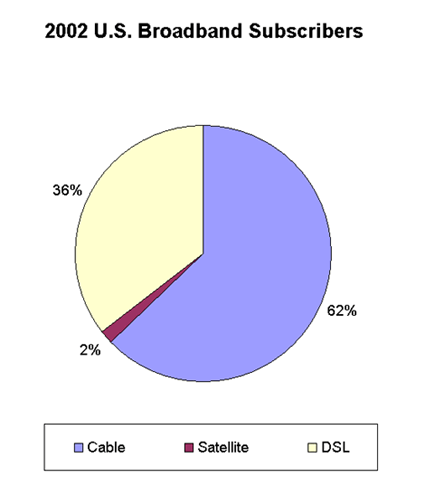 RBOCs and independent phone companies have managed to slow the erosion of their access line business thanks to bundled offers that include long-distance and local calling. Business lines were flat sequentially, while consumer lines dropped by 1.7 percent across Verizon Communications Inc. (NYSE: VZ), SBC Communications Inc. (NYSE: SBC), Qwest Communications International Inc. (NYSE: Q), and BellSouth Corp. (NYSE: BLS).

But, while the erosion has slowed, the equipment suppliers that supply equipment for access lines are feeling the sting. AFC, specifically, mentioned in its last earnings call that it expects the digital loop carrier market to shrink by 10 percent in 2003 (see AFC Not Banking on Reg Relief). That makes it imperative that Alcatel SA (NYSE: ALA; Paris: CGEP:PA), AFC, and others in the space fight each other for each scrap of market share available.

Finally, Levy sees light at the end of the tunnel in North American carrier capital spending. It will still be down year-over-year from 2002, but Levy now believes the drop will be 13 percent versus an earlier prediction of 20 percent. "The key thing on capital spending is that now carriers are actually spending what they say they're going to spend."

Before, Levy says, carriers would hold their 2003 spending forecasts while not spending all of their fourth-quarter 2002 budgets, a trick that made the capex declines appear smaller. Now, he says, "capital spending levels have finally reached levels that seem sustainable...

"This should be the bottom and we'll probably see a small pickup in 2004."

— Phil Harvey, Senior Editor, Light Reading