It's been a month since word broke that U.S. RBOCs are soliciting bids for rollouts of new fiber access networks, many of them based on passive optical networking (PON) technology (see RBOCs Hungry for Fiber). Now that the RFPs (requests for proposal) are in the equipment vendors' hands, though, some question whether all the hoopla could be misleading.

Indeed, the economics of fiber-to-the-whatever are perplexing. Digging trenches and laying fiber is expensive no matter what type of services might be carried over the network.

So is this business for real? As it turns out, those expecting the PON RFP to result in widespread fiber-to-the-home could be in for disappointment.

A bit of background: On June 19, BellSouth Corp. (NYSE: BLS), SBC Communications Inc. (NYSE: SBC), and Verizon Communications Inc. (NYSE: VZ) issued a long-awaited RFP for "fiber to the premises." A Verizon spokesman says the request went out to "12 to 24" vendors under nondisclosure. The carriers expect to get answers back throughout the summer, and they hope to choose up to four vendors for each project before the end of this year. They plan to start deployments in 2004.

But that doesn't mean there'll be a PON on every porch. "I don't think RBOCs have any intention of deploying fiber to the home," asserts Tom Nolle, president of CIMI Corp., a telecom consultancy. He says carriers are investigating the role PONs could play in extending fiber hierarchically within networks -- using PONs to fan out links from a central office to multiple remote terminals, for example. Basically, the RBOCs also are looking for ways they might roll out fiber economically and quickly, as demand for services that require it picks up.

And that's the rub -- demand must match supply, and it may not do that for years yet. At the moment, the cost of laying fiber is roughly the same as that of laying copper in new buildouts. It still does not make sense to dig up streets and replace copper with fiber, Nolle points out. And it won't, until the cost of PONs drops and the cost of incoming revenues rises sufficiently to make the margins speak for themselves.

What is that point? And how long will it take to get there?

No one has an easy answer beyond "sometime in the future." But the PON part of the equation seems to be a bit easier to predict. Information from Optical Solutions Inc., by most accounts the residential PON market leader, shows the cost of elements included in PON deployments has fallen dramatically within the last eighteen months.

Pricing for splitters and couplers, for instance, has fallen by 55 percent; splicing costs are down 50 percent; cable by 30 percent; photonics by nearly 60 percent; and installation and labor by 25 percent, the vendor says.

Those are dramatic figures, but the dollar amounts aren't low enough yet, according to analyst Steve Levy of Lehman Brothers. PONs range from $1,200 to $1,800 per endpoint or customer, he notes. The RBOCs, he says, are hoping their RFP will help whittle that down to $700 or so an endpoint.

He emphasizes that cost reductions won't be the driver for widspread PON use. Revenues have to increase sufficiently to make the case for PON a no-brainer. And that can only happen if service sales go up significantly to make fiber a must-have for every home.

A recent study from research and consulting firm Technology Futures Inc., (funded, ironically, by a consortium of carriers that includes BellSouth, SBC, and Verizon) indicates that point may be a way off. While fiber has grown by leaps and bounds on the business side, it's still a relative rarity in residential distribution, where most folk are happy to have DSL at rates up to 1.5 Mbit/s -- which can be adequately covered by good-condition copper cable.

According to Ray L. Hodges, senior consultant at TFI, demand for 1.5-Mbit/s rates to homes will peak around 2005, at which time folk will start looking to 6 Mbit/s as a standard. It won't be until after 2010, when speeds of 24 Mbit/s are in demand, that fiber distribution to homes will become a necessity to overcome the distance limits of copper. Of course, by then RBOCs would ideally have PONs in place to meet peak demand. It may be around 2007 or 2008 when PON builds take place en masse in anticipation of that, TFI says.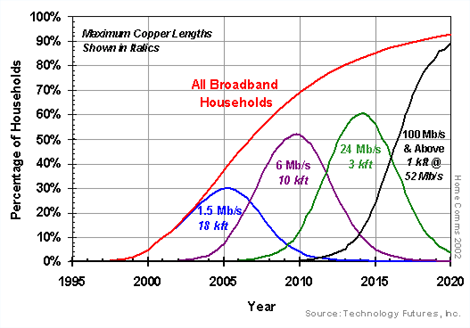 For the math to work, RBOCs need to provide services that call for ever-larger bandwidth, and more speculation surrounds what those services will be. Video will probably be part of the picture; Levy says the RBOC RFP initially called for video capabilities. Bundled IP-based voice, data, and video services may also become more popular. Again, that will take time.

PON vendors seem undeterred, as ever. While most are keeping mum on the RBOC RFP, for fear of affecting any future dealings with the carriers, it's clear their activity level is up. This week alone has seen two announcements, and it's only Tuesday (see Alloptic Delivers FTTP in Wash. and Marconi Beefs Up Access Portfolio).

— Mary Jander, Senior Editor, Light Reading