Report: DSL Rules 'Triple Play' Market
Report: DSL Rules 'Triple Play' Market
Forget fiber! A new report says DSL will fuel the IP video services movement for the foreseeable future IP-based video services are on the rise, but it's no thanks to optical technologies, according to a report from Multimedia Research Group Inc.

Nearly 80 percent of all video services worldwide are fueled by copper-based DSL (digital subscriber line) techniques, the report says. According to Bob Larribeau, MRG senior analyst, telcos worldwide are seizing on DSL as a way to get video in the loop with existing voice and data links to issue "triple play" services (voice, video, and data -- geddit?). The effort's paying off, apparently: "Independent telcos say video services have made deployment of broadband profitable."

How profitable? By 2008, revenues from IP broadband video systems and services will top $8 billion, up from $500 million this year, the firm predicts, while services alone will grow exponentially: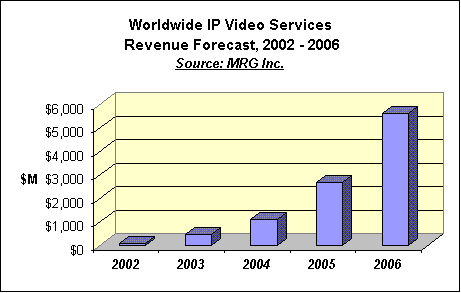 DSL gives carriers a way to get out triple-play offerings without waiting on the evolution of fiber or satellite services, Larribeau says. The use of VDSL (very high bit rate DSL) is particularly popular, accounting for about 60 percent of service deployments worldwide. ADSL (asymmetric DSL) accounts for 20 percent today, with fiber deployment contributing 20 percent, according to the report.

These figures aren't apt to change anytime soon, the firm says. VDSL can handle up to three video streams and support rates up to 20 Mbit/s. The improvement of compression techniques, such as MPEG 4, will extend the life of ADSL as well, starting next year, according to MRG. Telco sources tell the firm there's no immediate clamor for bandwidth above and beyond the levels these technologies provide.

So far, the growth of triple-play services based on DSL has featured a range of different types of operators worldwide -- chiefly independent telcos, small regional operators, and multiservice operators (MSOs). The regional Bells, tied up in regulatory matters, have "sat by," according to the report.

"We don't expect U.S. RBOCs to aggressively deploy these services through 2006," Larribeau says.

Other industry sources argue, however, that RBOCs may sort out their regulatory problems sooner than that, putting even more competition into the triple-play market, thanks to their extensive copper-based networks.

Does this spell doom for optical technologies in multimedia services? What about PON (passive optical networking)? What about Ethernet? When it comes to delivering IP video to home users, other means of transport are taking a backseat, Larribeau maintains.

But MRG's opinion is, again, countered by others who say the RBOCs will not only seek to compete in triple-play DSL services, but will seek to offer new kinds of services that combine voice and data with digital broadcast TV -- an approach that calls for optical bandwidth (see Digital TV M&A Heats Up). That could give some DSL deployments a run for the money.

— Mary Jander, Senior Editor, Light Reading
Subscribe and receive the latest news from the industry.
Join 62,000+ members. Yes it's completely free.
You May Also Like
---