Liberty Global Reveals Next-Gen Plans
Liberty Global Reveals Next-Gen Plans
In a rollicking fireside chat, Liberty Global CTO Balan Nair expounds on MSO's plans to roll out DOCSIS 3.1, DAA, Fiber, 5G and OTT.

Similar to its major US counterparts, Liberty Global has big plans for introducing next-gen cable technologies and services across its European, South American and Caribbean footprints over the next few years. But, as is its wont, Liberty Global is going to do all of this in its own distinctive way.
Liberty Global Inc. (Nasdaq: LBTY) CTO and SVP Balan Nair discussed the MSO's path forward during a fireside chat in Denver late last month. Speaking at Light Reading's Cable Next-Gen Technologies & Strategies conference, Nair spelled out the huge international MSO's plans to introduce DOCSIS 3.1, try out Distributed Access Architecture (DAA) approaches, extend fiber deeper into its access network, extend the reach of its plant, use 5G wireless services and integrate OTT video into its pay-TV offerings.
Starting with the new DOCSIS 3.1 spec, Nair said Liberty Global aims to launch D3.1 service in its European markets in a limited way this fall with a product that will likely feature downstream speeds of 500 Mbit/s to 750 Mbit/s and cost about 10 to 15 Euros more per month than its top D3.0-based product now. Currently, what he termed the cableco's "bull's-eye" broadband service for the mass market, which is based on DOCSIS 3.0 technology, offers downstream speeds of up to 250 Mbit/s. "DOCSIS 3.1 will sit above that," he said.
Figure 1: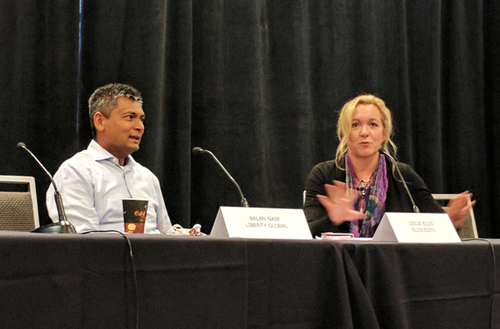 Liberty Global CTO Balan Nair talks with Leslie Ellis, the owner of Ellis Edits & Translation-please.com, at Light Reading's Cable Next-Gen Technologies and Strategies conference.
But, while Liberty Global's network may be nearing ready for the launch of DOCSIS 3.1, Nair said the CPE devices are not quite there yet. Specifically, he's waiting for the price of integrated D3.1 wireless gateways to come down before committing to a comprehensive rollout of the new spec.
"The price point of a DOCSIS 3.1 EMTA is higher than a video set-top box," he noted, citing estimates north of $100 per device. Echoing the comments of several other MSO and vendor executives on an earlier conference panel, he blamed the high prices on the gateway chips, which must support advanced WiFi, MoCA and other home networking technologies along with the D3.1 spec. "That means we can't afford to do it everywhere," he said.
Due to such unfavorable economics, Nair said, Liberty Global will likely pursue a two-phase approach in rolling our D3.1 to its vast broadband subscriber base. After starting with perhaps 10% to 15% of its base in the fall, he envisions a broader, "phase II" of the deployment once the gateway prices come down.
Want to know more about cable market trends? Check out our dedicated cable channel
here on Light Reading.
Like such major MSOs in North America as Comcast Corp. (Nasdaq: CMCSA, CMCSK) and Cox Communications Inc. , Liberty Global is exploring distributed access architecture technology as it seeks to shift away from monolithic Converged Cable Access Platform (CCAP) chassis and push electronics closer to the access network edge. While DAA is "not ready" for prime time just yet, Nair said multiple system trials are now proceeding and he hopes to turn them into commercial deployments soon.
So far, Nair said Liberty Global is leaning in favor of going with the Remote PHY approach and leaning against the Remote MAC/PHY and Remote CCAP options, although no final decisions have been made yet. "Remote PHY is probably what we're doing," he said. "We're working with our vendors."
Similar again to such North America MSO counterparts as Comcast, Cox and Charter Communications Inc. , Liberty Global is also committed to pushing fiber much deeper into its access network and removing as many amplifiers and other active electronic devices as soon as possible. Nair said the MSO aims to advance to "node + 0" amplifiers in its markets as possible, especially in "greenfield" situations where it's building new plants, starting with its UK systems.
But, unlike most of its North American peers, Liberty Global is also on a new construction tear, extending its network into new regions of several markets, especially in the UK and Germany. In these markets, the MSO is focusing on areas where it will not be overbuilding other cable operators. (See Liberty Global Ramps Up Sub Growth.)
"We are putting money where our mouth is," Nair said, noting that the cableco is now spending about 30% of its annual revenue on capital construction costs. "We are putting actual facilities in the ground." He stated that Liberty Global has already built new networks passing more than 2 million homes in the last two years and plans to pass another 1.7 million more homes in Europe and Latin America this year, as well as another 2 million homes in 2018. "In five years, we'll build Cox," he said.
Like wireless providers, some MSOs, such as Comcast and Charter, seem to see promise in 5G wireless as a new access technology that could potentially deliver multi-gigabit speeds to the home. But, while Liberty Global is exploring 5G's potential too, Nair sees it mainly as a backhaul option, not a wired access network replacement. "Terribly false," he said, when asked about the notion that 5G could replace HFC or FTTH. "Bullshit."
Quicker than most North American cablecos, Liberty Global has embraced OTT video, installing OTT apps and services on its cable set-tops. In several of the MSO's markets, for instance, it has already integrated Netflix into its set-tops, enabling it to offer Netflix as just another pay-TV service. Plans call for making Netflix available in more than 30 markets by the end of this year. (See Liberty Unlocks Netflix in 30+ Countries.)
"It's kind of a kabuki dance for all of us," Nair said. "Some people used to think of Netflix as a competitor. Some people still do. We don't."
Noting that Liberty Global has a "very good business relationship" with Netflix, Nair said Netflix has quickly become the top performer of 90 apps on the MSO's set-top platform. In the Netherlands, for example, Netflix beats out both Videoland, another SVOD service, and YouTube.
Nair explained that Netflix makes a "good partner" for cablecos because it can spend far more of its earnings on content than service providers wrestling with high capital expenses. "Netflix is spending significantly more on content because they live in a different set of economics than we do," he said.
— Alan Breznick, Cable/Video Practice Leader, Light Reading
Subscribe and receive the latest news from the industry.
Join 62,000+ members. Yes it's completely free.
You May Also Like
---