Hausbeck Picks Cloud ERP for Perfect Pickle Production
Hausbeck Picks Cloud ERP for Perfect Pickle Production
B2B pickle player picks Plex to optimize its supply chain and manufacturing You've probably never heard of Hausbeck, but you've possibly partaken of the pickle purveyor's products.
"We are the largest suppliers of pickles and peppers to Subway," Russ Edwards, a cost accountant for Hausbeck Pickle Company, tells Enterprise Cloud News. "They're our largest customer. We also supply pickles and peppers to some of the larger fast food chains: Burger King, Papa John's, Domino's and Sonic Drive-In."
Hausbeck, in Saginaw, Mich., which does very little retail business, was founded in 1923 by Charles E. Hausbeck, who died young, and his wife, Rose, took over after that, running it with her seven children. Charles and Rose's son John is 93 years old, and is still alive and comes to work, while the third generation of Hausbecks run the company.
It was the founder's grandchildren who took the company big, getting it into the fast food industry.
In other words, the progenitor's progeny made Hausbeck a B2B pickle play.
Figure 1: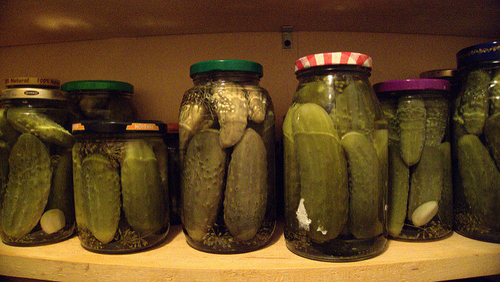 Homemade pickles. Photo by Christine. (CC BY-SA 2.0)
In a lesser, but still significant change, Hausbeck recently made the big shift to a cloud-based manufacturing ERP system, replacing spreadsheets and QuickBooks running on on-premises servers. Edwards was hired two years ago to make the transition to ERP.
For its ERP system, Hausbeck Pickles picked Plex Systems, which specializes in ERP for manufacturing companies.
"Getting reports out of Plex helps make decisions quicker, and makes us more productive, Edwards says.
Hausbeck uses Plex to manage inventory, receipts of products, and keep track of orders, manufacturing and outgoing shipments on a second-by-second basis. "We have the ability to monitor the production and inventory of all activities within the company using Plex at any time," Edwards says.
Hausbeck employees use scan guns to get information into Plex, or enter it manually into touchscreen computers in the production area. "The employee hits a button on the touchscreen that says 'production complete,' prints a label, puts it on a pallet, then scans the pallet and the location he moves it to," Edwards says.
In the food and beverage industry, a company like Hausbeck needs to be prepared to do a recall at any time, tracing which particular products were made with a particular batch of ingredients -- for example, which pickles and peppers were made with an individual 5,500-gallon batch of vinegar. The company needs to be able to identify the products within two hours. "If we can't do that it's a major black mark against us," Edwards says. "Prior to getting Plex we struggled with that, because everything was done on paper." While Hausbeck has never faced a real recall, in some cases, the company was unable to do a mock recall in time. After Plex, Hausbeck did two or three audits, and completed them within the hour.
Analytics also helps Hausbeck improve its inventory accuracy, correcting errors immediately rather than in days.
Hausbeck chose a cloud solution rather than on-premises to avoid the expense of running a servers and IT staff. "I'm not an IT person -- I'm a cost accountant by trade," Edwards says. "I just happened to work in a couple of companies over the years and been involved in ERP implementations."
Related posts:
— Mitch Wagner
Editor, Enterprise Cloud News
Subscribe and receive the latest news from the industry.
Join 62,000+ members. Yes it's completely free.
You May Also Like
---