'Women Who Code' CEO Paints Better Tech Pic
Alaina Percival, the CEO of Women Who Code, knows the tech industry is a wonderful place for women, and her goal is to make sure others know it too -- starting with changing the oft-reported notion that it's still a boys club or a hostile environment for women.
That's part of the reason she took on the top job at Women Who Code, a non-profit group focused on advancing women in their careers in the tech industry. The organization has more than 50,000 members in 20 countries and hosts ongoing events in 60 cities. These are events to connect women, help them build leadership skills and develop their programming skills -- and it's also to show them they are not alone.
"You are often on a team of 30 and there are two women, so we help with building your support network and making sure women feel that they belong," Percival says. "There are a lot of fantastic, talented women that are like you and different from you that are in the industry as well."
Highlighting the success of other women is important as a recent Women Who Code survey suggested women still feel they aren't many strong female role models for them in the tech field. And, they also report that they suffer from a lack of confidence as they progress in their careers. (See Women in Tech Need Role Models, Confidence.)
Percival caught up with Women in Comms to share more about the survey results, as well as why she's convinced the tech industry is good -- and getting better -- for women.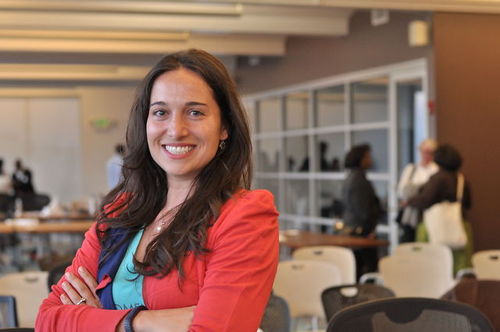 ---
Join Women in Comms in Austin, Texas, on May 23 for a one-day conference and job fair. Register here!
---
Women in Comms: Tell us your personal story.
Alaina Percival: I came from the footwear industry, so this was a shift. When I moved to Silicon Valley, I was learning to code and working to transition my career. I had a good amount of success in footwear, but it didn't translate well to working in a small startup, which was my goal. So I learned new skills like coding and going to community events. I fell in love with spending time with smart women excited about technology and seeing the career successes coming about as a result of being involved with the community. For example, a woman came up to me last year -- we'd been around for awhile, and she said she was going to a Women Who Code event. Today, she's a senior data scientist and she was being flown across the country. She said she wouldn't be in this career had it not been for Women Who Code. I love collecting amazing stories for our women and leaders.
It's just about, one, learning new skills and, two, making things more accessible so women realize it's a great a place for them. I joined in August 2011 when it was just getting started. I filed for the 501c3 at the end of 2013 and defined the mission around women in their careers, primarily because I was working with CTOs and VPs of engineering and saw that fewer than 5% were women. In the media, there was a lot of conversation around getting girls into tech and teaching women to code. I was spending a lot of time with really smart women in the tech industry who were awesome and saw some threat if we were focusing on two parts of the funnel and not the third. That could make it worse if women were perceived as junior. If they are leaving the industry, these girls and young women learning could come into an industry that was not better and potentially be worse. By focusing on all three parts -- improving the pipeline with new searches, young women and women staying in their careers and making it into leadership roles, it means that when girls enter their career in five to ten years, they are entering the workforce with women to come before them.
WiC: Do you think the situation for women in tech is improving, or is the industry still losing too many women along the chain of command?
AP: It's definitely getting better. The numbers are slowly but surely getting better, but what we need to really see is the long-term impact of women staying in their careers in tech throughout the lifetime of the career. It's 30 years, not something you see overnight to see them make it into the exec level positions and see an increase of women CTOS, CIOs, VCs and founders -- the top of the funnel. It takes a career to get to those positions.
WiC: In your recent survey, female respondents showed a lack of interest in startups. Why do you think that is?
AP: I don't think there's an aversion to startups. What I have seen both in the data and within the community is women will sometimes gravitate towards the more stable, larger organizations and maybe that's because they are able to provide some of the value they need. It's also the stigma and death by a thousand cuts happens at a slightly more rapid pace there on really small teams where you don't have an HR organization yet, and you're less likely to have the strong support a big organization can give you. There's a huge opportunity, and we want to see more women going into startups and founding them. That's a lot of the spirit of the tech industry.
WiC: What is your biggest piece of personal advice for women in the industry?
AP: Come to Women Who Code events, subscribe to Code Review to get access to conferences and things like that and find a community that's supportive of you. The less self-serving side but general advice is figure out a goal for your next step and a more future goal. It's okay if you change your mind, but start taking the steps to be that today. If you're going to be a leader in ten years, it doesn't mean you can't start doing the things a leader will do today.
WiC: What else can the industry do to make it a better place for women in the coming years?
AP: I think the important thing is painting what a wonderful industry it is, because in the media, they often have to go for the most clicks, so they go for a very dramatic, negative headline. I think really telling the great stories here and showing what a wonderful industry this is to work in is very important. It's certainly something we're dedicated to. Yes, it can get better, but we know it's a wonderful industry for women to be in. As more women are in it and succeeding in it and leading it, it'll only be better. That's certainly the direction we are going.
— Sarah Thomas,

, Director, Women in Comms