For any industry that wants to both increase gender parity and see more women in leadership positions, an important place to focus is at the board level, where women remain under-represented.
Diversity on boards is good for the business, to increase innovation, competitiveness and knowledge, and it's good for women as it's often a stepping stone to the top slot of CEO. That's why increasing female representation on boards -- now at only 10-15% in the tech world -- is a priority for Michele Schimpp, associate administrator of the US Small Business Administration (SBA) Office of Investment and Innovation.
Schimpp oversees Onboard, an online platform created and maintained by SBA and LinkedIn Corp. to help get diverse members on the boards of small, privately held companies, specifically the around 4,000 small businesses supported by Small Business Investment Companies, a program Schimpp also runs.
She herself has a diverse career in the government and has been involved with job creation, competitiveness and economic growth for over 20 years. Her work spans the private sector, universities, foundations, federal and state agencies and foreign legislatures. Notably, she was one of the senior leaders that established the US Global Development Lab, a part of United States Agency for International Development (USAID) focused on applying science, technology, innovation and partnerships to lift people in more than 80 countries out of poverty.
Schimpp, who has an MA in Latin American Studies from the University of California at Berkeley and a BA in International Affairs from George Washington University, caught up with WiC by email to discuss why increasing diversity on boards is important and how companies can make it a priority.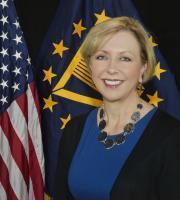 ---
Women in Comms is gearing up for a bigger, better 2017. Join us in our cause to redress the gender imbalance in the comms industry! Visit WiC Online and get in touch to learn more.
---
Women in Comms: Why do you think there is a general lack of women on Advisory Boards and Boards of Directors?
Michele Schimpp: There is a legacy of incumbency that limits the representation of women on corporate boards. Advisory Boards and Boards of Directors have been places dominated by men, and this takes time to change.
Additional myths hurt the advancement of women in these leadership roles, such as lack of qualified women ready to serve on boards and the belief that achieving gender parity is impossible. It's hard to believe that, for example, in 2015 some S&P 500 companies, such as Discovery Communications, had no women on their Board of Directors -- this is unacceptable in our world today.
Board membership gives women a "nose under the tent," enabling their ascent into C-suite positions. It has been shown over and over again the strong correlation between the number of women in the boardroom and their representation in the executive corridor. Whereas women represent approximately 20% of all Fortune 500 board members, less than 5% of these companies are led by women in CEO roles. The advancement of women in the boardroom will positively impact the recruitment and selection of future CEOs within these large companies.
WiC: What is the situation like in the comms (tech/telecom) industry, specifically?
MS: It is true that not all industries are created equal in terms of women on corporate boards. Studies have consistently shown that the Household & Personal Products industry has the highest proportion of women on the boards of S&P 500 companies.
Based upon studies I've read from McKinsey, Thomson Reuters, and Catalyst, typically 15-20% of seats on boards of S&P 500 companies in the GICS industries of Telecom Services and Media are filled by women. As a reference point, Household & Personal Products tends to be around 30-35%, whereas the Technology Hardware & Equipment industry is at the lower end with 10-15% female representation.
Something interesting about which I've been thinking lately is how lower percentages of women in the labor force of an industry impact the presence of women on corporate board teams.
WiC: Why is diversity on boards important?
MS: There are so many benefits of board diversity.  First, the research is clear: Board diversity is in the business interests of the company itself.  Diverse teams out-innovate their peers. Second, a diverse board opens up access to new networks and markets, key to a company's competitiveness. Third, if women account for half the workforce, more than half of all advanced degrees and two-thirds of consumer spending, a board without women is operating with blinders and decreased capacity.  Finally, adding domain expertise to boards, represented by diverse members, appeals to investors and private shareholders.
WiC: How is Onboard addressing the problem?
MS: We believe that Onboard can make a strategic impact to get diverse members on the boards of small, privately held companies, working with partners like LinkedIn and the other 17 organizations.  Our goal is to connect diverse talent with board membership opportunities, with particular emphasis on the roughly 4,000 small businesses supported by Small Business Investment Companies, a program of the office which I lead here at the SBA.
Each organization involved in Onboard brings critical capacity -- some organizations have diverse membership that is interested in serving on boards, others are investors and companies looking for diverse talent to suit particular knowledge about the importance of diversity.
How does it work? Onboard is an online platform created and maintained by SBA and LinkedIn. Gender and racially diverse professionals will be added to this platform through the recommendations of leading organizations concerned with diversity in the arenas of private equity, venture capital and alternative investments. Top-tier talent will be accessible via this LinkedIn platform to small businesses, investors and members of associations.
WiC: What else can comms companies and startups that are looking to diversity their boards do to ensure they are finding the best talent?
MS: One easy suggestion I can share is to encourage companies and startups to diversify their recruitment. Look beyond your circle of friends and acquaintances and the alums of a top-tier school from which you typically recruit and put in the work to avoid such traps as groupthink. Don't create carbon copies of your current members. Networking today is at your fingertips, especially with LinkedIn. Broaden your professional circles getting to know more people with varying backgrounds.
It's interesting to consider the Rooney Rule in the NFL requiring that diverse candidates be included in each director search and the debatable impact of such strategies.
I'd also suggest that companies recognize a variety of experiences and expertise. Beyond engineering and programming, project management and market services are highly critical to companies in the tech industries. Identify key gaps and view the development of a diverse board of directors as an ongoing project.
WiC: What is your advice to women in the industry to stand out in their careers and be selected for leadership roles?
MS: To stand out, you have to be visible.  Invest time in building your network, thinking broadly about contacts that will bring diverse perspectives and value added to your current job.  Social media is an especially important tool -- strategically build your presence.
It's also important to prioritize recruitment and retention on the teams that you lead.  I've found that it's less often the "glass ceiling" that keeps one from getting ahead than the "sticky floor," meaning that one is held back because they lack the team they need to succeed and are held back from showing leadership talents.
Finally, I believe that it's essential to bring your authentic self into your workplace leadership opportunities.  Too often women hesitate to bring their personal story into the professional realm. As a result, we miss the chance to inspire others by learning from our trajectories, challenges and achievements. And it's often that personal credibility that turns us from a person with a really good resume into someone that others want to follow.
— Sarah Thomas,

, Director, Women in Comms