Verizon narrowing FWA coverage gap with T-Mobile – study
T-Mobile's fixed wireless access (FWA) coverage is still staked to a lead in the US, but Verizon is starting to narrow that gap, according to a new analysis from ISI Evercore.
That analysis, based on a random sample of 10,000 residential addressees proportionally spread across the US, found that T-Mobile's FWA product was still available to 41% of total locations in the sample as of December 2022, up from 39% in February 2022.
By comparison, Verizon's FWA product was available to 20% of the households in the sample in December 2022, improved from 15% in February 2022 and just 7% in September 2021.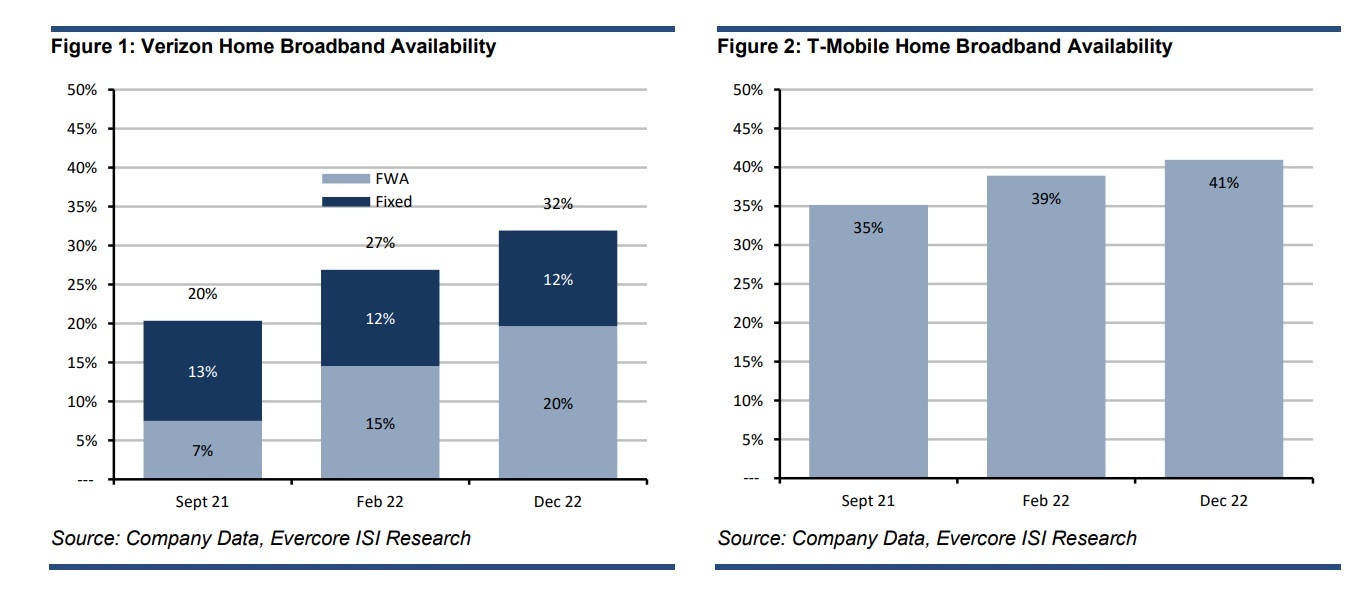 "If we limit ourselves to just the locations where VZ fixed broadband isn't available, 22% now have a Verizon FWA product available, up 500bps [basis points] from last February," ISI Evercore Vijay Jayant explained in the emailed report.
Capacity playing a role in coverage numbers
But there's also a wrinkle here – available capacity for FWA appears to be playing a substantial role in how those coverage figures are evolving.
ISI Evercore found that the change in coverage is not simply a function of straight up service expansion. Instead, the study discovered that there are "significant" portions of locations where FWA used to be available for sale in February that were no longer available for sale ten months later.
"We believe this is a function of both carriers' focus on deploying FWA in a capital-light manner, selling the FWA service where there is, and is likely to continue to be in the long-term, unused network capacity, but not deploying it in areas where low-priced FWA traffic could negatively affect the much more lucrative (on a $/GB basis) mobile data traffic," Jayant explained.
As a case in point, Jayant noted that of more than 3,800 locations where 5G fixed wireless service from T-Mobile was listed as available in February 2022, only 2,400, or 62%, still showed as available in December 2022. On the other side, of more than 6,000 locations where T-Mobile's FWA product wasn't listed as available in February, 27%, or 1,600, showed as available ten months later.
Those FWA location removals, he added, will place some limits on FWA's growth prospects in the US. ISI Evercore noted last week that the rate of FWA subscriber growth is already showing signs of slowing.
The study also shined the light on how T-Mobile's and Verizon's FWA products stack up from a geographic standpoint. It found that both are predominantly urban, but that T-Mobile continues to provide better (and growing) coverage in rural areas.
Jayant attributes T-Mobile's higher rural availability to network expansions in areas where it has "a largely unloaded network, and hence available capacity for offering FWA."
And though the reach of Verizon's FWA home Internet product has risen since February, availability in rural locations in the sample dropped – from 8% in February 2022 to 6% in December 2022.
Verizon's C-band surge
Verizon, which is expected to provide some fresh color on its FWA activity when it posts Q4 2022 results tomorrow, also appears to be gaining ground with its C-band rollout.
According to ISI Evercore, 37% of the locations where Verizon offered FWA had a 5G-based product available last February, with the balance covered with LTE technology. Additionally, Verizon's 5G FWA product was available to a mere 6% of locations outside the company's fixed broadband footprint.
As Verizon lit up more C-band spectrum in 2022, 5G-based FWA product in December 2022 surged to 72% of the locations where Verizon offered the service, and 16% of all locations outside the Verizon fixed footprint.
Verizon using FWA to target DSL
ISI Evercore's data also indicates that Verizon is starting to promote FWA in some legacy DSL locations. That's a big change, as Verizon has historically offered FWA only in areas where it didn't have a wireline broadband service to sell.
"Going forward, however, it appears that, knowing that the DSL product isn't competitive, VZ will market the FWA product even in locations where it could theoretically offer a wireline product, so long as the FWA product is superior to the available wireline solution," Jayant observed. "This last element is important – we have seen no locations where the company previously offered Fios service, but a FWA product is now listed as the available solution."
Related posts:

— Jeff Baumgartner, Senior Editor, Light Reading
EDUCATIONAL RESOURCES

PARTNER PERSPECTIVES
- content from our sponsors