Arris CEO: Software Isn't Everything
Arris CEO: Software Isn't Everything
CEO Bruce McClelland explains what comes next after the Ruckus acquisition. In a not-so-subtle jab at competitors, Arris CEO Bruce McClelland says that while other companies are trying to reposition themselves as software vendors, Arris is focused on redefining connectivity. And the company's recent acquisition of Ruckus Wireless is one key piece of that effort.
"I think it's more important than ever that people realize that connectivity is really the critical link in making all these seamless connected services a reality," says McClelland. "It's a lot more than just software running in a data center somewhere. And from our perspective, there's lots of white space for companies like ourselves to innovate and improve on how people and devices are connected. And it doesn't matter whether it's in the home, or in the office, or the school, or the hotel or the sports bar. That connection to the consumer is critical, and that's a lot more than just software and virtualization."
McClelland has reason to champion connectivity. Arris Group Inc. (Nasdaq: ARRS) is a power player in the wireline sector, has dipped its toe into managed WiFi services, and is now poised to expand into cellular-based connectivity solutions with the Ruckus team. The company also has to balance out expected declines in the set-top business where it still makes a huge portion of its revenue. So while Arris has been the set-top king, it needs a new aspiration as the world moves away from legacy set-tops and toward broadband everything all the time.
Luckily for Arris, the company has plenty of ways to grow. With the Ruckus assets in house, Arris can move into the enterprise sector, something its operator customers are already doing. (See Is Ruckus Right for Arris? and Arris Reels in Ruckus – Why I Like This Deal.)
McClelland points out that the company is currently working in partnership with cable customers like Altice , Cox Communications Inc. and Mediacom Communications Corp. to offer hosted WiFi services to businesses. But there are new opportunities on the horizon as well, both through that operator channel and outside of it. Arris can expand deals with existing Ruckus enterprise customers, pursue partnerships with other managed service providers and use its expanded suite of technologies to go after new customers.
There's also room for growth in connectivity sales because of the way the wireless industry is changing. Take small cells.
"The Ruckus team, if you ask them, they've not been big believers in just the traditional small approach for a variety of technical and commercial reasons," says McClelland, "but the emergence of shared spectrum and the CBRS spectrum gives the potential for a much more standardized solution, with a lot better volume and a go-to-market strategy that leverages the enterprise as opposed to just working with the carrier."
Figure 1: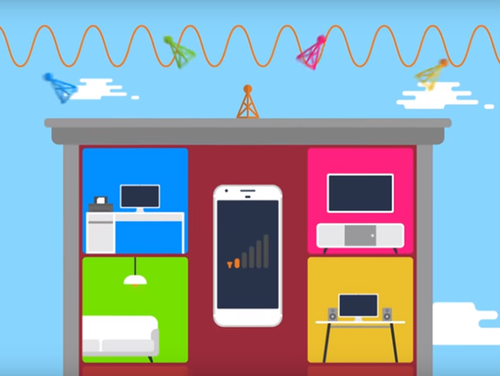 A Ruckus video on shared spectrum (screenshot here) illustrates how multiple access points will be condensed into one
The whole concept of shared spectrum and neutral host products -- i.e. access point products that support multiple carriers on a single piece of equipment -- is still evolving. But McClelland believes the technology isn't an issue. He notes that Ruckus already has trials underway, and he points out that Arris has made a small investment in the company Federated Wireless , (alongside Charter Communications Inc. and American Tower Corp. (NYSE: AMT)), which has introduced what it's calling the first spectrum controller for shared spectrum applications.
The business hurdles are a bit trickier. There's still the question of who will lead shared spectrum deployments. It could be an enterprise customer by itself, or it could be some sort of middleman acting as a wholesale dealer and negotiating with multiple carriers. But those real-world details haven't been worked out yet.
And the regulatory situation is also a bit murky. Operators expect to use the 3.5GHz band -- also known as Citizens Broadband Radio Service (CBRS) – for shared spectrum applications, but the FCC hasn't yet finalized its CBRS oversight rules.
Still, McClelland is optimistic. Despite lingering questions, he expects initial neutral host product deployments in 2018. And he thinks that the business will really kick into gear in 2019.
"I think we're pacing the investment based on how fast we see the industry evolving," he says. "So it feels like it's moving at about the pace we expected, and if it moves more quickly, we'll dial up the investment. If it takes longer, we'll focus maybe in on some other areas while it matures."
Arris does have plenty of other areas to command its focus. With both wireline and wireless technologies in the mix, and some major corporate acquisitions over the last four years, the company now has a broad product portfolio.
"We really think we can become -- or are -- one of the premier connectivity companies out there," says McClelland.
— Mari Silbey, Senior Editor, Cable/Video, Light Reading
Subscribe and receive the latest news from the industry.
Join 62,000+ members. Yes it's completely free.
You May Also Like
---