The field of artificial intelligence (AI) is already bringing human-like intelligence to computers, and the potential for further innovation is staggering. It's a prospect that has humans both excited and fearful as computer scientists continue to push the limits of machines.
One such computer scientist is Melanie Mitchell, an author, editor and teacher in the fields of AI, cognitive science and complex systems. Mitchell is a member of the Active Association for Computing Machinery, a professor of Computer Science at Portland State University and an External Professor and Member of the Science Board at the Santa Fe Institute. She has been entrenched in the field of AI for more than 30 years, playing an active role in shaping its advancements, like her development of Copycat, a computer program that makes analogies. She's been part of the biggest breakthroughs and is actively working on the next wave of them as well.
Mitchell also understands the trepidation around AI, as mere mortals fear computers can replace jobs, make them obsolete and use machine learning to essentially replicate what humans must do today. (See AI Threat Is Tech's Fart in the Room and How to Speak Knowledgeably About the AI Threat.)
Coinciding with Ada Lovelace Day earlier this fall to honor the world's first female computer programmer, Mitchell spoke with Women in Comms about AI's biggest breakthroughs, challenges and opportunities for the future of the technology, as well as her experiences as a female computer scientist. Read on for more about why she's more excited than concerned about both AI's potential and women's role in the industry.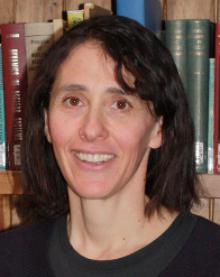 ---
Women in Comms is gearing up for a bigger, better 2017. Join us in our cause to redress the gender imbalance in the comms industry! Visit WiC Online and get in touch to learn more.
---
Women in Comms: Tell us a little about your personal and professional background.
Melanie Mitchell: My dad was a computer engineer in the sixties and seventies, very early on, and actually built a small mainframe computer as a hobby in our house. When I was growing up, I had a computer around, and he taught me how to Fortran and reel-to-reel tape and input. It was an amazing device, but I didn't get interested specifically in computer science until after my undergraduate degree. I was more interested in physics and math, my undergrad study. Then when I graduated, I read a book about AI, which really got me excited about the intellectual challenge of getting computers to think. It wasn't for any particular app, but more the scientific question of what is intelligence and could it possibly de-mechanize, so I decided to go to grad school and study computer science even though I had never taken a class in my life. This was the eighties, so you could show up in computer science grad school without that much of a computer science background. It is harder now. I went to the University of Michigan to work with my advisor to do a project in his group. I got into AI that way.
WiC: What has been the biggest breakthrough in AI in your career, and what impact is it having in the real world?
MM: The biggest breakthrough recently has been the incredible success of combining big data with neural networks. Neural networks have been around since the 1950s -- people were playing around with neural networks back then but until you have enough data and computer power to run these things with many layers of idealized neurons and have them learn from millions of examples -- they don't work very well without that kind of large scale of big data computing. The success has been phenomenal recently with deep neural networks being able to do real-time speech recognition at the level of humans and object recognition and learning to play games like Go and beat a human expert. A big question is how far can these methods go? How much more can they do? Are we are in the midst of the biggest revolution of AI that will solve the problem of getting machines to think, or will it plateau and new breakthroughs will be needed to get to more human level intelligence in genetics?
WiC: What is your personal opinion on whether AI will plateau or not?
MM: My own opinion is we will need new breakthroughs. There is a famous quote about AI that comes from the sixties or seventies that says the biggest AI breakthrough is 100 Nobel prizes away. Or 100 Turing Awards away. We are going to need that many breakthroughs. I believe that. I think people underestimate how hard the problem is. A lot of what we do that we consider human intelligence is invisible to us as humans. We do all these incredible things like look out at the world and understand what we see and make sense of complicated natural language. We can plan a very complicated sort of navigation to move through an environment. We do all these things without any problem at all. That is the way our brains our built. We don't know how hard it is to get computers to do it.
The hardest things human consider to do like play chess at grandmaster level or play Go at highest level solve complicated questions or diagnose diseases -- they have been easier for AI than the easiest things for us like looking at a visual scene and describing it in general. Marvin Minsky said that easy things are hard. That still is true -- that the things that are invisible to us as our intelligence are still very hard for computers. A big thing people talk about is commonsense knowledge. We know a lot about how the world works. We know that if you drop something on the floor, you are no longer holding it. It's because we have bodies and interact with the environment and learn as we develop, but giving these invisible commonsense knowledges to computers is difficult.
An example is, Watson answered a question about Michael Phelps -- which swimmer won a race by 100th of a second? It knew it was Phelps, but if you asked if he got wet in the process, it wouldn't have known the answer. It's background knowledge. It's explicit. Getting computers to somehow have that knowledge is really challenging.
WiC: Have you encountered any unique challenges or opportunities as a female in the computer programming industry?
MM: Definitely challenges although I really haven't encountered a lot of explicit prejudice for being female; just lots of implicit stuff goes that people are not aware of. The biggest challenge is being able to have an academic career and children when they are young. When they were born and young, I took time off, and that slowed me down. When I came up for tenure, a letter writer wrote in the letter saying there was a strange two-year gap in your resume where you didn't publish anything. That doesn't look good. I think the Department of Computer Science tries to accommodate women having children, but often it becomes challenging because of the kind of metrics of constant publication and impact on the world that we are supposed to be having. That becomes hard when you have kids. A big challenge is having a high-powered career and being expected to be continuing adding to your accomplishments, and you can get behind to take time for your family. I don't see that with the men. It's true for women in most careers. It's a society-wide problem that has to be dealt with.
WiC: What is the biggest professional lesson you've learned over the course of your career or advice you'd offer other women in the industry?
MM: Don't be afraid to challenge what seems to be the established status quo. Most companies or academic institutions have expectations or implicit rules that everyone is following and a way that things are done. If you see that and there are some subtle disadvantages to women or other under-represented groups, make it clear to people.
One example is we have a problem in computer science with retention of women in introductory computer science classes. Women start taking classes but drop out. There has been a lot of observations about what is the best way to teach computer science or other STEM disciplines in a way that is more welcoming to women. One thing I noticed at my University is that intro courses were set up in a way that was trying to engage students with competitions on video game programming projects. So the program is this video game and everyone competes to see whose program does the best. It seems male students get engaged with that and get excited about competition. It drives them to do better but females get intimidated. In general, they often want to work on a team collaboratively. It's not something the teachers do on purpose, but not understanding the ways the different genders like to work can be discouraging to women in the space.
— Sarah Thomas,

, Director, Women in Comms