Verizon details 5G upgrades for Broncos' stadium
Verizon details 5G upgrades for Broncos' stadium
Verizon's neutral host DAS connects Verizon and AT&T subscribers in the Broncos' stadium, but T-Mobile has its own DAS that it uses instead.
Verizon has installed a number of difficult-to-spot 5G antennas around the Broncos' stadium.
(Source: Light Reading)
When Verizon and AT&T fans descend on Denver's Empower Field at Mile High to cheer on the Broncos during the 2023-2024 NFL season, there will be plenty of 5G network firepower within the stadium for them to stream video and upload photos.
That's because Verizon, which operates Empower Field's neutral host distributed antenna system (DAS), has outfitted the stadium with 965 antennas that provide a mix of LTE, lowband 5G and millimeter wave (mmWave) 5G coverage. The company plans to add C-band 5G coverage soon. In fact, it already has empty racks in its server room at Empower Field awaiting the C-band equipment. In mid-August, Verizon said that it received access to 160MHz of C-band spectrum in Denver, four months ahead of schedule.
Besides the DAS, Empower Field also has a private LTE network using unlicensed 3.5GHz CBRS spectrum. This private network is used for coach and player communications on the field. In addition, the stadium is outfitted with about 1,500 Wi-Fi access points.
AT&T shares DAS, but not T-Mobile
Verizon's neutral host DAS provides 4G and 5G coverage for its subscribers and to AT&T's subscribers because AT&T has elected to use Verizon's DAS. However, T-Mobile operates its own LTE DAS at the stadium.
A T-Mobile spokesperson said that the company's LTE DAS comes with a 5G overlay so it provides 5G services to T-Mobile 5G customers when they are inside the stadium. The operator also has 4G and 5G cell sites adjacent to Empower Field that provide additional coverage. T-Mobile said that the operator "continues to evaluate potential options – both our own and third-party – to give customers attending games and events the best possible in-stadium wireless experience."
Russ Trainor, vice president of IT for the Broncos, said that the Broncos have been partners with Verizon for more than 20 years and he is hopeful that T-Mobile will eventually decide to use Verizon's neutral host DAS.
mmWave reaches 4 Gbit/s
Verizon's antennas are deployed in 96 sections throughout the stadium to provide coverage for fans, regardless of their location. Of those 965 antennas that Verizon has installed, 51 are mmWave 5G antennas. The company said it has installed 35 mmWave antennas inside the stadium and 16 antennas outside near stadium entrances.
Verizon initially deployed 5G mmWave throughout Empower Field and 13 other NFL stadiums back in 2019 as a way to demonstrate the advantages of mmWave 5G to consumers. This year, the company upgraded that system and added more mmWave antennas. Matt Burns, Verizon's manager of network performance for Colorado, said Verizon added 35 mmWave antennas inside the stadium to boost performance and also upgraded the 16 original mmWave antennas outside the stadium so that now all 51 antennas are delivering speeds as high as 4 Gbit/s.
Those upgrades have come in handy this summer when the stadium hosted two Taylor Swift concerts and her fans used more than 50 terabytes of data during her two-night Eras tour. This is nearly five times the amount of data typically consumed during a Broncos game (which ranges from 9 terabytes to 11 terabytes), according to Trainor.
Trainor added that concert fans and football fans tend to have different usage patterns. Concertgoers like to livestream parts of the concert to their social media, which uses upstream capacity, while football fans tend to watch clips of other games that are occurring simultaneously so they use more downstream capacity.
Hidden from sight
Although there are nearly 1,000 antennas installed throughout Empower Field, they are difficult to spot because Verizon has carefully disguised the antennas so they blend in with the stadium walls and ceiling. Plus, there are antennas hidden in handrails and in small boxes painted bright orange (to fit with the Broncos' blue and orange color scheme) that are nestled underneath individual seats.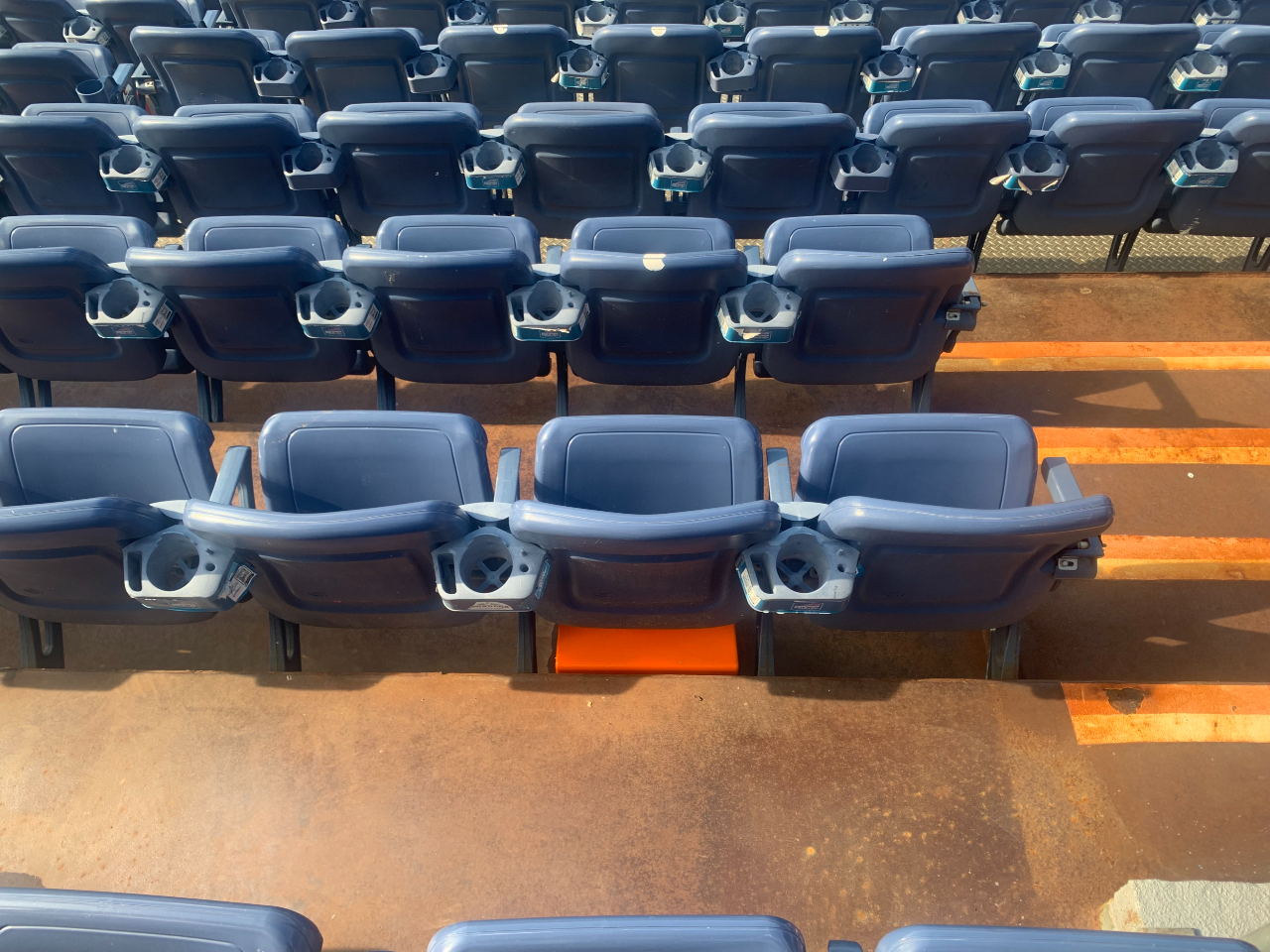 Verizon's antennas are sometimes nestled underneath individual seats.
(Source: Light Reading)
According to Trainor, these stealth antennas have to be durable to withstand the power washing that occurs after every game and to handle excited fans, who Trainor said sometimes pound on the metal boxes during a close match.
— Sue Marek, special to Light Reading. Follow her @suemarek.
Subscribe and receive the latest news from the industry.
Join 62,000+ members. Yes it's completely free.
You May Also Like
---