NBTC, Industry Organizations, Operators, and Huawei Propose Initiative to Evolve to Ultra-broadband 5.5G
NBTC, Industry Organizations, Operators, and Huawei Propose Initiative to Evolve to Ultra-broadband 5.5G
During the 8th Ultra-Broadband Forum (UBBF 2022), the ultra-broadband 5.5G industry evolution initiative was jointly proposed by Office of the National Broadcasting and Telecommunications Commission (NBTC), WBBA, TM Forum, Informa Tech, AIS, True, China Mobile International Limited (CMI), MTN GlobalConnect, Zain KSA, Telekom Malaysia, LightCounting and Huawei, calling on all industry stakeholders to jointly define ultra-broadband 5.5G evolution directions and standards and promoting the prosperity of the fixed network industry. #sponsor

During the 8th Ultra-Broadband Forum (UBBF 2022), the ultra-broadband 5.5G industry evolution initiative was jointly proposed by Office of the National Broadcasting and Telecommunications Commission (NBTC), WBBA, TM Forum, Informa Tech, AIS, True, China Mobile International Limited (CMI), MTN GlobalConnect, Zain KSA, Telekom Malaysia, LightCounting and Huawei, calling on all industry stakeholders to jointly define ultra-broadband 5.5G evolution directions and standards and promoting the prosperity of the fixed network industry.
Figure 1: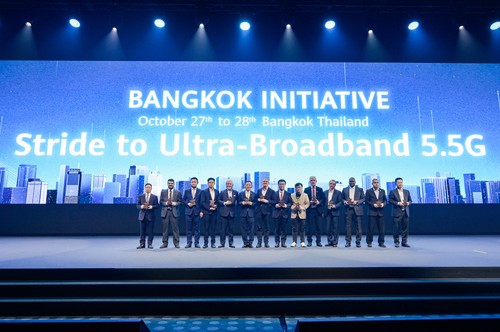 Guests from standards organizations, industry organizations, operators, and Huawei participated in the initiative ceremony.
AM. Thanapant Raicharoen, Ph.D., the Commissioner of the Office of the National Broadcasting and Telecommunications Commission (NBTC), pointed out that dual-gigabit connectivity is the engine that powers the digital economy to bring innovation and efficiency improvement, as well as promote social and national intelligence. Indeed, "Building connectivity and bridging the digital divide" has been Thailand's strategy for the past five years. In 2021, Thailand released the Giga Thailand White Paper and formulated a development plan for the next five years. Now, "Giga Thailand" has become a reality. AM. Thanapant Raicharoen, Ph.D. called on the government and industry to go further and start dual-gigabit city construction in 2023, making Thailand a digital center in the Association of Southeast Asian Nations (ASEAN).
Gary Nugent, the Chief Executive of Informa Tech, said: "The vision of an intelligent world and the promise of 5.5G where the potential of cloud, AI, and ultrafast broadband combine to address those inevitable future challenges is a compelling one. A world that anticipates, personalizes and optimizes our use of precious resources."
In the optical industry, ETSI released the F5G Advanced and Beyond white paper in September this year. In addition to outlining F5G capabilities, the white paper further elaborates on the future industry evolution towards higher bandwidth, more connections, smarter, greener, more real-time, and stronger sensing.
In the data communication industry, the analyst and consultancy firm Omdia released the Research on the Trends of Data Communication Network for 2030 white paper this October, which describes the core connotation of future data communication networks Net5.5G and defines its six features, including Green Ultra-Broadband, end-to-end IPv6 enhanced networks, Multi-Domain Network AI, etc. The white paper provides valuable insights into the evolution directions of networks in the digital world.
Huawei believes that striding to ultra-broadband 5.5G will require the concerted efforts of all industry players, including standards organizations, regulators, operators, and equipment vendors, to promote the industry's development and innovation in technologies, networks, and ecosystems and create industrial prosperity together.
This content is sponsored by Huawei.
Subscribe and receive the latest news from the industry.
Join 62,000+ members. Yes it's completely free.
You May Also Like
---